Kia Taiwan, the local subsidiary of South Korean automaker Kia Motors Co., recently launched three new car models in Taiwan--the locally assembled compact sedan Morning, as well as the imported Soul light sport utility vehicle (SUV) and Optima medium sedan.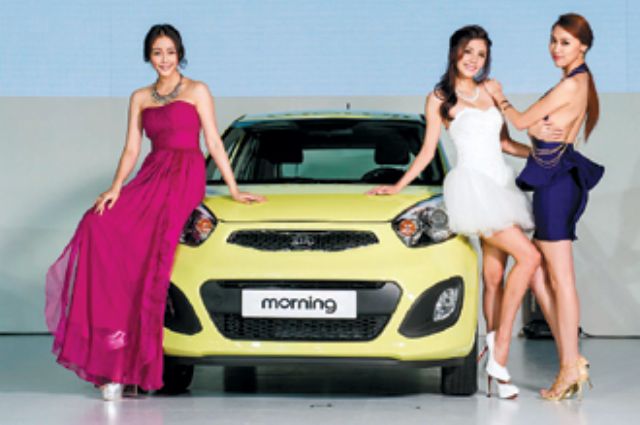 Kia Taiwan recently launched the Morning sub-compact, which is locally assembled by Taiwan's Sanyang. (photo from UDN)
The Morning is priced for only NT$479,800 (US$15,993) in Taiwan, making it the least-expansive model in he island's passenger-car market. The new model targets the female consumer group, and is expected to be a major driver of Kia's sales growth.
Kia withdrew from Taiwan seven years ago, and to successfully re-enter the island's market it plans to introduce five models locally by the end of 2015. Its target is to sell 4,000 new cars in the first year and reach annual sales of 10,000 units within three years.
In August the Sanyang Industry Co., a local maker of automobiles and powered two-wheelers (PTWs), signed a cooperation agreement with Kia to assemble vehicles on the island from Aug. 1, 2014 to July 31, 2018. Sanyang already assembles Hyundais, the parent brand of Kia. The new agreement with Kia calls for the Taiwanese partner to locally produce four models, including the Morning and, in the future, the Carens multi-purpose van (MPV) and Picanto compact.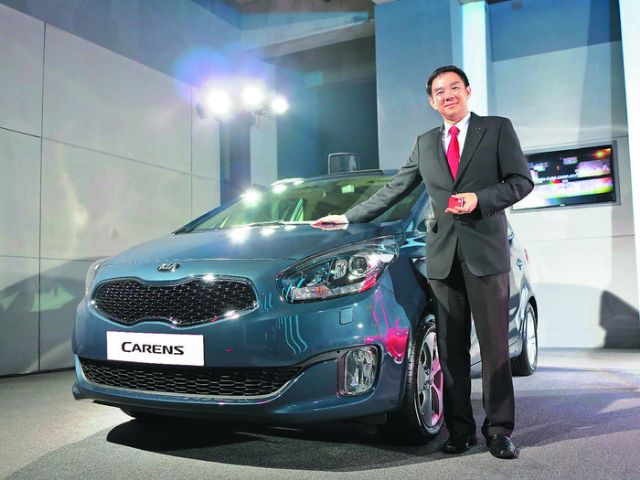 A senior Sime Darby official introduces the new Kia Carens, which is expected to be launched in Taiwan soon. (photo from UDN)
Kia announced that it would develop the Taiwanese market by tying up with Sime Darby Motor Services Ltd., a Malaysian auto sales group and Kia's new general sales agent in Taiwan. Kia has set up more than 10 sales points in major cities on the island, a number which will be increased to 15 by early 2015.
In addition to the three models mentioned above, Kia is scheduled to launch the seven-seat MPV Carens and the diesel-engine SUV Sportage in 2015.
G.W. Ho, chairman of Kia Taiwan, reported that his company will focus first on niche products, including the entry-level sub-compact for females, and high-performance vehicles. Basically, he added, Kia will not try to go face-to-face with major auto brands that already have solid footholds on the island; he is confident, however, that Kia will become a major nameplate in the Taiwanese automobile market within three years.
Market Recovery
Some 420,000 new cars are expected to be sold in Taiwan in 2014, hitting a nine-year high largely because of replacement purchases, industry sources say. The ratio of imported cars within the total amount is rapidly rising; from around 20% in the past, it has soared to 35% this year.
The increasing share of imported cars has encouraged the major import brands to dispose of their local agents and set up 100%-owned subsidiaries on the island. Kia (along with its Malaysian partner) is among these brands, along with Mercedes-Benz, Volkswagen, Mazda, and others.