By KEN LIU

At a time when the organic light emitting diode (OLED) lighting industry is still in its infancy, Taiwan's lighting manufacturers are working closely together to develop a complete supply chain for OLED lighting manufacturing with the aim of attracting partnerships with related enterprises from around the world.

In July this year an OLED-lighting consortium named the "OLED Lighting Commercialization Alliance" (OLCA) was founded, with encouragement by the Ministry of Economic Affairs (MOEA), by Taiwan's lighting manufacturers and designers, machine manufacturers, OLED-panel makers, e-material makers, and the MOEA-backed Industrial Technology Research Institute (ITRI).

The alliance is actually a step toward the building up of an OLED-lighting supply chain composed primarily of lighting-fixture, lighting-design, materials, manufacturing-tool, and light-engine businesses.
 
"This alliance places great importance on the commercialization of this promising light source, and we think that the best way to provide that is by building a complete chain; because when you have all of the elements key to the end products, you have more leeway in reining in cost and offering flexibility in design so that you can really cater to consumers," says OLCA Chairman C.T. Liu, Director General of ITRI's Electronics and Optoelectronics Research Laboratories.

The plan is for the supply chain to work with international lighting players in capturing a share of the global OLED-lighting market, which ITRI's market-research unit, the Industrial Economics & Knowledge Center (IEK), predicts will reach US$5.6 billion by 2020.

Established Model
The model of cooperation that he hopes for, Liu stresses, has already been established by the island's electronics industry, which has developed a successful supply chain through which all of the resources needed to make  just about anything buyers want can be integrated. "A case in point is the Apple iPhones assembled by the Foxconn Group, which has achieved an excellent performance by integrating all the resources of Taiwan's electronics industry," he comments.

However, Liu by no means believes that Taiwan should act as a contract manufacturer for international OLED-lighting heavyweights, as many of the island's electronics suppliers do. "Don't forget that among the alliance's members are lighting-fixture manufacturers, many of whom have set up distribution channels and built brand names," he notes. "Also, the membership includes lighting designers, who are the actual users and who know what designs are best for what applications."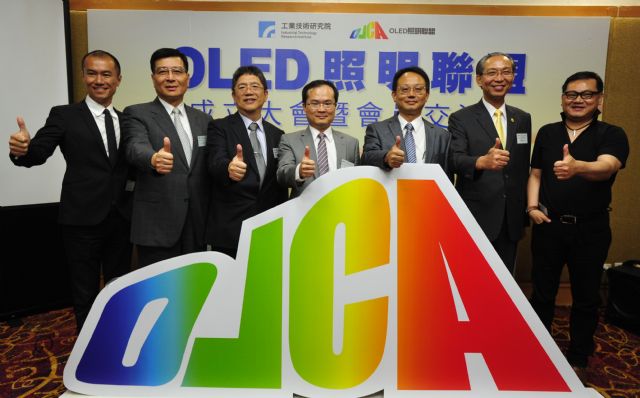 Dignitaries inaugurate the OLCA (from left):Merck's Hsieh, RiTdisplay's Wang,Tongtai's Yen, EORL's Liu,Deputy Director W.H, Fu of the MOEA's Department of Industrial Technology, TLFEA's Lin, and J.Y. Lighting's Yuan.
OLCA is starting out with five committees, one each for lighting fixtures, lighting design, light engines, equipment, and materials. The lighting fixture committee is chaired by Steven Lin, chairman of the Taiwan Lighting Fixture Export Association, which has over 850 members. The design committee is led by James Yuan, founder of the J.Y. Lighting Design Co. The light-engine committee is headed by RiTdisplay Corp.'s Chief Executive Officer D.C. Wang. The equipment unit is directed by Tongtai Machine & Tool Co. Chairman J.H. Yen, and Managing Director Dick Hsieh of Merck Display Technologies Ltd. will head up the materials committee.  
For Liu's part, the primary tasks of the alliance are to develop efficient manufacturing solutions and an industry standard for OLED light engines. Lin of the lighting fixture committee stresses that only with an industry standard will the island's luminaire makers be able to design their own products.
Liu's lab is developing a first-version OLED standard. "Developing an OLED standard is much simpler than developing a standard for LEDs, because OLED requires fewer manufacturing process," he says. "Basically, 50 to 60 lumens per watt will be defined as the luminous efficacy standard and 10,000 hours as the lifespan standard."
ITRI's pilot-run roll-to-roll machine.
Liu, a specialist in the roll-to-roll OLED-panel manufacturing method, and his lab have introduced a pilot-run roll-to-roll machine which has achieved more cost-efficient OLED production relative to the sheet-to-sheet method. "The major challenge of roll-to-roll production is to evenly deposit the ITO [indium tin oxide] layer and print the electrodes on the slim panel rolls," he explains. "We've successfully done both on rolls only 0.1mm thick, and we're working on rolls only half that thickness. And our printing method marks success in only printing the needed three-micron-thick electrode circuits on the panel, instead of printing an electrode layer across the whole panel and then etching out the circuits."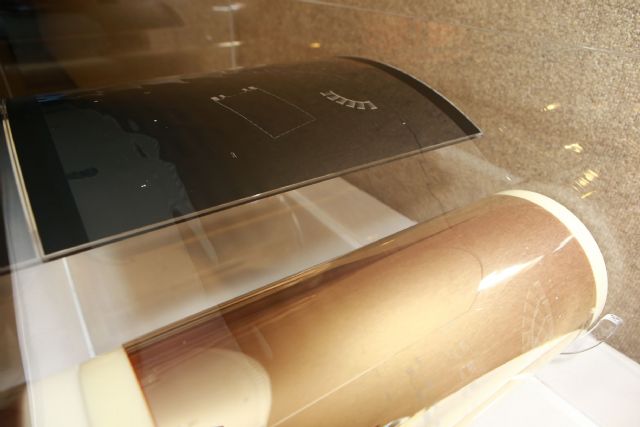 OLEDs completed by ITRI's roll-to-roll machine.
In contrast to the roll-to-roll method, sheet-to-sheet manufacturers are using 0.5mm panels at best and require seven processing steps to deposit the electrochemical substance and etch out the electrode circuits, making production relatively pricey, according to Liu. He notes that panel manufacturing accounts for around 40% of the total OLED production cost.
Comfortable to Use and Biodegradable Too
The design committee's Yuan, who is certified by the Chicago-based International Association of Lighting Designers (IALD) and has been portrayed as Taiwan's top lighting designer, is optimistic about the application of OLED to lighting products, not just because of their comfortable light quality and plasticity but also because of their biodegradability.
Yuan notes that OLED applications accounted for around 40% of all products on display at the Lighting + Building 2014 fair in Frankfurt, Germany. "Now," he says, "OLEDs can work as lighting fixtures when plugged into wall sockets, and as mirrors when they are unplugged. In the future, they can be combined with smartphones and USBs [universal serial buses], and emerge as parts of interactive lighting fixtures or interactive displays.
"OLEDs are slim and reflective, and they are area light sources," he goes on, "which allows lighting designers to apply them to a wide range of uses in combination with LEDs, which produce focused light."  
Prof. Jwo-huei Jou, a materials scientist at Taiwan's National Tsing-Hua University who has been researching OLED materials for many years in cooperation with ITRI and private organizations, explains why he prefers OLEDs over LED: the "LED is a spot light source that tends to glare, while OLED light blankets comfortably, making it more suitable for households and better for health."  
Pro. Jwo-huei Jou and his candle-like OLED panel.
Jou's university lab, which is funded by MOEA, has announced the development of a small OLED panel emitting 1,400 Kelvin (K) of correlated color temperature (CCT), which is much friendlier than a candle's 1,914 K; and it has a color rendering index (CRI) of 93, narrowly lagging the benchmark of 100 for a candle. "The candle-like OLED has an efficacy 200 times greater than candlelight," he reports.
Lighting color temperature, Jou notes, is closely related to human health: "Medical findings show that high-K lighting is more carcinogenic than low-K lighting; higher K or whiter light impedes melatonin activity in the human body quicker than low K light. So, people who work night shifts and are exposed to fluorescent lights' 6,000K have a higher risk of cancers."
Prof. Jou has licensed his lighting technology to WiseChip Semiconductor Inc., reportedly the world's No. 2 manufacturer of passive matrix organic light emitting diodes (PMOLEDs), which will begin volume production of OLED lamps with close to natural candle light late this year or early next year. "When volume production begins," he says, "it means that Taiwan's lighting industry has passed a new milestone." Jou says.