Driving in smog, thick fog or dust storm is always high risk due to poor visibility, and a research team led by professor Huang Shih-jiah of National Taipei University of Technology (NTUT) of Taiwan, known internationally for automotive technologies, has mapped out a solution to upgrade driving safety under such risk.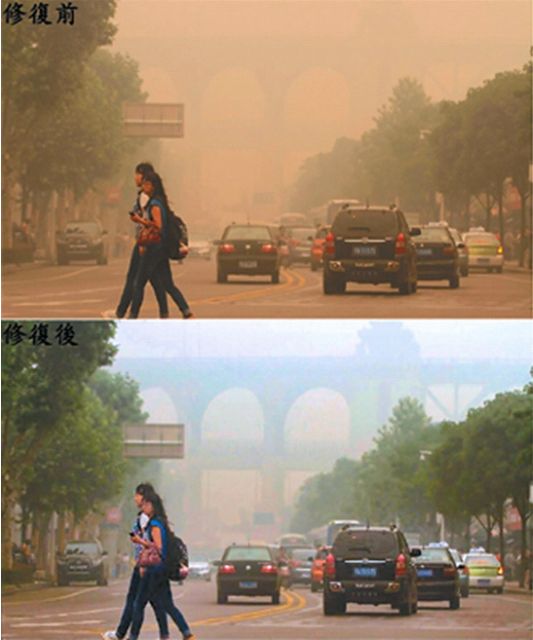 Side-by-side comparison of images enhanced by the NTUT-developed patented technology. (photo from UDN)
By utilizing software algorithms, the NTUT team developed a technology to eliminate video interference from dust or fog to greatly clarify images recorded. When the innovative technology is integrated with a digital vehicle recorder (DVR), frontal visibility is greatly upgraded. Research results of the new visibility-upgrading technology has been published in a recent issue of the
IEEE Transactions on Intelligent Transportation Systems
.
Huang explains that the new technology enhances visibility and upgrades color saturation by computer algorithm, turning hidden and unclear image parcels into clearer pictures. By integrating the technology and DVR, he furthers, drivers can see further from the DVR. For example, during a dense fog or dust storm frontal visibility of sub- one-meter is extended to three to five meters.
The NTUT team spent three years to develop the innovative technology, which is the first globally and applicable to different types of traffic monitoring and surveillance systems.
Huang says that the new technology is patented in Taiwan, the U.S. and China. Especially in China, he adds, serious smog in Beijing impacts driving safety, so the technology improves road safety. In addition to negotiating with integrated circuit (IC) companies in Taiwan, the professor says, the NTUT team has been talking with international DVR vendors. More than 20 million DVRs are sold yearly worldwide to create business opportunities for the technology in vehicular application.