Far Eastern Electronic Toll Collection Co. (FETC), operator of the ETC on highways throughout Taiwan, recently said that it led a delegation of  transportation experts and scholars from Japan, Malaysia, Singapore, Colombia etc. to call on the Taiwan Area National Freeway Bureau (TANFB) to learn more about the operation and facilities of the ETC.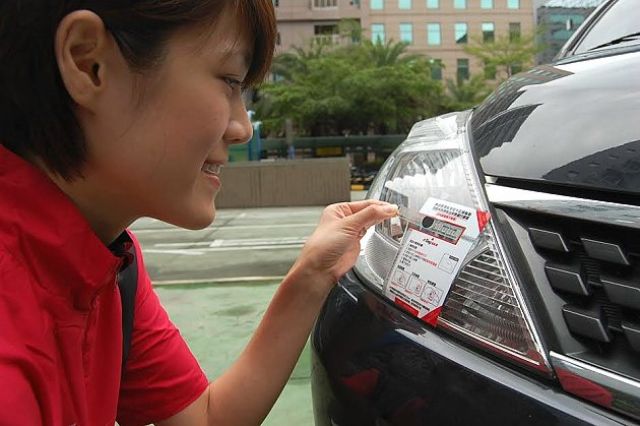 More than 80% of cars, trucks and buses in Taiwan have tiny eTags to enable nationwide freeway electronic toll collection. (photo from UDN)
The successful commercial operation of the ETC in Taiwan has attracted attention from many nations as well as set up a standard for Intelligent transportation systems (ITS) worldwide. Y.C. Chang, president of FETC, says several nations have proposed partnerships with FECT, with the ETC in Tawian expected to be exported as turnkey project, to bring  business opportunities to Taiwanese suppliers of such infrastructure.
For decades highway tolls were manually collected via booths but in 2014 the Taiwan Highway Commission discontinued the laborious, outdated system to set up the ETC. Besides being faster and end of hassle of making change, the ETC also enables attaching bill to credit card account. In the pre-eTag (a radio frequency identification sticker on vehicles to enable toll collection) years, the ETC in Taiwan required vehicles to install  cellphone-sized transmitter and also sub-50-kilometer-per-hour speed, compared to now 70 kph.
The delegation were highly interests in the ETC, especially the "seamless" shift from time-based charge to mileage-based, as well as its soaring popularity in such a short period.
Chen Yen-po, director general of TANFB, told the delegation that  the utilization of the ETC has reached 93% to 94%, with some six million vehicles or about 80% of licensed cars, trucks and buses on the island have eTags. It took only one and half years to elevate the utilization rate from 43.2% initially to 87.7% to show the strategy to provide free eTag installation and preferential tolls is effective to boost popularity quickly.
According to Chen, the ETC has set three "world's No.1" records. First, it is the first to shift from manual to full ETC freeway toll collection in any nation. Second, Taiwan is the first to change from time-based ETC to mileage-based. Third, the ETC covers 932 km. of freeway and all vehicles running on freeways to set the record for biggest-scale in ETC.
A senior executive of FETC said that the Vietnamese Ministry of Transportation had highly praised the RFID system and its rapid growth in Taiwan, and ordered  governmental units to emulate Taiwan for its own ETC in future, which could lead to turnkey export of the ETC to Vietnam.
Caption 1: More than 80% of cars, trucks and buses in Taiwan have tiny  eTags to enable nationwide freeway electronic toll collection. (photo from UDN)