Backed by the Ministry of Economic Affairs, Metal Industries Research & Development Centre (MIRDC), a Taiwanese government-funded R&D institute, formally started the "Taiwan Plumbing Research & Testing Laboratory (TPL)" in the Taichung Industrial Park to help Taiwanese suppliers of plumbing fittings and products to explore the U.S. and European markets.

Witnessed by dozens of guests, the opening ceremony was held October 13 and presided by C.C. Huang, MIRDC's chairman, Russ Chaney, CEO of IAPMO (International Association of Plumbing and Mechanical Officials), a North American certification agency, and Y.D. Wu, chairman of Plumbing Association of Taiwan (PAT).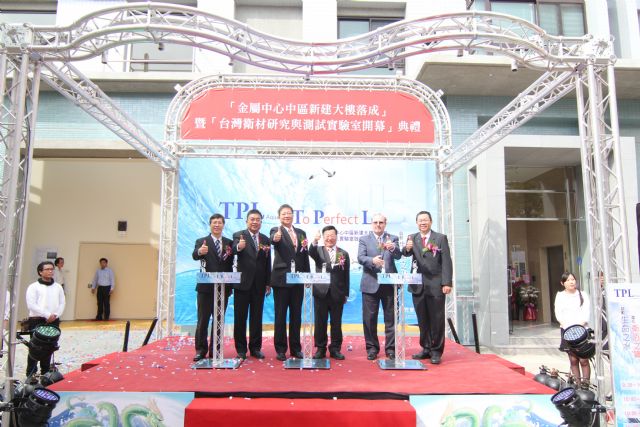 (from right) PAT's chairman, Y.D. Wu, IAPMO's CEO, Russ Chaney, and MIRDC's chairman, C.C. Huang, at the TPL's opening ceremony
Huang indicated that TPL aims to help Taiwanese suppliers striving to continuously improve products to meet stricter quality requirements in the U.S. and Europe regarding toxicity prevention, functional safety and noise reduction.
The chairman emphasized the lab is already accredited by agencies at home, overseas and has sufficient capacity to handle material safety testing complying with NSF (National Science Foundation) standards, as well as  noise emission tests in accordance with ISO 3822. Plus, the lab also obtained NSF 61 certificate from IAPMO this June, a milestone for Taiwan's plumbing fitting and product sector.
With proven research and testing capabilities, Huang noted that TPL will pave the road for Taiwanese manufacturers to better explore  the U.S. and Europe markets.
PAT chairman, Wu, indicated that Taiwan's plumbing fitting and product industry has about 600 manufacturers and subcontractors, mostly clustered in Changhua County, central Taiwan, that generate annual output value of over NT$50 billion (US$1.66 billion). The industry, with over 1,000 companies to turn out some NT$100 billion (US$3.33 billion) in products two decades ago, could again see its former glory with TPL's help.
Wu's expectation is realistic as Taiwan now commands only a 5% share of the global plumbing materials, fittings and products market, which is valued over US$500 billion annually, implying ample room for  Taiwanese suppliers to develop sales. (SC)