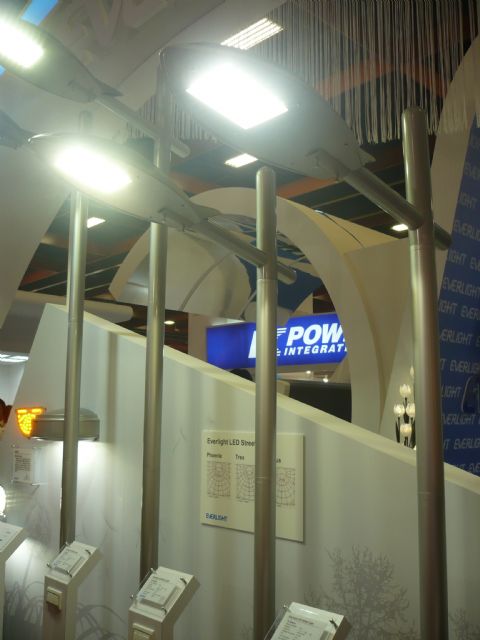 Taiwan to have all roads LED-lit by 2016.
Taiwan Premier Jiang Yi-huah has approved a plan submitted by the Ministry of Economic Affairs (MOEA) to replace all mercury streetlights on Taiwan with light-emitting diode (LED) counterparts by 2016 for NT$5.49 billion (US$183 million), to then become the world's first nation to have all roads lit with  LED lamps.
Industry executives say the plan offers a real-world test bed for local LED makers seeking to boost global market share before trying to sell their wares overseas.
Taiwan still has 692,000 mercury streetlights after a series of similar replacements in the last few years.
The project will be implemented via local governments' LED streetlight procurements, with Taichung City, Tainan City and Kaohsiung City Governments predicted to receive relatively more funding due to their lagging replacements.
According to MOEA, Taiwan's leading LED-streetlight makers, namely Delta Electronics Inc., Everlight Electronics Co., Ltd., Lite-On Technology Corp., Leadray Energy Co., Ltd., and Mean Well Enterprise Co., Ltd., have made Taiwan the world's best LED streetlight supplier in terms of cost-price ratio and have a combined 30%-plus share of the American LED-streetlight market.
MOEA officials say the ministry began in 2008 funding local governments for pilot LED-streetlight projects, with Taiwan's Cabinet setting aside NT$1.69 billion (US$56.33 million) couple years ago to replace mercury streetlights as the first step of the large-scale upgrading scheme.
Initially all the mercury streetlights on the offshore islet Kimen were replaced. Taipei City and New Taipei City plan to replace the  mercury streetlights left from the initial program by the end of this year with joint funding by  the Cabinet and municipal coffer, according to the MOEA.
The major cities in central, southern and southernmost Taiwan still have 270,000 mercury streetlights after the initial replacements due to lagging the other communities. (KL)