The Taiwan government-backed Industrial Technology Research Institute (ITRI) won the Best of the Best prize in the RedDot Design Award championship in September 2014 with its "Energy-Harvesting Thermal-Electric Generator," a handheld device that recharges low-voltage mobile devices like mobile phones and LED flash lights by simply converting nearby heat sources, as from people or car engine, into  electricity.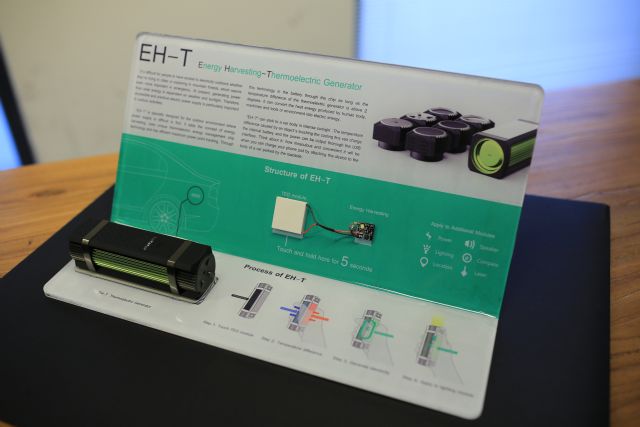 ITRI's Energy Harvesting Thermal-Electric Generator and its core structure.
The recharger was picked among 39 for the prize of the 4,791 entries from 63 countries.
A unique polymer and a smart chip inside the device are critical in the electro-thermal conversion. The polymer, developed by ITRI's Material and Chemical Research Lab., converts heat absorbed from one of its two sides into electricity via thermo-difference. The chip, connected to the polymer through two wires, captures the electricity to store it in a nickel-metal hydride or lithium battery.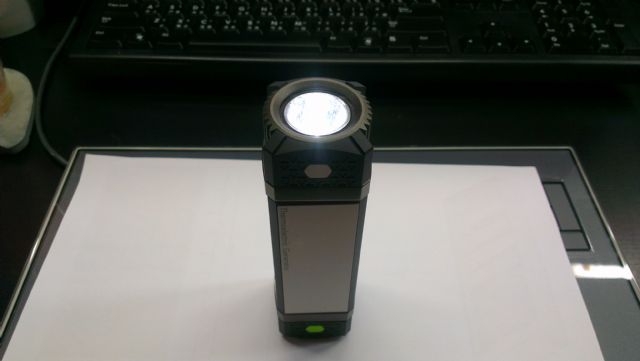 The generator is using the thermal from a laptop to recharge an LED lamp.
According to Y.H. Chu, the technical director of the Division for Biomedical & Industrial IC Technology of ITRI's Information and Communications Research Lab. leading the recharger  program, the polymer is efficient in electro-thermal conductivity, defying conventional physics that  efficient electro- and thermo-conductivity are mutually exclusive.
According to Chu, the polymer  starts conversion at thermo-difference of only 1.2C, versus typically available materials of above 30C.
The chip captures over 99% of converted electricity for storage mostly due to the smart design enabling automatic detection of the maximum power point of  conversion. Only 0.4 volt is needed to activate transistors on the chip, which is the toughest technical challenge. The maximum points vary in different electro-thermal materials which the chip can track, says Chu.
Most electro-thermal rechargers  on market do not have such a smart device to target the maximum power point based on preset value of matching electro-thermal material.
The voltage converted varies positively with thermo-difference. The recharger aims to provide a convenient power source to recharge mobile devices when household outlets are unavailable,  Chu stresses.
While many people worldwide aggressively work to develop electro-thermal  conversation technology that uses wide thermo-difference for industrial applications, not as many target to improve such technology dependent on minor thermo-differences for consumer uses, hence allowing us ample room to  improve our recharger technology, he says. (KL)