By STEVE CHUANG

Hand tool manufacturing, which has been one of Taiwan's traditional industries with strong presence in the global market for decades, is now looking forward to brighter prospects than ever thanks mainly to new applications and upgraded production technologies developed jointly by local manufacturers and R&D institutions.

It is no overstatement to say that the industry is experiencing another period of very strong growth after its initial takeoff in the 1970s. The Metal Industries Research & Development Centre (MIRDC), a government-backed R&D institute, expects the industry's overall production value to exceed NT$80 billion (US$2.67 billion) in 2014, a significant increase over the NT$67.7 billion (US$2.25 billion) recorded in 2013, despite a decline in production volume. These mixed results indicate that the efforts of Taiwanese makers to enhance the added value of their products are paying off.

In an exclusive interview with CENS, Matt Yang, vice chief of the Test Technology Development Section of MIRDC's Industrial Upgrading Service Department, along with some of his colleagues, shed light on the industry's current developments and on the new applications and technologies that MIRDC is developing to help local hand tool makers move upmarket and fend off underselling rivalry from emerging competitors in the global market.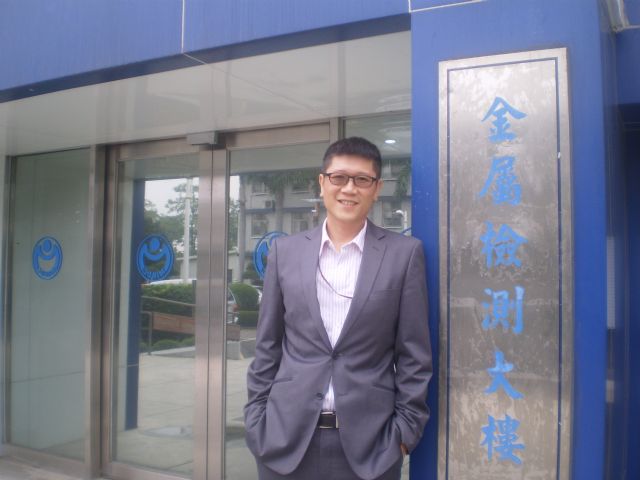 Matt Yang, vice chief of the Test Technology Development Section of MIRDC's Industrial Upgrading Service Department, has long been helping Taiwan's hand tool suppliers upgrade their technologies and products.
Medical Tools
Many of Taiwan's globally known hand tool manufacturers, such as William Tools, Proxene Tools, and Re-Dai Precision, are actively upgrading their built-to-order production into ODM (original design manufacturing) and are shifting their focus from the DIY to the professional segment so as to drive up the industry's overall production value. Yang believes that medical tools are among the applications showing ever stronger business potential; a couple of local suppliers have already succeeded in penetrating this higher-end segment, and have earned the trust of German buyers.
The industry's assault on the global medical tool market dates back to 2009, when MIRDC began working with domestic hand tool makers, local veterinary clinics, and a national university to form the Veterinary Surgical Instrument R&D Alliance. After years of hard work the alliance members have worked out a number of quality-approved surgical tools, including bone hammers, self centering bone holding forceps, three-prone patella bone holding forceps, lane bone holding forceps, reduction forceps with serrated jaws, and ratchet locks.
Surgical tools, Yang noted, have an 80% similarity with traditional tools in function and exterior design, and are subject to U.S.'s FDA (Food and Drug Administration) regulations. In light of this, MIRDC invited a veterinary clinic and a university to join alliance and use their professional knowledge, and feedback from their clinical trials, to help manufacturers in the line develop and improve products so that they meet FDA regulations.
Surgical tools are an ideal product category that the industry can rely on for sustainable development, Yang stated, because their market is lucrative, is growing steadily, and is accessible only to players with strong technological competitiveness. Furthermore, ample resources from local hospitals, universities, and R&D bodies enable Taiwanese makers to easily introduce key technologies, including human factor engineering based on CAD (computer aided design) and CAE (computer aided engineering), as well as antibacterial coatings, into R&D and production.
"With surgical tools developed by the alliance being proven marketable at home and overseas, and winning high credit from end-users, Taiwan has gradually established a solid reputation as a medical tool supplier that is technologically comparable with German and Japan, particularly in the bone-saw segment, in the global market," emphasized Yang.
More good news for the alliance members, Yang confirmed, is that the saw blades, bone saws, and other products that they showcased at MEDICA 2014, a trade fair for medical instruments held on Nov. 12-15 in Dusseldorf, Germany, drew intense attention from overseas buyers and attracted a couple of local firms interested in building long-term cooperation with the suppliers. "Mostly thanks to the technological prowess it displayed at this big event," reported Yang, "a Taiwanese supplier has been in talks with a German supplier of orthopedic instruments for collective branding and promotion. If the two forge a partnership, Taiwan will likely enjoy a stronger presence in the global market for medical tools in the future."
Although medical tools currently contribute only a small amount to Taiwan's overall hand tool production, Yang stressed, "Such products require higher production technology and deeper know-how to produce, and can help Taiwanese makers set themselves apart from emerging rivals. So we are confident that our efforts to help Taiwanese manufacturers explore the market are properly directed, and are gradually paying off in terms of additional revenue and improved reputation."
Explosion-proof Tools for the Energy and Electrical Vehicle Sectors
On another front, MIRDC recently cooperated with a Taiwanese screwdriver maker to work out an explosion-proof screwdriver set, and Yang feels that such products will become a growth propeller for the island's hand tool industry as the energy and electric vehicle industries advance around the world.
Yang produced a screwdriver from the set to show that the explosion-proof product is certificated by IEC 60900:2004 standards and has a lot of features that make it exceptionally safe to use in power station construction, and in the repair and maintenance of electric vehicles and automation equipment.
The screwdriver has an integral body composed of a specially designed tip and red-toned shaft and handle, with the shaft and handle being thoroughly coated with defect-free plastic. Yang pointed out that the exquisitely coated tip is tapered to an optimally engineered angle to avoid creating any sparks during turning, while the coating material for the body is a special mix of different plastics that MIRDC and the manufacturer jointly developed for absolute insulation against electricity.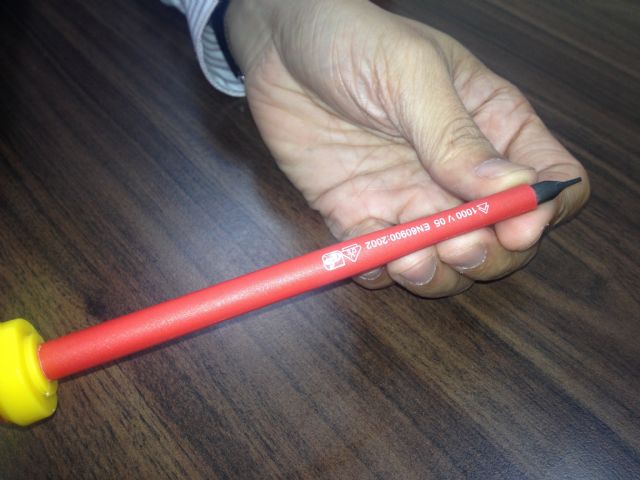 Large quantities of the IEC 60900:2004-certified explosion-proof screwdriver has been ordered by buyers from emerging countries mainly for power station construction.
"Since the most important characteristics of explosion-proof tools are insulation and safety, we spent lots of time and resources studying suitable materials and engineering the tip's design in the hope of giving the screwdriver the best features possible," said Yang. He went on to say that the screwdriver set has attracted many inquiries from overseas buyers since it was released in 2014, and has already been shipped to some emerging countries where infrastructure and power station construction is underway.
With that successful R&D case attesting to the considerable growth potential of the global market for explosion-proof tool, Yang commented, MIRDC will continue helping more Taiwanese manufacturers obtain related certification. "As long as eco-awareness remains a global trend driving the energy and electric vehicles sectors," Yang stated, "market demand for explosion-proof hand tools will surely continue to exist and grow around the world."
The vice chief added that several Taiwanese suppliers are already capable of making IEC 60900:2004-certificated screwdrivers, including the Yih Cheng Factory Co., the island's largest supplier by shipments and the owner of "Lancer," a blooming brand of screwdrivers and tool sets in the global market.
Digital Tools
With wireless communication technology fast advancing, the development of digital tools in Taiwan's hand tool industry is also rife with potential.
Some of the island's top-end makers, including Eclator Technology, Stand Tools, and William Tools, have been developing this segment for years. Most observers would agree that this trend was inaugurated in 2007 by the Industrial Technology Research Institute (ITRI), a government-funded, non-profit institution specializing in the development of IT (information technology) and electronic technologies, when the Economic Ministry's Industrial Development Bureau commissioned it to carry out a three-year project designed to upgrade the traditional metal products industry.
Even earlier, with the help of MIRDC, ITRI developed Taiwan's first homemade strain gage-based digital spanner using improved production methodologies in 2006. Since then, the R&D bodies have continued developing more models and related peripherals, and sharing the results with local hand tool manufacturers to speed up the upgrading of the industry.
Arthur Hsu, a hand tool researcher with MIRDC, said that Taiwan-made digital tools contributed an estimated NT$500 million (US$16.67 million) to the industry's total output in 2014, and the contribution is expected to keep growing in the coming years.
With fierce price competition resulting from  more and more emerging rivals underselling their digital tools in the global market, Hsu said, Taiwanese suppliers are gradually focusing on niche segments, mainly car production. "Some have started negotiating with local carmakers for the supply of digital torque wrenches, and contracts are expected to be realized soon," he commented.
Notably, Yang added, some digital wrenches for auto applications have been beefed up with Bluetooth functions not only for wireless data communication with remote computers, but also for back-end services including data analysis and recording. This will enable carmakers to improve the efficiency of production management.
While admitting that this segment still needs time to grow large enough to sustain manufacturers' profits, Yang gave another reason for his optimism about the industry's outlook: "I truly believe that  digital tools connected with the Internet of Things (IOT) will be launched in the market within three years. This will allow data transfer and sharing among carmakers, workshops, and garages through the cloud, so that car maintenance garages can provide truly needed services for different cars depending on information generated through big-data computing and further analysis, and gathered from the cloud."
To take advantage of the potential business opportunities arising from this development, Yang advises Taiwanese suppliers to hasten the expansion of their digital tool offerings from wrenches to screwdrivers, hammers, and other auto repair tools, and to enhance their cooperation with local R&D bodies and IT firms.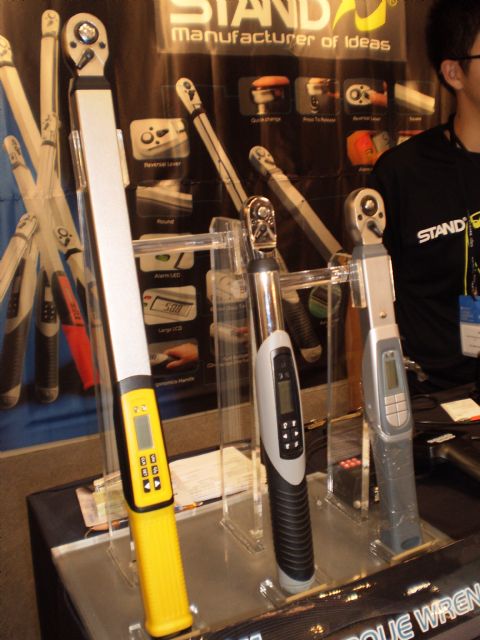 Digital tools are believed to have considerable growth potential due largely to the rise of cloud computing and the Internet of Things.
Manufacturing Technology Upgrades
While joining with Taiwanese hand tool makers to develop functional hand tools for new market segments, MIRDC has also engaged in the development of advanced production technologies to strengthen the industry's competitiveness.
C.P. Hsu, an engineer in Yang's section at MIRDC who is working to develop and improve hand tool production technologies, said that near net shaping is one of the most promising technologies for the hand tool industry.
"Near net shaping is a very commonly used die and mold developing technology in the automotive industry, perfect for making items with very complex shapes," explained Hsu. He went on to say that the technology has outstanding benefits that can greatly cut production costs and boost capacity, including the increased strength provided by lower-temperature work and better grain flow, low energy consumption, minimal wastage of materials, excellent surface finish, improved corrosion and wear resistance, and high productivity. "Another advantage of near net shaping," Hsu went on, "is that dies and molds made using this technology require less secondary processing and machining."
MIRDC has worked out near net shaping solutions that include CAM, which can simulate the molding process using different variables and parameters from raw material weight to melted metal flow, so as to make sure the initial production of an item is very close to its final shape and dimensional defects are greatly reduced. "Thanks to improvements made using computer simulation technology," Hsu stressed, "MIRDC's near net shaping can truly meet the needs of Taiwanese hand tool makers and, with technical help from us, can be applied to production at a more friendly cost and in a shorter time."
As improving materials is another way to enhance a product's value, Hsu noted, MIRDC has also worked on the development of the heterogeneous welding technology designed to produce so-called smart materials: "Smart materials are increasingly popular in global industry, because they are specifically designed to give functional features to products so that they can better meet different requirements, and MIRDC has been working on the development of this technology."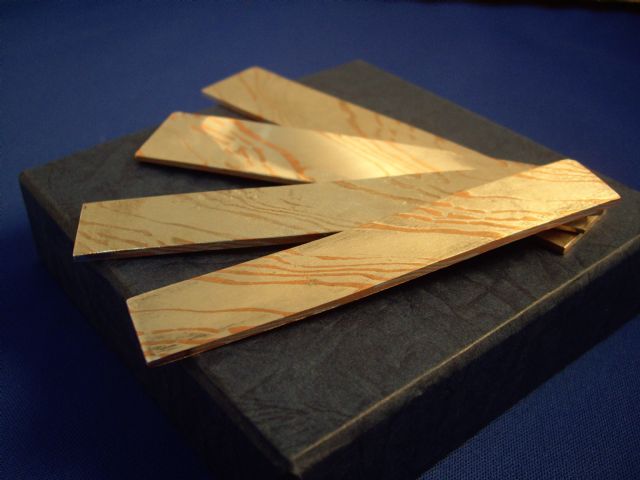 MIRDC is developing smart metal materials to help hand tool makers enhance product value.
Hsu reported that MIRDC has succeeded in working out some smart metal materials, such as aluminum-copper alloys and titanium-aluminum alloys, using its improved heterogeneous welding technology, and has promoted those materials to the hand tool and other local manufacturing industries.
Yang concluded by saying, "How to enhance value is a concern among Taiwanese hand tool manufacturers, and MIRDC is committed to providing practical answers about how to do that." With MIRDC's technical support, he predicted, the industry will have a promising future despite the uncertainties it will face in the years ahead.
Taiwan's Hand Tool Industry and Market Development Value Unit: NT$1 billion

Period

2010

2011

2012

Q3, 2013

Q2, 2014

Q3, 2014

2013

Value

Value

Value

Value

Value

Value

QoQ Growth

YoY Growth

Value

Output

58.30

61.80

54.45

17.36

17.54

18.17

3.6%

4.7%

67.67

Imports

4.57

4.76

4.03

1.09

1.053

1.27

- 17.0%

16.7%

4.20

Exports

53.96

59.34

59.01

15.39

15.96

17.01

6.6%

10.5%

58.26

Domestic Market Size

8.90

7.22

9.47

3.06

3.11

2.43

- 21.7%

- 20.6%

13.61

Import Dependence

51.0%

66.0%

42.6%

35.6%

49.4%

52.3%

6.0%

47.0%

30.8%

Export-to-output Ratio

93.0%

96.0%

91.6%

88.6%

91.0%

93.6%

2.8%

5.6%

86.1%

Source: Metal Industries Research & Development Centre
Taiwan Hand Tool Industry's Performance by Year Value Unit: NT$1 billion

Year

2004

2005

2006

2007

2008

2009

2010

2011

2012

2013

Output
Value

56.77

59.44

60.52

64.29

60.54

45.12

60.37

63.97

64.45

67.67

Exports

47.78

48.05

51.95

56.09

55.89

42.28

53.96

59.24

59.01

58.26

Imports

3.43

3.45

3.59

3.88

4.29

2.81

4.57

4.69

4.03

4.20

Source: Metal Industries Research & Development Centre