Plastic injection molded components, OA furniture parts and accessories, keyboard and stationery drawers, keyboard arms, drawer slides and slide rails
Headquartered in Taiwan's central city of Taichung, Contong Hardware Enterprise Co., Ltd.  supplies OA furniture parts and accessories backed by ample  know-how of plastic injection molding and R&D capacity.

The KS-01B Under-Desk Plastic Pencil Drawer is Contong's innovation and manufacturing techniques materialized. The pencil drawer employs high-quality ball bearing slides for effortless opening and closing, coupled with  improved structural design to be not just durable, but also easy to install under any desk and counter.

Its plastic tray with thoughtfully designed compartments and measuring 540X410X50mm allows storage of paper ranging from A4 to B4 in size, tablet PCs, smartphones, calculators and  stationery. The upscale finish of the trays and ergonomic design enhance the drawer's premium product position.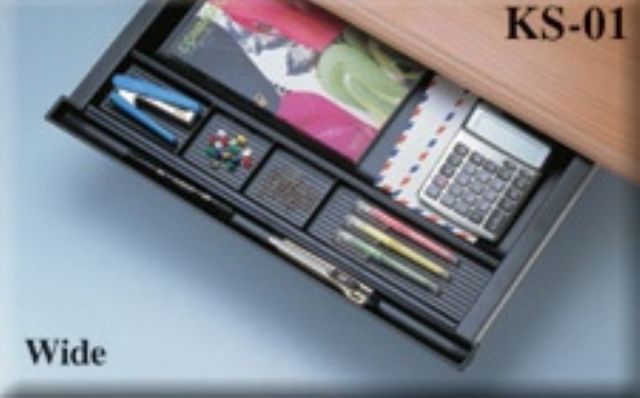 Contong's KS-01B Under Desk Plastic Pencil Drawer.
The company offers adjustable ergonomic keyboard platforms, ergonomic keyboard trays and arms, keyboard drawer, mouse trays and under-desk keyboard trays with mouse trays, as well as various office furniture hardware and accessories, TV stands and stereo racks, steel ball slide rails, adjustable LCD monitor arms, and related parts, which are sought-after by furniture makers and end-users worldwide for outstanding quality and great functionality. (SC)