By STEVE CHUANG

As pliers become ever more sophisticated and multi-functional, designers and suppliers are challenged and called on to consider features as shock-resistance, lightweight and user-friendliness in structural design. This is a trend in Taiwan led by Daiken Tools Enterprise Co., Ltd., a veteran pliers maker established in 1968 in Taichung City, central Taiwan.

Circlip Pliers with Hidden Spring
Mainly used to install and remove retaining rings, circlip pliers resemble most pliers and are generally designed with a spring exposed beneath the pivot point and between the handles for spring-loaded return. This design has a typical problem of easily broken spring, particularly when the body-to-spring connection lacks adequate shock-resistance, an issue effectively addressed by Daiken's new circlip pliers series.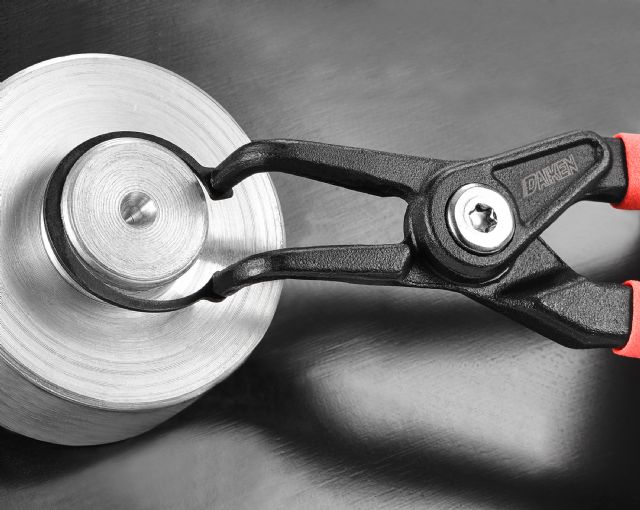 Firm holding of a retaining spring is a main feature of Daiken's brand new circlip pliers.
Daiken's plier has improved structure with integrated spring in the pivot mechanism, hence protecting the spring from impact to achieve better safety and durability, with more compact exterior. The spring is of special steel alloy made under reliable quality control to achieve  extremely long service life of over one million repetitions.
Further, the improved structure greatly reduces mass, with the heads of SUJ2-grade bearing steel and specially heat-treated, coupled with ergonomic handles jacketed in slip-proof plastic.
Another value-added feature is the jaw configuration with the nose  biased at optimal angle to achieve firm hold of retaining rings to boost work efficiency. The series comes in sizes of 5, 7 and 9 inches, and are well received by professionals globally.
Benny Chen, Daiken's assistant general manager, emphasizes that Daiken has steadily focused on developing lightweight, easy-to-use and structurally durable pliers for end-users, the circlip pliers series simply reflect production skills as well as devotion to R&D and quality. The hidden-spring structural design is Taiwan's first with patent pending.
More New Products
Chen says that Daiken has also released several new products for 2015, including a universal plier with cross-grooved jaws for stronger, firmer clamping; a wire rope cutter with forged, ergonomically engineered body and cuts bicycle brake cables and other wires cleanly; and a mini bolt cutter with compact size and strong cutting force and single-handed operation, perfect for high-altitude work.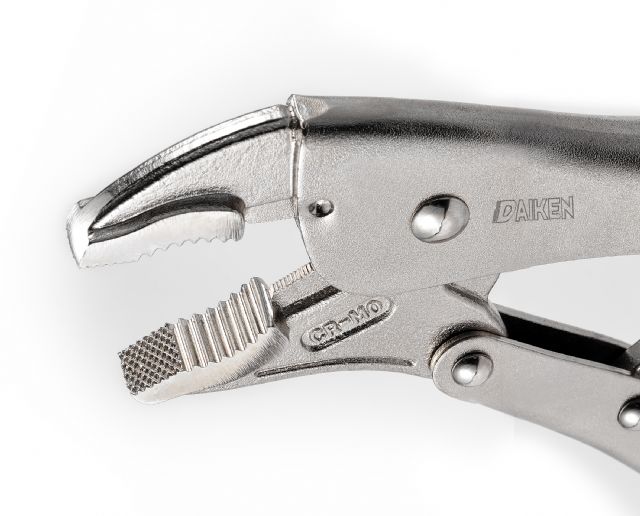 The universal plier from Daiken has cross-grooved jaws for stronger, firmer clamping
The water pump plier with a quick-adjust button is another new product, which features improved button design to ensure not just easier, more precise adjustment of jaw size but also firmer locking of  jaws than competing models, mostly due to precisely machined grooves along the inner sides of the hole where the button is held. Moreover the plier has larger gripping capacity of 50mm.
Development of the water pump plier was financed by the government's SBIR (Small Business Innovation Research) project, due mainly to the design concept being groundbreaking, and the lightweight, compact structure and enhanced utility are  expected to further enhance Daiken's credibility as an innovative manufacturer, says Chen.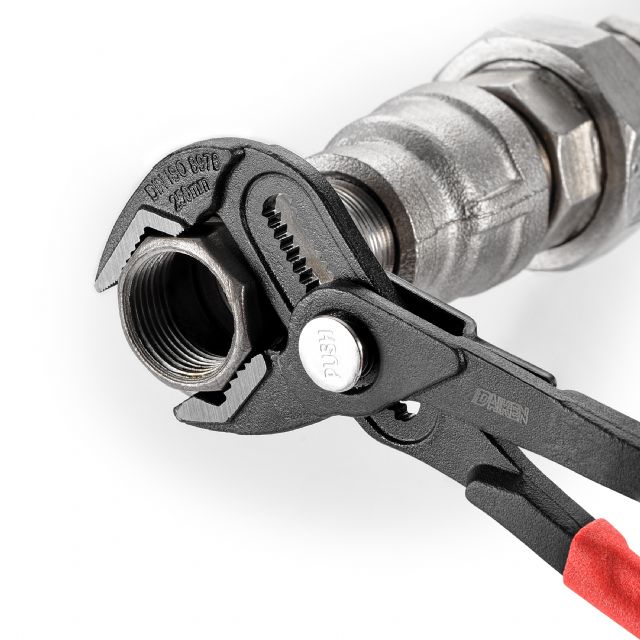 Daiken's newest water pump plier with a quick-adjust button has a larger gripping capacity of up to 50mm.
Time-tested Pliers Maker
For nearly 50 years, Daiken has sustainably grown into a time-tested plier maker in Taiwan, mostly due to emphasis on product innovation and production capability upgrade.
It mainly engages in OEM (original equipment manufacturing) and ODM (original design manufacturing) and supplies a wide range of pliers, including linesman pliers, diagonal pliers, long-nose pliers, plastic cutting pliers, fence pliers, groove joint pliers, cutting pliers and custom pliers for special purposes. The ISO-9000-certified maker's products meet VDE, GS and DIN EN 60900 certifications.
To assure unbeatable quality, the company employs a full line of testing machines in-house as low- temperature tester, 10,000-volt insulation-resistance tester, Vickers hardness tester, salt spray tester, rubber hardness tester and so on.
With exceptional R&D capability, Daiken won the Taiwan Good Design Award in 2001 and has obtained numerous patents for innovation at home and overseas. Plus, the company has spent considerable effort developing new, advanced materials in cooperation with China Steel Corp., Taiwan's largest steelmaker by size, to enhance product value.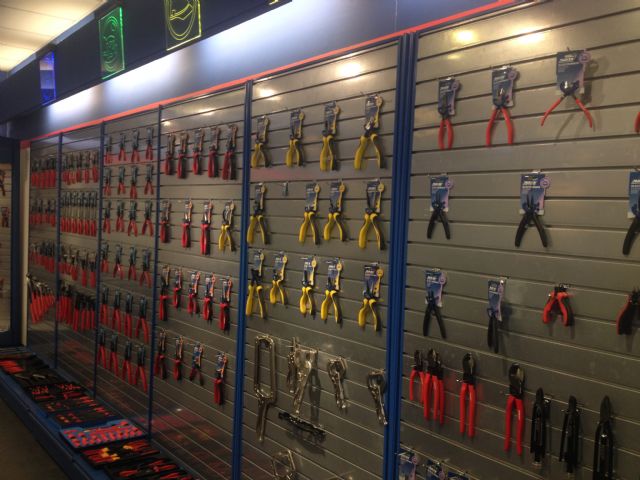 Daiken supplies a wide range of pliers for broad applications.
Daiken is well recognized among global buyers as an outstanding OEM and ODM, but also a reliable OBM (original brand manufacturer). Strong commitment to continuous improvements of quality and R&D contributes to our current achievement and enables Daiken to be trend-setter, says Chen.