Gains in production processes, technology, and materials open the door to higher-margin markets
By STEVE CHUANG

With a half-century of development, fastener production has become one of the most globally competitive industries in southern Taiwan. This achievement is attributable to insiders' efforts on moving forwards high value-added fasteners for higher-end applications, including cars, aircrafts, medical supplies and implants, wind turbines, and many others, hence seeing a gradual uptrend in value.

According to data from Metal Industry Intelligence, an industry and market research division of Taiwan's Metal Industries Research & Development Centre (MIRDC), Taiwan's annual fastener output increased from NT$95.15 billion (US$3.17 billion) in 2006 to NT$112.37 billion (US$3.74 billion) in 2010 and NT$123.87 billion (US$4.12 billion) in 2013. The figure is estimated to reach NT$124.38 billion (US$4.14 billion) in 2014 and then head higher to NT$124.73 billion (US$4.16 billion) in 2015.

MIRDC reports that this strong growth trend owes largely to ongoing industry efforts to improve manufacturing capabilities in partnership with local R&D organizations. Such collaboration has resulted in new fasteners with excellent functionality and consistently high quality that meets the high-end requirements of professional end-users. Such products have helped the industry to enhance production value and extend its presence in new market niches.

In an exclusive interview with CENS, Kristy Chi, an industrial analyst from the Industrial Research Section of MIRDC's Planning & Promotion Department, provided insights into the industry's current development track.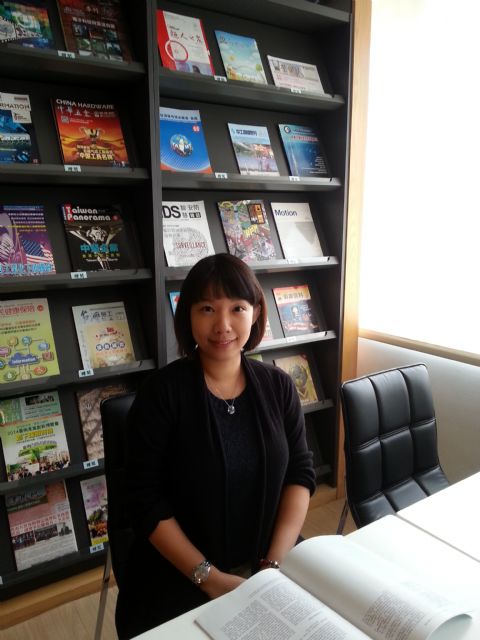 Kristy Chi, MIRDC's industrial analyst, provided insights into the development of products and technology in Taiwan's fastener industry.
Meeting Tough Demands
Among the industry's new star products are fastening products and implants for medical applications. Chi says that such items have been displayed at MIRDC and have earned high scores worldwide following promotion by local makers.
One such item is a titanium alloy self-tapping bone screw with polished anodic coloring treatment. The high-end screw is made with the latest titanium electropolishing technology from Germany to ensure evenness of color distribution from anodic treatment and meet the strict demands for medical applications in developed nations, stressed Chi.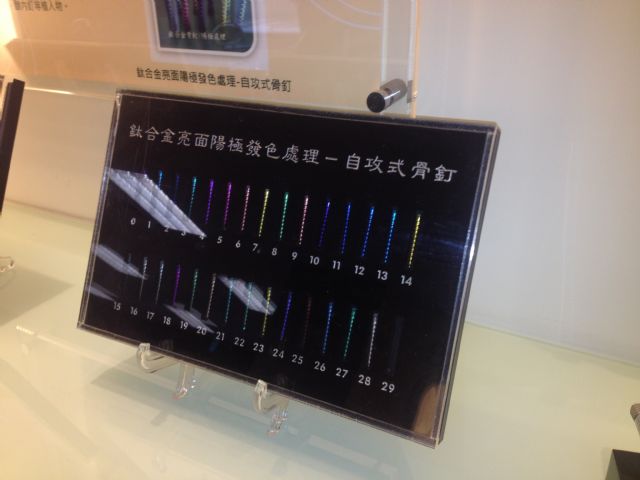 The titanium alloy self-tapping bone screw is made using the newest electropolishing technology from Germany.
Other notable fastening products and related systems developed by MIRDC and local manufacturers for upper tier applications include titanium radius bone plates, implants, rigid abutments, transfer abutments, cover screws, hex drivers, dental implants, and dental implant surgery assistant guiding sleeves, some of which have already undergone clinical trials. "These products will help boost the industry's output and local economies in southern Taiwan," said Chi.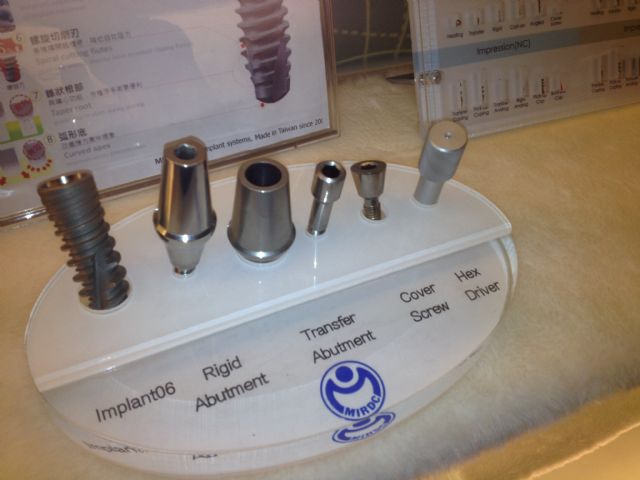 MIRDC has developed several fastening products and implants for medical applications.
Chi noted that fasteners for car production have been another strong growth engine for the industry for years, mainly fueled by strong demand from global carmakers, particularly from Japan.
"Many Taiwanese fastener manufacturers have joined the Tier 1 and Tier 2 supply chains of global makers," said Chi. "In this segment, suppliers have to upgrade their production process and quality management to meet carmaker standards." Such products generally have customized specifications and call for higher manufacturing technology levels to ensure superior safety. They will also generate good profits for the industry's margins in the years to come, given that the global new-car market has steadily expanded over the past years. Global research institutes, such as IHS Automotive, expect car demand to reach 100 million units in 2018. Chi said that deep manufacturing knowledge, exceptional production flexibility and strong commitment to R&D and quality are helping Taiwanese manufacturers to build their global presence in this sector.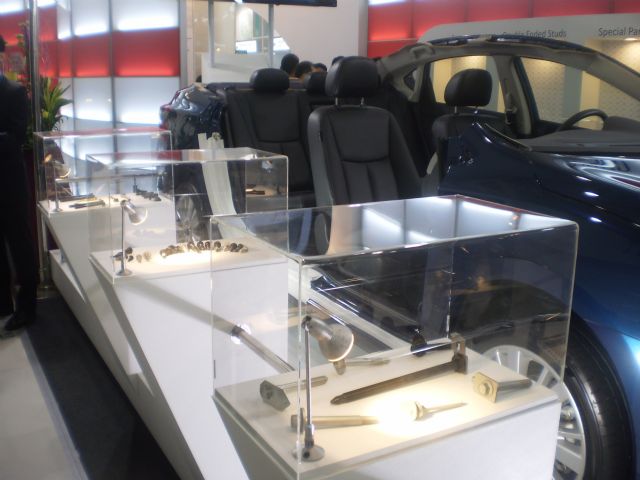 Fasteners for cars are currently the major growth engine in Taiwan's fastener industry.
Aircraft fasteners, which require top-end technology to produce and have much higher unit prices than ordinary fasteners, are also expected to become a strong card of the local industry.
Taiwanese fastener makers' foray into the sector dates back to 2007, when Bruce San, ex-chairman of Taiwan Institute of Fastener Industry, a national federation of Taiwanese fastener manufacturers, confirmed in an exclusive interview with CENS that a few of suppliers collectively won a big order for fasteners to make 100 aircrafts. Mainly for market reasons, however, the deal didn't generate any further orders until Aerospace Industrial Development Corporation (AIDC), Taiwan's leading aircraft parts and components maker, emerged in the global aerospace industry and opened a door for local fastener makers to tap the supply chain.
Chi said that presently only a few of Taiwanese fastener makers have truly penetrated the global aerospace industry's supply chain as Part C suppliers, mainly through AIDC, which has been contracted by global customers to supply engines and fuselages for trainers and commercial aircrafts. "Such fasteners generally have standard specifications and are subject to stricter certifications than any models for other applications. But, with AIDC's support, local suppliers are more likely to tap the segment," she said.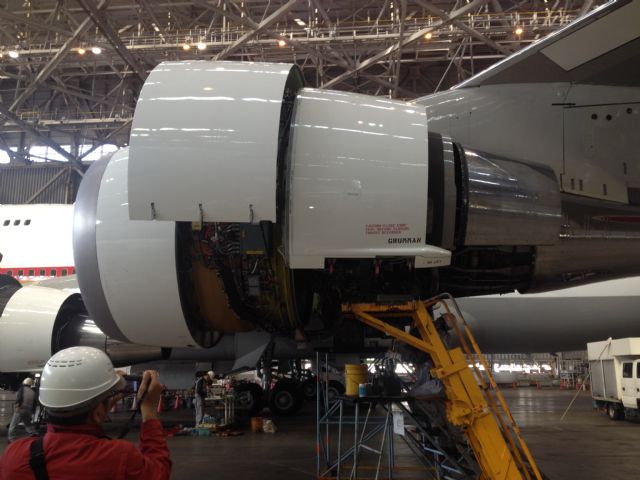 Airplane makers have strict requirements for aircraft fasteners to ensure safety.
Another potentially lucrative business for Taiwanese fastener makers, Chi noted, is fastening products for wind turbines.
For long-term reliability and safety, wind turbines require complicated and higher-end "smart fasteners" with good tightening reliability and stronger structural strength. MIRDC has researched such fasteners to pave the way for local suppliers to tap the segment.
One of the most commonly seen smart fasteners is the Direct Tension Indicating Bolt. The bolt has a director tension indicator washer to help ensure the initial bolt tension is carefully controlled when installing a bolt. Such smart fasteners have been widely used in construction and are increasingly used in making wind turbines.
The Permanent Mounted Transducer System (PMTS) is a rising technology derived from smart fasteners. Chi reported that the system was developed by Intellifast GmbH to ensure consistency in the bolt tightening process and has is considered an ideal solution for wind turbine bolting.
Chi noted that bolt tension is given by torque but could vary with time due to material properties and ambient conditions; therefore, it is hard to record and maintain in practice. The PMTS incorporates ultrasonic measurement technology to give the bolts sensor capabilities so the embedment conditions of bolts and joints can be more effectively monitored.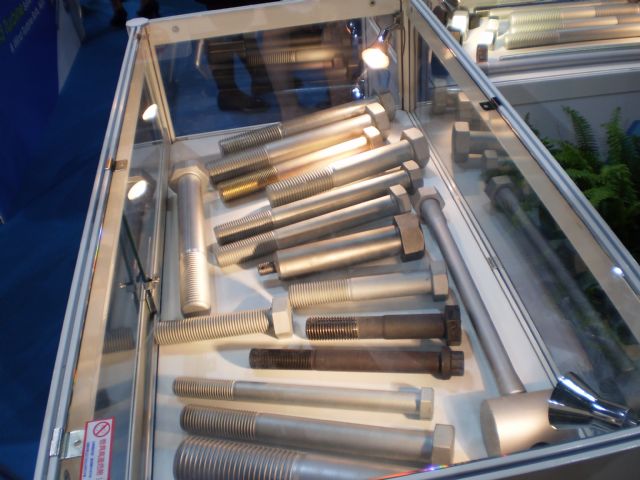 Taiwanese makers are now able to make fasteners at the quality level required for wind turbine use.
A PMTS bolt undergoes ion vapor deposition to create the state-of-the-art Piezoelectric Sensor on the head. Each bolt has a 2D data matrix bar code that can be scanned with an LP3000B device to identify the sensor-built bolts, check bolt tension and record measurement results. In short, PMTS assures not only the reliability of the initial bolt tension, but also data traceability and maintenance of bolts, suitable for wind turbine bolt engineering.
Material and Production Improvements
The rise of high value fasteners has motivated Taiwanese fastener makers to improve their material development, thermal and surface treatment and testing technologies to gain a foothold in the high-end fastener world.
Chi noted that the development of high-end, high-strength materials paves the way for production of high value fasteners in Taiwan. Local material suppliers, R&D units and manufacturers are developing titanium-based alloys and molding technologies to make fasteners for car and aircraft applications.
Chi said that the trend is being driven by China Steel Corp. (CSC), Taiwan's largest steelmaker and the biggest supplier of wire rods by size. CSC has started mass production of alloy A-286, which can withstand temperatures up to 700 degrees Celsius without compromising strength. The alloy also has corrosion resistance qualities that make it a well-suited material for aircraft and car engine fasteners. "High-strength alloys are mostly imported now," Chi said, "China Steel's entry to the market will give local makers of aircraft and automotive fasteners a stable supply of the key material at more competitive prices, which, in turn, will help them to win more orders in the future."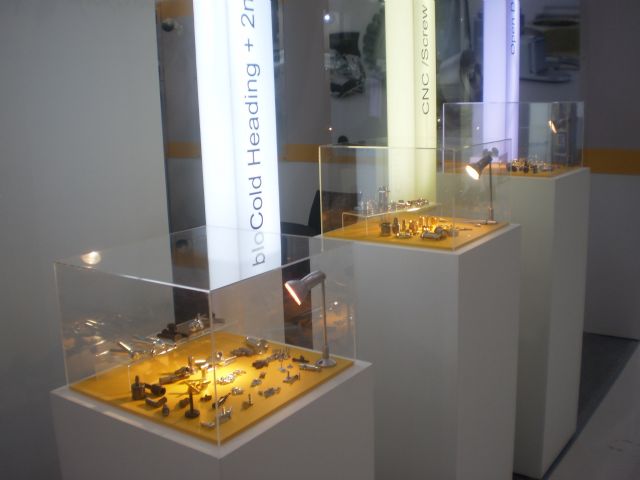 Advanced fastener production technologies are fast developing in Taiwan.
Another notable advance on the material side resulted from a partnership between a local manufacturer and university. The breakthrough, Chi said, involved the application of multi-action forging dies to ensure accurate control of material feeding to enhance the material utilization rate to over 95%. Chi emphasized that the technology can greatly reduce material waste, which is particularly important when costly materials are used in production. This, in turn, can help operators' boost performance and value.
The trend towards thinner, lighter and smaller 3C products is fueling the rise of another potential segment in the fastener business: micro fasteners. Chi said that MIRDC has developed the world's first continuous thermal treatment system specifically for micro fasteners with an outer diameter of less than 2mm.
The continuous heat treating system is composed of a heating furnace, a continuous annealing furnace and oil quench tank. The oil quench tank coupled with a workpiece collecting module facilitates the collecting of quenched fasteners scattering in the tank. It also has a modular design to facilitate customization for different manufacturing needs.
Chi said that locally made micro screws often under-perform in torque generation and cracking and hydrogen embrittlement, resulting in poor quality and performance. This problem, due mainly to the lack of suitable heat treating equipment and relevant knowledge of needed process parameters, is largely addressed by the new heat treatment system.
Chi said that MIRDC's continuous heat treatment system took three years to design and one year to develop: a pace that attests to the center's deep metal processing know-how and R&D capability.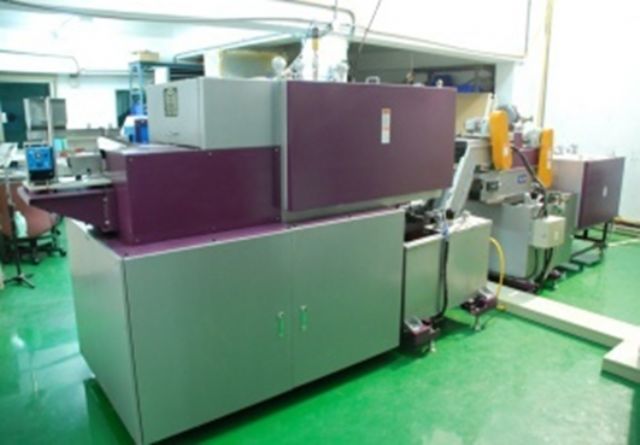 MIRDC's continuous thermal treatment system for micro fasteners
Taiwan's fastener industry has also made progress in the area of thermal treatment technology, Chi said. Local makers are generally capable of skillfully applying various advanced thermal treatment technologies in production, including austempering, which is mainly used to produce bainite, a material that is formed at a cooling rate between that for martensite and perlite to improve fastener elasticity and strength; carburizing, which is used to enhance absorption of liberated carbon during the heating of metal materials to make them harder; martempering, a technology using an interrupted quenching process to produce fine tempered martensite structure to further harden the fasteners; nitriding, a structure hardening technology that diffuses nitrogen onto the surface of a metal; and spheroidizing, which spheroidizes iron carbides within the perlite structure.
Chi stressed that a couple of Taiwan's fastener and related equipment manufacturers have been engaged in developing spheroidizing annealing furnaces, with some models being significantly improved with more effective process control systems, user-friendlier operation and smarter computing functions to achieve lower power consumption, higher productivity and more consistent quality in heat-treated fasteners.
Several thermal treatment technologies are increasingly popular in the manufacture of bone screws and dental implants, Chi said. These include SLA (sand-blasted, large-grit, acid-etched), MAO (microarc oxidation) coating and plasma spray coating. The most impressive of the bunch is PDL (pulsed dye laser) surface treatment technology, which ensures the maximum space between threads to allow adhesion of the most possible cells to the implants and screws, thereby enhancing functionality.
PDL is well-suited for application in the 3C, photovoltaic, IC, flexible electronics and biomedical chip industries. The technology has an expanded pulse width, high frequency and high power, and can process high precision parts and components with microstructures without causing thermal failure. Chi noted that the Industrial Technology Research Institute, a government-funded R&D institute has begun transferring the technology to local fastener makers to help them upgrade production from conventional screws into high-margin dental implants.
Chi noted that local companies are also making notable headway on the testing front, helping to hone the industry's competitiveness. For instance, a fastener inspection equipment company recently released a new screw and bolt sorting technology. Other firms are developing instruments to detect the tightening torque and tension loads of variously shaped screws. In the field of metallurgical analysis, she added, a Taiwanese firm has developed a new machine that can automatically detect and measure spheroidizing rates and ferrite decarburized depth, which is likely to draw more attention to metallurgical analysis: an area of relative weakness in the local industry.
The FIT Dental Implant System highlights MIRDC's achievement in developing micro-manufacturing technologies to upgrade Taiwan's fastener industry.
Chi said that a few Taiwanese fastener manufacturers are also introducing the state-of-the-art information technology in their daily operations to enhance operational efficiency and generate added value for customers. For example, Jinn Her Enterprise Co., Ltd., a supplier of more than 20,000 kinds of screws, is building automatic warehousing systems to improve its inventory management and delivery efficiency.
In this transition, Chi thinks that big data is a promising IT technology that can help the traditional fastener business upgrade from its current emphasis on contract, built-to-order production. She said that suppliers can build databases of customer order volumes, order frequencies, preferences and other valuable information using big data analysis, and use this information to forecast customer inventory levels and notify customers before they need to restock. "In doing so, suppliers not just offer build-to-order manufacturing, but help customers with inventory management," she said, "This will enable suppliers to improve customer relationships and secure more business opportunities."