By STEVE CHUANG

Ratchet wrenches continue to be pivotal in all kinds of garages, workshops and factories for ease of use due to the inherent nature of the ratcheting mechanism.   Chang Loon Industrial Co., Ltd., one of Taiwan's foremost suppliers of ratchet wrenches as well as the biggest manufacturer by shipment, is committed to continuous R&D to develop ratchet wrenches with improved designs to keep leading the sector.

Founded in 1978 in the central Taiwan county of Changhua, Chang Loon initially filled custom orders as subcontractor, and then improved production techniques and know-how to expand from conventional wrenches to ratchet wrenches, bolt cutters and various tool sets, so as to attract more customers and secure sustainable development.

Following years of hard work, as well as close cooperation with Japanese partners on continuous quality improvement, the company continues to ride peak demand waves, capably supplying ratchet wrenches with exceptional functionality, unparalleled durability and strong torque that exceed DIN and ANSI standards.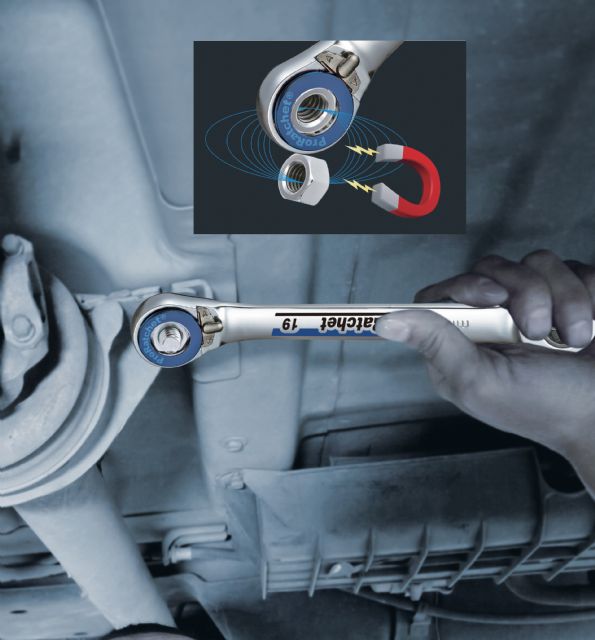 Chang Loon's ratchet wrench generally features functional innovation, such as a magnet in the head for slip-proof holding of nuts.
Functionality
One of Chang Loon's best-sellers that show its craftsmanship and production techniques is the ProRatchet series box-end ratchet wrenches, all of chrome vanadium steel, hot drop-forged and heat treated for extended life and eye-catching exteriors. But the most noteworthy feature that differentiates itself is the precise, practical 72-teeth ratchet mechanism.
Each small turn precisely moves through five degrees, allowing high utility and quickness of use in narrow spaces. The highly precise gear movement is attributed to the sophisticated structural design and minimum tolerance of gear backlash, which also makes the wrench more effortless to use than competing models.
The series, along with Chang Loon's other high-quality, high-performance hand tools, are well received in Europe, Southeast Asia, Latin America, Canada, and the U.S., to help the company establish proven image as a competent OEM (original equipment manufacturer) and ODM (original design manufacturer) globally.
Innovation Creates Value
With its ProRatchet ratchet box- end wrenches proven sought-after by professional end-users worldwide, C.M. Chang, Chang Loon's chairman, believes its current success is due to his company's constant devotion to R&D and innovation.
"Our new products are steadily improved pre-launch based on a feedback loop linked to users' real-world experience, while our innovation is driven by ambition to enhance value. This R&D mode enables developing truly marketable products with unquestionable quality, innovative designs and value-added functions," says Chang.
The proudest innovation on the wrench is the embossed colored rings on the ratchet end to quickly, clearly denote wrench size in Imperial or metric units. Chang mentions that this design is particularly sought-after in the U.S., where both measurements are prevalent. Besides, the color rings are also applied in enterprise identification, and so have been adopted by some OEM customers in Europe to build corporate recognition via color codes on wrenches.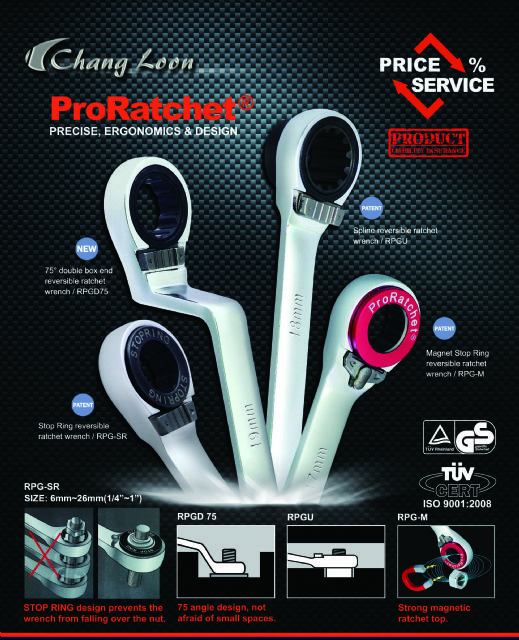 Colored rings embedded in the heads are a successful design of Chang Loon's ProRatchet ratchet box-end wrenches.
In addition to functional designs to enhance value of Chang Loon's products, Chang also pays strong attention to R&D of packaging. Its latest innovation is a functional blow-molded case, with a special hinge to allow the lid to open and swivel 360 degrees for better utility, along with a useful tray inside the lip. To enhance user convenience, the lid has a storage space with a smaller lid on top so  the bigger lid doubles as worktable by holding parts and tools temporarily when the lid is opened.
The design was inspired by a CD storage box and aims to enhance functionality of product that help raise not just user work efficiency but also value for customers, with the hinge available in plastic and metal for desired durability, says Chang.
Besides the functional toolbox, Chang has also designed many packaging solutions with eye-catching looks and functions for optimal appeal, mostly inspired by sundries, so that Chang Loon offers value-added, ready-to-display packaging options to drive customer sales, as well as to help buyers cut labor to simply display goods received as delivered.
Chang Loon continues to not only sharpen production techniques and product quality, but also develop and improve products on new concepts learnt from non-hand-tool sectors. By doing so we aspire to bring new life and new value to conventional hand tools, and turn Chang Loon into a high-profile provider of manufacturing and value-added services, says Chang.