Taiwan's hand tool industry posted an uptrend in Q3, 2014, when output totaled NT$18.17 billion (US$605.56 million), up 4.7% year-on-year (YoY) or 3.6% quarter-on-quarter (QoQ), according to the latest statistics compiled by Metal Industries Research & Development Centre (MIRDC), a semi-official industry research institute in Taiwan.

In the quarter the industry exported NT$17.01 billion (US$567 million) of hand tools, growing 6.6% QoQ or 10.2% YoY, with imports of NT$1.67 billion (US$55.67 million), significantly up 16.7% YoY but down 17% QoQ.

MIRDC reports that other kinds of hand tools as designated by Taiwan Customs made up the majority of such exports of  around NT$8.61 billion (US$287 million), followed by wrenches at NT$4.98 billion (US$166 million), hand tool sets in third at NT$1.12 billion (US$37.33 million). Exports totaled NT$260 million (US$8.67 million) to account for the smallest share of the total.

MIRDC says that the said performance was indicative of the industry's continuous recovery since output and exports both dropped in Q1, mainly due to economic doldrums globally in 2013, including reported slowdown in the residential property market in China, lackluster economic growth in Germany, unsteady economic recovery in Japan, as well as plummeting crude oil prices that have likely forced cutbacks in oil exploration and equipment purchase.

As for domestic demand, MIRDC points out that of total imports, saws, sockets, and garden hand tools accounted for NT$560 million (US$18.67 million), NT$230 million (US$7.67 million) and NT$26 million (US$866,667), respectively, in Q3, when demand in Taiwan increased to NT$2.43 billion (US$81 million) to represent growing import dependence of 52.3%.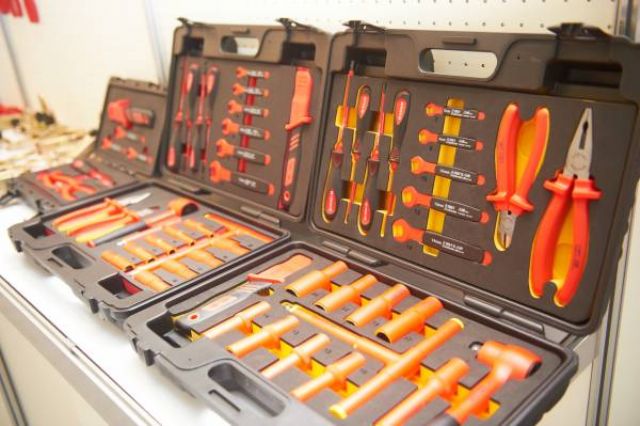 Tool sets remain a top-three Taiwanese hand tool export.
Steady Recovery 
Due mainly to the above-mentioned factors, Taiwan's hand tool industry suffered widespread impact in Q1, 2014, when output and exports dived to NT$15.70 billion (US$523.33 million) and NT$14.42 (US$480.67 million), respectively, compared to NT$17.04 billion (US$568 million) and NT$14.47 billion (US$482.33 billion) in Q4, 2013.
The downturn, however, has reversed since both output and exports surged to NT$17.53 billion (US$584.33 billion) and NT$15.96 billion (US$532 million), respectively, in Q2, with  Q3 output and exports further rising 3.6% and 6.6%, respectively, for growth of 4.7% and 10.5% over a year ago, to suggest an industry uptrend.
While the industry's export-to-output ratio slightly declined to 93.6% QoQ, domestic market demand and import dependence rate, however, both grew, to which MIRDC attributes largely the increasing investments in Taiwan by expat-Taiwanese manufacturers, particularly those in China, motivated by incentives offered by Taiwanese government to solicit homebound investments, growing rivalry from Chinese competitors, and steady salary hikes in China.
Moves by Taiwanese Manufacturers
Many operators in Taiwan are taking measures to counter the said slowdown that will drive industry growth in the years ahead, says MIRDC.
MIRDC cites Mijy-Land Industrial Co., Ltd. (M&L), Taiwan's largest supplier of pneumatic tools by global market share and with a history of over 38 years, as example: it unveiled the Full-Auto Torque Pneumatic Screwdriver earlier in 2014, which won the bronze medal for the best innovative product at the Taipei AMPA (Taipei International Auto Parts & Accessories Show).
The tool exemplifies the world's first mechanical system incorporating Taiwan-patented brushless motors, to meet global demand for energy efficiency to use 50% less power than conventional models, with high torque and high torque repeatability within tolerance of plus and minus 2%. It also has low noise, reduced recoil, high structural durability and exceptional precision, achieved by M&L's cutting-edge, ever-improving technologies and insistence on keeping entire production of high-end tools at in Taiwan, says MIRDC.
Following decades of development, M&L has not only built high profile globally, but also commands the highest share of the industrial air screwdriver segment in China. Besides being Taiwan's first air screwdriver supplier licensed by European carmakers, the firm has also been certified by German certification agencies for all its products that meet ISO5393 standards regarding precise torque repeatability, says MIRDC.
To build presence in higher-end segments of global air tools markets and fill surging orders, MIRDC reports that M&L is constructing a plant in its manufacturing base in northern Taiwan, which will not just enhance corporate sales but help boost industry output value in the long run.
King Tony
Also focusing on R&D to differentiate air tools from emerging rivals is King Tony, a Taiwan-based, globally known branded vendor of hand and pneumatic tools. It launched a mini air impact wrench series in 2010 as the world's lightest, smallest of its kind, which has been sought-after by professionals, especially mechanics in over 40 countries, mostly due to lightweight, strong torque and compact design that make work easier in narrow space.
MIRDC confirms that King Tony has sold the hot-seller in North Asia in 2014, mainly through cross-border e-commerce platforms and promotions, coupled with the brand's strong sales worldwide, to have resulted in 10%-plus growth in sales so far this year.
To help Taiwanese manufactures enhance product value, MIRDC held a hand tool design and development contest and forum that focused on application of  aesthetics and universal design. The event aims to raise awareness among Taiwanese manufacturers of industrial design to heighten their emphasis on developing impressive, attractive and functional exteriors to enhance value and raise global recognition among buyers.
Ex-industry Drivers
China Steel Corp. (CSC), Taiwan's largest steelmaker by size and major supplier of carbon steels and rods for hand tool production, is also playing a part for the hand tool industry's sustainable development, by teaming up with manufacturers to develop advanced, value-added materials. CSC has established the  "Next Generation Hand Tool Engineering & R&D Center" in association with the National Yunlin University of Science and Technology (YunTech) in southern Taiwan.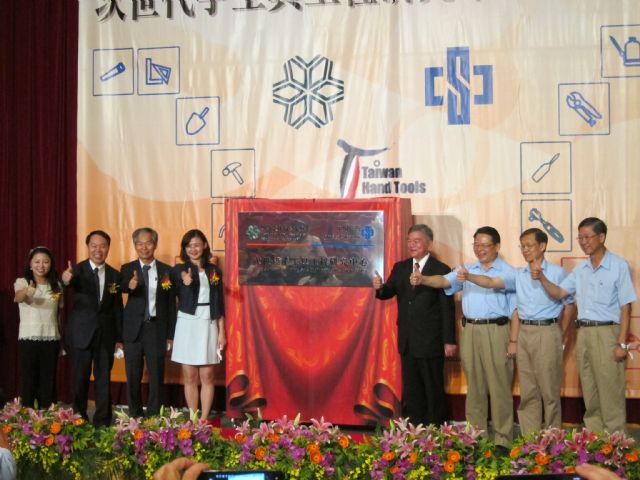 THTMA chairman, J.C. Tsou (third from right) and YunTech president (third from left) at the opening ceremony of the Next Generation Hand Tool Engineering & R&D Center.
The center was opened on October 2 at YunTech, with invited guests as CSC chairman, J.C. Tsou, YunTech's president, C.K. Hou, and Taiwan Hand Tool Manufacturers' Association (THTMA) chairman, Arthur Wu, among others.
In line with Taiwanese government's new industrial development policy to upgrade traditional manufacturing industries in global competitiveness and output value, the R&D center aims to assist the hand tool industry to research and develop more innovative and functional tools for DIY and professionals, so as to drive the industry's export prices (currently averaging around US$7 per kilogram to lag that in Japan and Germany) and push local makers upmarket to fend off intensifying rivalry from undersellers globally.
Tsou said that CSC had decided to work with YunTech to set up and run the center mainly due to the  latter being a very important driver of innovation for industries, including hand tool production, in Taiwan's central region, coupled with ample experience in industrial-academic cooperation and successful partnerships with locally-headquartered firms, including such renowned enterprises as Cheng Shin Rubber (maker of  Maxxis, world's top-10 tire brand) and Hiwin Technologies (large supplier of precision parts and components for machine tools, robots and automation equipment).
YunTech president said resources from the university's design, engineering and management departments will go to support the center's operations, to provide integrated services to help local hand tool makers develop, improve and upgrade capabilities, from industrial design through production to promotion, global marketing and management. Additionally, the center will serve as a platform to enhance exchange of technologies and information among local manufacturers.
2014 THS
The annual Taiwan Hardware Show (THS) is promoted as a major business platform for local hand tool makers, with this year's edition posting a bigger turnout than 2013.
Organized by Kaigo Co., Ltd., a Taiwan-based exhibition organizer, THS 2014 was held October 21-23 in the Greater Taichung International Expo Center that  hosted 350 exhibitors from home and abroad across 12,571 square meters. The exhibits encompassed locks, fasteners, building materials, gardening products, personal safety protection instrument and many others, with hand tools and related accessories being the biggest product category.
The trade fair attracted 21,931 visitors, including 3,658 from overseas including the U.S., Canada, Australia, Finland, Germany, Italy, Russia, Switzerland, Sweden, Japan and Korea, with such number up 7.3% over the 2013 edition. One reason for the show's success was its location in Taichung, Taiwan's central metropolis along with  adjacent counties of Changhua and Nantou are home to over 80% of Taiwan's hand tool makers. Since moving to the new venue from Taipei in 2013, the show has gained increasing status as a must-attend event for hand-tool trades, simply for being a showcase of Taiwan's best hand tools as well as offering convenient factory tours arranged by exhibitors.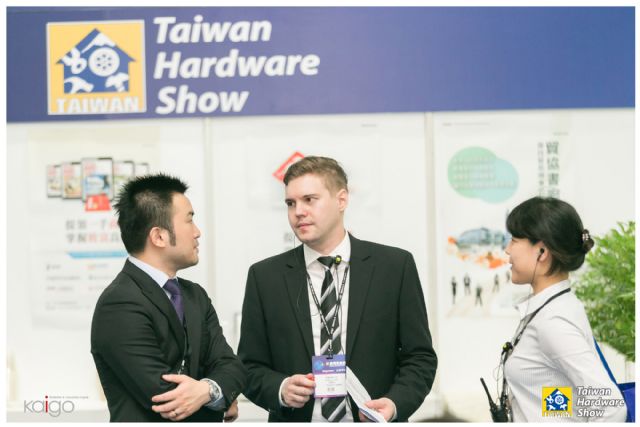 THS 2014 attracted higher turnout relative to last year's.
Upbeat 2015 Outlook
As for the year ahead, MIRDC reports that most Taiwanese makers are optimistic after two consecutive quarters of solid growth beginning in Q2, 2014. Therefore, Taiwan's hand tool industry is expected to maintain robust performance in Q4 and finish 2014 with growing output and exports, compared to  NT$67.67 billion (US$2.25 billion) and NT$58.26 billion (US$1.94 billion), respectively, in 2013.
However, MIRDC points to several negative factors that cloud global economic growth, including China's economic slowdown, the persistently weak economy across the EU, geopolitical instability in the Middle East and Ukraine, the teetering Russian economy due to global sanctions and collapsing ruble, domino effect of  continuous downtrend in international oil prices that benefit private consumption but spell disaster for oil-reliant economies and oil explorers. (SC)
Taiwan's Hand Tool Industry and Market Development Value Unit: NT$1 billion

Period

2010

2011

2012

Q3, 2013

Q2, 2014

Q3, 2014

2013

Value

Value

Value

Value

Value

Value

QoQ Growth

YoY Growth

Value

Output

58.30

61.80

54.45

17.36

17.54

18.17

3.6%

4.7%

67.67

Imports

4.57

4.76

4.03

1.09

1.053

1.27

- 17.0%

16.7%

4.20

Exports

53.96

59.34

59.01

15.39

15.96

17.01

6.6%

10.5%

58.26

Domestic Market Size

8.90

7.22

9.47

3.06

3.11

2.43

- 21.7%

- 20.6%

13.61

Import Dependence

51.0%

66.0%

42.6%

35.6%

49.4%

52.3%

6.0%

47.0%

30.8%

Export-to-output Ratio

93.0%

96.0%

91.6%

88.6%

91.0%

93.6%

2.8%

5.6%

86.1%

Source: Metal Industries Research & Development Centre