Due to steadily rising eco-awareness, austerity and mere demand for convenient urban commute globally, Taiwan's top three bicycle makers by size, Giant Manufacturing Co., Ltd., Merida Industry Co., Ltd. and Ideal Bike Corp., all scored encouraging revenues in November, which  also benefited domestic parts suppliers.

A globally known branded vendor of mid-to-high-end bicycles with operations worldwide, Giant raked in NT$55.742 billion (US$1.85 billion) in consolidated revenue for the said period, up 10.26% year-on-year (YoY), including NT$4.737 billion (US$157.9 million) in November, up 18.35% YoY. Institutional investors generally believe the firm will very likely attain record high of NT$60 billion (US$2 billion) in consolidated revenue for 2014.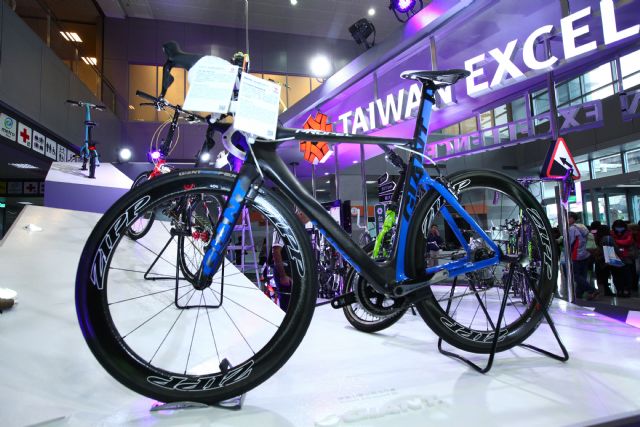 Taiwan's higher-end bicycles enjoy increasing global market share.(photo provided by TAITRA).
After posting 3.46% yearly increase in revenue of NT$2.07 billion (US$69 million) in November, Merida finished the first 11 months of 2014 with consolidated revenue of NT$24.712 billion (US$823.8 million), surging 6.57% YoY to a new high, with cumulative bicycle sales exceeding 2.17 million units.
With persistently strong market demand for bicycles worldwide, Merida confirms its capacities at home and overseas remain fully-loaded with export orders in Q4, mostly for mid-to-high-end bikes, with deferred shipment of around 10,000 bikes in November to  December, hence institutional investors' belief the company to  likely see stronger performance in December than in November.
Meanwhile, Ideal, focusing on higher-end segments of the global bicycle market, chalked up a whopping yearly growth of 59.61% in consolidated revenue of NT$510 million (US$17 million), hence improving cumulative revenue for the first 11 months of 2014 to NT$3.722 billion (US$124.06 million), down 12.48% YoY.
Ideal's phenomenal performance in November was attributable mainly to EU's cancelation of an antidumping penalty imposed on its factory in Dongguan City in China's southeastern province of Guangdong, to have helped the factory to land ever more orders, including those diverted by customers from other makers penalized for antidumping.
Downstream parts suppliers have fared well as result. A major beneficiary is KMC Chain Industrial Co., Ltd., supplier of bicycle and motorcycle chains in Taiwan and with production in Southeast Asia.
KMC raked in NT$248 million (US$8.26 million) in consolidated revenue for November, sharply up 59.61% month-on-month, or 37.39% YoY, to a five-year zenith, adding to its Jan.-Nov. consolidated revenue of NT$2.493 billion (US$83.1 million), for a rise of 48.9% over a year ago.
Institutional investors note the chain maker's brisk revenue growth is due to strong sales of higher-end bicycles by customers. And chains for high-end bicycles have steadily increased to account for over 75% of output at KMC's factory in Taiwan.
The firm is expected to maintain  growth momentum throughout  early 2015, primarily due to  seasonal peak in the bike repair and maintenance sector in the U.S. and Europe. (SC)
Caption: Taiwan's higher-end bicycles enjoy an increasing share of the global market.
Performance by Taiwan's Top-3 Cycle Makers and KMC in 2014
Company

Consolidated Revenue for Nov.

YoY Growth Rate

Consolidated Revenue for Jan.-Nov.

YoY Growth Rate

Giant Manufacturing Co., Ltd.

NT$4.737 Bn.

18.35%

NT$55.742 Bn.

10.26%

Merida Industry Co., Ltd.

NT$2.070 Bn.

3.46%

NT$24.712 Bn.

6.57%

Ideal Bike Corp.

NT$510 M.

37.39%

NT$3.722 Bn.

-12.48%

KMC Chain Industrial Co., Ltd.

NT$248 M.

42.19%

NT$2.943 Bn.

34.89%

Source: Market Observation Post System