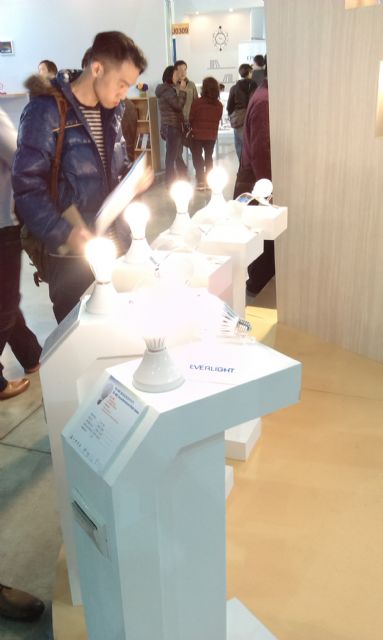 Taiwan's LED makers feel optimistic about their business in 2015.
Taiwan's epitaxy-wafer, packaging, and integrated-manufacturing LED companies are projecting a growth of at least 20% in 2015.
The increasing adoption of flip-type LED chips by LED TV makers such as Samsung will bring lucrative business opportunities to Taiwan's high-end chipmakers, particularly the Epistar Corp. and Genesis Photonics Inc.
The Evelight Electronics Co., which is reported to be the world's No. 1 LED packager by production capacity, will benefit from the growing demand for narrow LED bezel dot matrix indoor displays, a sector in which the company is the top supplier.
Everlight chairman Robert Yeh reports that his company will boost its capacity for the production of narrow LED bezel dot matrix modules to 500 million sets a month in 2015, up from 100 million sets now. He adds that along with display modules, the company's business will be mostly driven by sales of backlight LEDs and LED lighting in the new year.
Wide color gamut (WCG) LED backlights for mobile computing devices such as tablet PCs and smartphones are expected to provide hefty business opportunities for the island's LED makers, according to industry executives.
Chairman B.J. Lee of Epistar, which is currently the world's No. 1 supplier of blue LED chips in terms of production capacity, says that the growth drivers for his company in 2015 will include the LED-lighting, flip-chips, and narrow LED bezel dot matrix module markets.
He predicts that the global market for lighting LEDs will soar to over 2.5 billion units in 2015, up from 1-1.5 billion units in 2014; this will give a huge boost to his company, a leading supplier of such products.
Lee expects the buyers of his narrow LED bezel dot matrix panel modules to increase their demand to 500 million sets in 2015, up from 200 million sets in 2014.
The Lextar Electronics Corp., Taiwan's only integrated LED manufacturer, says it will sign up four new American and 8-10 European customers for its LED light bulbs, panel lights, and linear light tubes in 2015. The company predicts that its shipments of light bulbs will more than double in 2015, to 40-50 million.
Chairman Alpha Wu of the Unity Opto Technology Co., another leading packager in Taiwan, forecasts fatter profits for most of the island's LED makers in 2015. Unity Opto itself has reportedly received additional orders for LED light bulbs from American lighting heavyweights, hiking its shipments from two million to five million bulbs a month.
(KL)