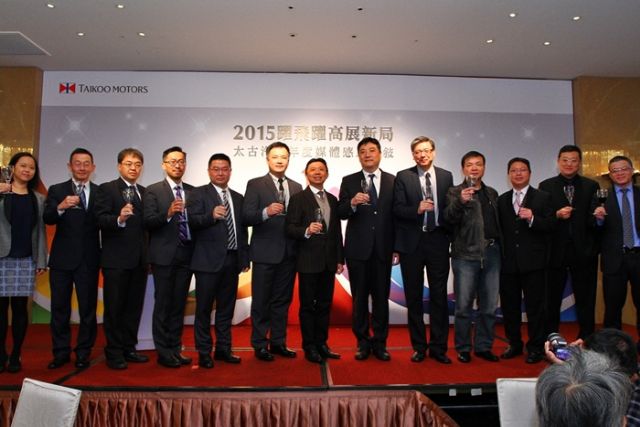 Caption 1: Mike Hsieh (sixth from left), executive director of Taikoo, and top management of Taikoo affiliates jointly announced the group's multi-brand operation strategy. (Photo from UDN)
Taikoo Motors Ltd. of Swire Group, a major automobile dealer in Taiwan, recently announced plans to become the largest automobile distributor on the island. The company will also enter new business lines, including used-car sales and repair and maintenance services.
The announcement followed Taikoo's loss of local agent rights for Volkswagen. The German carmaker recently transferred sales rights for Volkswagen passenger cars and commercial vehicles and Skoda-brand passenger cars to a 100%-owned local subsidiary of German Volkswagen Group.
Taikoo will now focus on multi-brand import-car distribution along with peripheral businesses. Two of the company's subsidiaries recently won distribution rights for Korean car brand Kia and Germany luxury nameplate Mercedes-Benz. Mike Hsieh, executive director of Taikoo, announced that his company is scheduled to aggressively expand its business scope and set up new sales and service points throughout Taiwan in 2015.
A senior executive of Taikoo pointed out that its new-car sales channels handle about 100 to 300 used car transactions, providing a stable source to support Taikoo's used-car sales business. In the future, the executive added that Taikoo would promise to buy new-car customers' used car at the highest market price. The and company's repair and maintenance centers will then inspect, test and prepare the cars for re-sale.
Caption 2: Taikoo's repair and maintenance center will prepare used cars for sale. (Photo from UDN)
Taikoo claims that each of the superior-quality used cars it sells will have less than 100,000 kilometers on the odometer and undergo a full maintenance check. Buyers can also can return a used car within two weeks of purchase if not satisfied.
Taikoo has leased a large site in downtown Taipei to launch its flagship used-car store. The company also has secured sites for other sales points in Taipei, Taichung and Kaohsiung.
Taikoo has also set up a repair and maintenance center in Taipei to provide after-sales services for used-car buyers. The company plans to establish other such centers in major cities in Taiwan.
In the new auto sales business, Taikoo is scheduled to begin distributing Fiat and Jeep cars in the second half of 2015. Company officials confirmed that the firm will not sell the Alfa Romeo since the Italian brand currently has only two car models.
Fiat cars have entered and exited the Taiwan market several times in the past, with frequent changes of local agents. The automaker currently does not have an agent on the island, though a local importer sells the popular Fiat 500 mini car. The local agent of Jeep models has been vacant since DaimlerChrysler Taiwan gave up its agent rights many years ago.