More than 80 million new cars were sold worldwide in 2014, soaring from some 60 million units in 2009, according to Automotive Research & Testing Center (ARTC), a leading transportation vehicle testing and R&D hub in Taiwan.

Burgeoning demand in China, the world's largest automobile market, and other emerging markets have fueled global production and sales of new cars. In Russia, for example, some 1.47 million new cars were sold in 2009, and the annual volume jumped to about three million units in 2012. During the same period, new-car sales in India increased from 2.26 million to 3.6 million.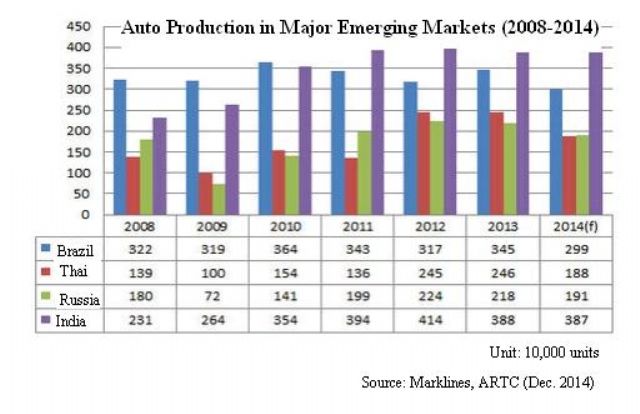 Auto Production in Major Emerging Markets (2008-2014) (Source: Marklines, ARTC)
However, political instability and weakening economies slowed the rapid increase of new-car sales in the mentioned emerging markets in 2013, though global sales still climbed. In 2014, new-car sales in Russia, Brazil, Thailand, India and some other emerging markets were worse-than-expected, including about 10% about 10% year-on-year (YoY) drop in Thailand and India.
In the first three quarters of 2014, some 2.53 million new cars were sold in Brazil, an approximately 9% decrease from a year earlier; while 1.78 million units were sold in Russia, a 13% YoY decline. Stagnant economic growth and inflation sent new-car sales in India down by 3.5% YoY during the period to about 2.38 million units; while in Thailand, which has long been suffering political turmoil, sales of new cars dropped 36% YoY to only 630,000 units in the period.
ARTC said that Brazil has posted strong new-car sales growth in the past few years, encouraging a growing number of automakers to set up plants in the nation. However, economic factors hampered new-car sales in 2014, while the nation's auto export volume plunged by about 20% due to weakening demand in major export market Argentina. In 2014, total automobile production in Brazil is expected to drop by 15% from previous year, to some three million units.
Auto production in Russia, another focal-point market for global players in recent years, is also forecast to see a 13% or so decline in automobile production in 2014, to some 1.9 million units.
Thanks to domestic market and cost advantages, India has become an important production base for the small car models of international auto brands. Increased export volume is expected to have compensated for declining domestic sales in India in 2014, to keep annual auto production on par at the 2013 level of about 3.9 million units, ARTC says.
Thailand is expected to turn out about 1.9 million new cars in 2014, far fewer than the 2.46 million units produced in the previous year, due mainly to political instability and the poor domestic economy, the center says.