Buses have been playing a vital role in public transportation in metropolitan areas, but such vehicle has been facing challenges in cutting fuel consumption and reducing carbon emissions. An answer is now emerging as the extended range electric vehicle (EREV) concept gains traction in a variety of vehicle types.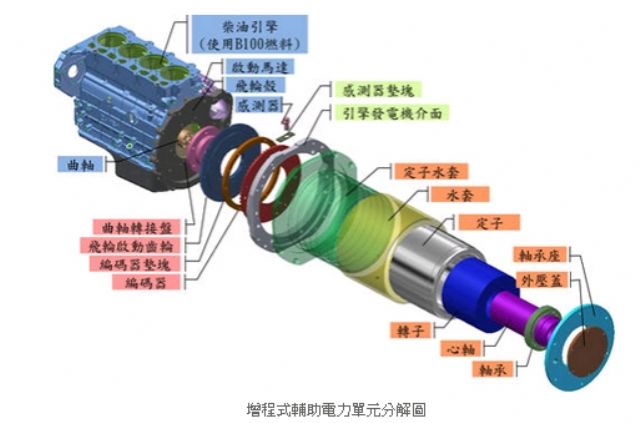 range buses. (Photo from ARTC)
Pure electric buses are seen as a solution for environment protection, drawing intensive R&D and capital resources. But the high cost of lithium-ion power cells on such vehicle and the limited range have also been hampering the higher penetration of electric buses. Extended-range electric buses are seen increasingly as a bridge solution over next few years until more affordable lithium-ion batteries are developed.
The Automotive Research & Testing Center (ARTC), a leading transportation vehicle testing and R&D hub in Taiwan, has developed a water-cooled, permanent-magnetic 50kW generator, or auxiliary power unit (APU), powered by a diesel engine (bio-diesel can also be used). The APU charges the batteries on a electric bus to greatly extend the range of the vehicle, as well as reduce carbon emission by using bio-diesel. In addition, ARTC says, the diesel-engine generator is only half the size of same-class counterparts and the system is much lighter.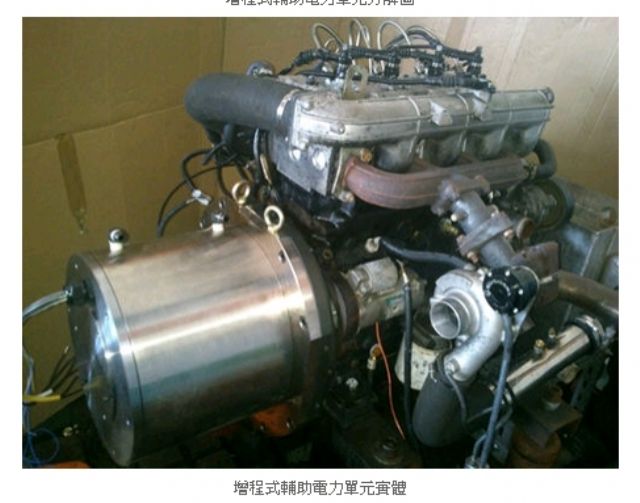 The APU coupled with a bus engine. (photo from ARTC).
The automotive center points out that all EREVs need an APU to charge the on-board batteries and extend cruise range. The internal combustion engine (ICE) generator always run at the highest fuel efficiency at fixed revolutions per minute (RPM). If bio-fuel is used instead of gasoline or diesel, the generator and the EVER will be even-more environment-friendly.
ARTC says that Taiwan has very mature abilities in developing and manufacturing bus chassis and bodies, vehicle electronics, lithium-ion power cells, and electric motors. The local bus manufacturing industry turns out about 3,000 new buses a year, of which if 15% will be modified to extended-range electric buses (about 450 units), with total fuel cost savings of about NT$100 million (US$3.3 million) per year. The 15% extended-range bus replacement is also expected to reduce CO2 emission of about 10,000 tons a year; while the extended-range electric buses can also help reduce the cost in installing charging or battery-swapping stations.