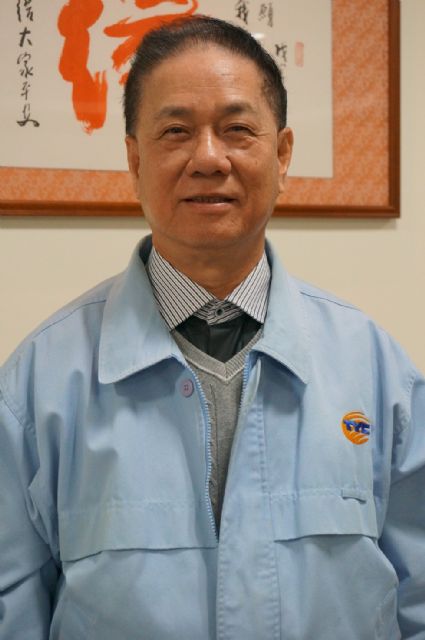 Wu Chun-chi, chairman of TYC. (photo from UDN)
TYC Brothers Industrial Co., Ltd., a leading auto-lamp maker in Taiwan, recently said it has completed a global division-of-labor plan whereby three companies will handle individual business deployments in major markets.
The division-of-labor plan calls for the flagship firm, TYC, to handle mainly businesses in Europe and North America; Varroc TYC Auto Lamps Co., Ltd. in China; and Jouku Technology Co., Ltd. in Association of Southeast Asian Nations (ASEAN). Driven by continually expanding capacity and sales especially in China and ASEAN, says Wu Chun-chi, chairman of TYC, corporate performance looks to improve in 2015. Some institutional investors forecast TYC group to achieve annual revenue exceeding NT$20 billion (US$666.7 million) in 2015.
According to Wu, the flagship firm will continue to handle sales of aftermarket (AM) replacement auto lamps in Europe and America, with Varroc TYC (50% owned by TYC) will develop original equipment (OE) lamp sales to automakers in China. Jouku Technology (based in Taiwan and 70% held by TYC), will handle business development in ASEAN, including setting up auto-lamp factories in Indonesia and Malaysia to win OE orders from local vehicle makers and assemblers.
To achieve growth momentum, TYC is focused on construction of its third factory in Tainan Technology Industrial Park in southern Taiwan, as well as capacity expansion at Jouku Technology's existing plant, which will kick off mass production in Q2 and Q4, respectively, in 2015.
In China Varroc TYC's factory in Chongqing, Sichuan Province began mass production in 2014 and is expected to post annual revenue of about 900 million renminbi (RMB). In 2015, Varroc TYC, with factories in Chongqing and Changzhou, Jiangsu Province, is expected to generate for the parent firm annual revenue exceeding one billion RMB (US$33.3 million), with earnings of about 100 million RMB (with ROI of about NT$250 million or US$8.3 million).
Jouku Technology's Indonesian factory started mass production in April 2014 and is expected to post revenue of about NT$500 million (US$16.7 million) and turn profitable by 2015, thanks to  orders from local automakers. Jouku Technology also plans to set up a subsidiary in Malaysia in Q4, 2015 to make auto lamps on OE basis for  two local automakers: Perodua and Proton.
TYC Group's Global Division-of-labor Plan

Company

Major Business

TYC's Shareholding

TYC Brothers

Group parent focuses on AM auto-lamp sales in Europe and America, as well as OE lamps in Taiwan.

100 percent

Jouku Technology

ASEAN, OE auto lamps.

70.64 percent

Varroc TYC

China, OE auto lamps.

50 percent

Kunshan TYC

China, AM auto lamps.

100 percent

DBM Reflex Taiwan

Taiwan, China etc., reflectors.

50.0 percent

Source: TYC.