To help Taiwan's automotive industry build a comprehensive range of corrosion testing capabilities, key to local development and certification of parts production, the Automotive Research & Testing Center (ARTC), a major  transportation vehicle testing and R&D institute in Taiwan, recently announced the establishment of such a lab in central Taiwan.

Without a corrosion testing lab for assembled vehicles on the island, ARTC says, the center spent 2013 and 2014 to enrich its technologies  and capacity in anti-corrosion certification, building up corrosion-related certification capability for both vehicles and systems. Such investment, the center stresses, effectively helps local vehicle and parts makers shorten product development period and cut costs.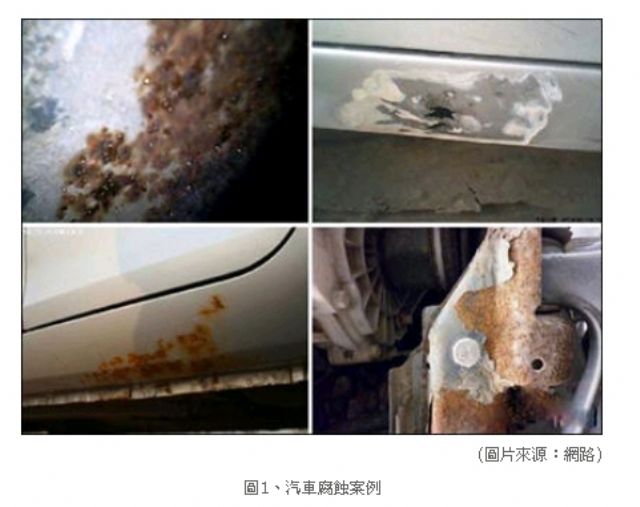 Types of vehicular corrosion tests. (photo from ARTC).
In addition to the newly built capacity in vehicle and system corrosion certification, ARTC has also integrated its established parts corrosion-certification capability to enhance diversity in corrosion-certification ability for auto parts, including automotive electronics, electrical system, mechanical structure, protective coating, electric vehicle (EV) parts and systems.
The center claims that its corrosion testing technologies simulate real-world corrosion environments for EVs, and will provide evaluation services for corrosion-resistance and durability of  EVs and systems. For example, ARTC says it can  evaluate impedance deterioration from wire-harness corrosions; main circuits, polarities, contact points etc. of vehicle powertrain system; and vehicle surface coating and treatment development.
Corrosion Problems
ARTC says cars consist of many metal and non-metal parts, which will all corrode to cause environment pollution or even car accidents. So corrosion not only affect exterior appearance, but also vehicular safety, reliability and durability.
A car's surface is highly prone to corrosion, especially that exposed to ground and especially parts often impacted by stone, debris on roads, as well as weld points, vehicle chassis and exhaust parts that see wide ranging temperature fluctuations.
Worsening environmental factors, including industrial pollution, UV, road debris, acid rain and de-icing salt etc. continue to challenge anti-corrosion ability of vehicles, which demand  automakers to choose materials, make product-performance forecasts, do environmental research, and carry out more stringent quality-control steps. So the ARTC says corrosion testing methods and procedures are widely integrated in international quality standards, regional standards, and industrial standards for vehicles, parts, and materials.
The SAE J2334 Cosmetic Corrosion Lab Test Cycles. (Photo from ARTC)
Currently, the ARTC says, there are more than 50 standardized methods for anti-corrosion tests, with the most popular being the salt spray test. In recent years, however, the global automotive industry has developed multi-condition tests  including interchanging salt spray, humidity to  accelerate corrosion to test auto parts. The more widely known methods include ASTM/SAE (U.S. SAE J2334), BS (U.K.), DIN/VDA (Germany), NF (France), UNI (Italy), JIS/JASO (Japan) etc., with automakers as Fiat, IVECO, Volkswagen, BMW, Renault, Nissan, Toyota, General Motors (GM), Chrysler also using their own standards.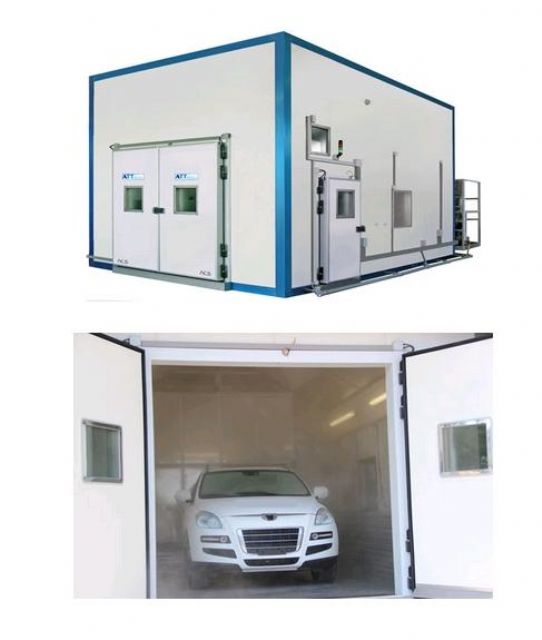 ARTC's corrosion test lab for passenger cars. (photo from ARTC)
The ARTC says that its anti-corrosion test equipment for vehicles measures 4m x 6m x 3m, whose temperature is controllable from -20 to +60 Celsius, with the other controllable conditions being temperature gradient of 0.5 Celsius/minute; humidity of 30% RH to 95% RH; spray pressure range of 0.5 bar to 2 bar; and spray volume of 1 to 4 ml/hour/80 sq.cm.