The Automotive Research & Testing Center (ARTC), a key transportation vehicle testing and R&D hub in Taiwan, recently said new-car sales in Taiwan increased 12% in 2014 to 423,829 units, a 9-year high since 2005 (some 500,000 units sold), due to the coming of the 10-year replacement  peak.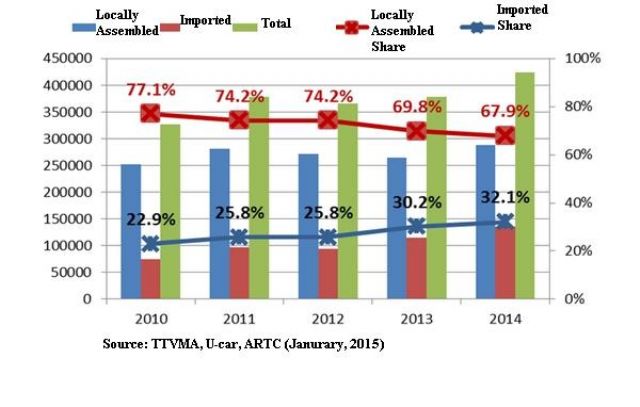 New-car Sales Volume in Taiwan (2010-2014).
More noticeable is, the center said, that Taiwan exported about 96,000 cars in 2014, a 16% year-on-year (YoY) increase to again set a new record for the local automotive industry. Thanks to  increasing exports by local automakers, total automobile production volume on the island climbed to about 379,000 units last year, including more than 200,000 units produced by Kuozui Motors Ltd., a major auto assembler and exporter in Taiwan of Toyotas.
Record Share of Imports
ARTC's analysis shows the top-five auto vendors in Taiwan last year were Hotai Motor Co. Ltd. (Toyota and Lexus), Yulon Nissan Motor Co. (Nissan and Infiniti), China Motor Corp. (CMC, in partnership with Mitsubishi), Ford Lio Ho Motor Co. (Ford), and Honda Taiwan Motor Co. (Honda).
In 2014, Hotai led by selling 139,240 new cars (up 9.4% from a year earlier), for market share of 32.9% to retain its No. 1 position for the 13th consecutive year, with six models being top-10 best-sellers on the island.
Yulon Nissan Motor Co., the Nissan agent, rose to its highest ranking in the domestic market for the first time in the past 10 years by replacing affiliate CMC, the local assembler and agent of Mitsubishi. Yulon Nissan sold 47,741 new cars, the highest annual volume for the company since 2008, for market share of 10%.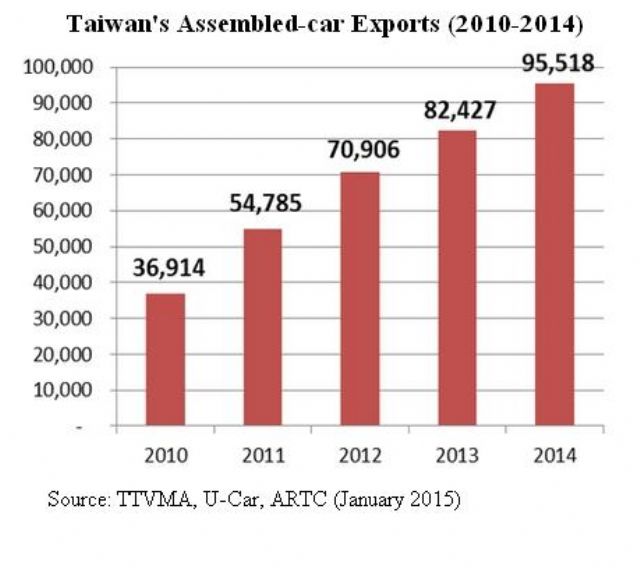 Taiwan's Assembled-car Exports (2010-2014).
Another notable auto vendor is Luxgen Motor Co., Ltd., the No. 10 in 2014. Driven by the launch of the crossover the LUXGEN U6 in 2014, the company's sales volume increased 129% YoY to about 17,000 units.
A remarkable trend in the 2014 Taiwanese automobile market was the 32.1% market share won by imported cars (about 136,000 units sold), the highest in 13 years. Six major import brands, including Mercedes-Benz, BMW, Lexus, Volkswagen (VW), Audi, and Volvo hit record sales volumes on the island to enjoy obvious sales growths to drive new-car sales locally.
The ARTC said increasing choices of imported makes and models have drawn more attention from local consumers, with falling fuel prices also stimulating buying willingness for big-displacement luxury cars.
The automotive center forecasts that in 2015 new-car sales in Taiwan are expected to continue rising  due to several positive factors, including replacement purchases, falling fuel prices, depreciating euro and Japanese yen etc., but warns that strong local demand could enable  imports erode shares of locally-assembled cars, and more and more international auto vendors are expected to set up own subsidiaries instead of contracting agents as before. So the ARTC says local automakers should think more about  upgrading product competitiveness while increasing exports to offset lost market share.