Taiwan's Automotive Research & Testing Center (ARTC), a key transportation vehicle testing and R&D institute, recently reported having developed an autonomous parking system based on existing Autonomous Driving Assistant System (ADAS) technology.

The autonomous parking system is applicable in outdoor parking lots, and consists of Wifi-enabled inter-communicating outdoor cameras, central-control server, a smartphone (or tablet PC), and an intelligent vehicle. The parking system relies on outdoor camera(s) to monitor parking spaces to transmit such information to the central server, which keeps updating parking-space data. A driver requests via smartphone or tablet the server to provide parking-space information to select a parking space on the handheld device. The server then sends parking-space and drive-path information to the handheld device, which sends such data on selected parking space to the vehicle and server. Finally the intelligent vehicle self-parks via path-tracking backed by autonomous  steering, braking, and transmission systems onboard.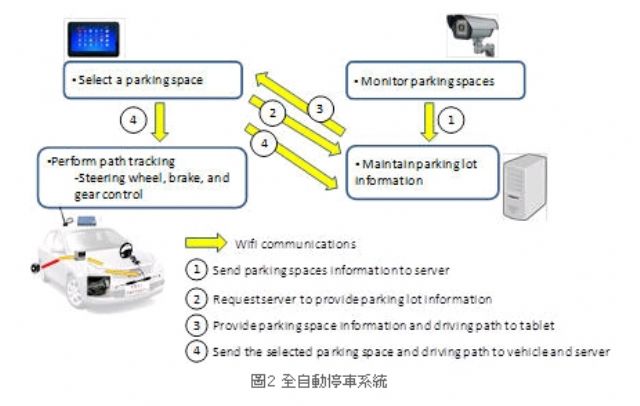 An ADAS-based autonomous parking system. (photo from ARTC)
Easier parking
Such autonomous parking system, the ARTC says, effectively shortens time needed to find parking space, and avoid collision during parking often associated with human error.
The ARTC-developed autonomous parking system is equipped with LIDAR (Light Detection and Ranging), camera, ultrasonic, GPS and wheel speed calculation sensors. An intelligent vehicle has sensors to detect ambient conditions and  obstacles to automatically brake as necessary. The microcontroller unit (MCU) onboard handles  vehicle-activity decisions as vehicle speed, drive path, directions etc. by calculating data transmitted from GPS and wheel speed calculation sensors.
The ARTC says Taiwan is a graying society with rising population of seniors whose  deteriorating eyesight and reaction time inevitably  compromise road safety, to create urgent need for ADAS technology. In the future the ARTC stresses that it will continue to focus on  development of e-call emergency system, emergency roadside parking system etc., which  automatically activate ADAS to park a vehicle safely along roadside and call 911 to report emergency.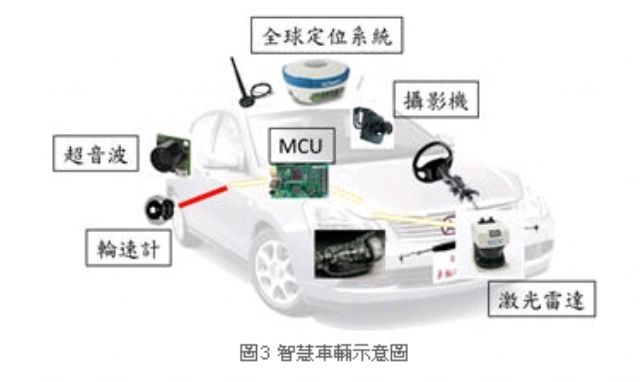 Intelligent vehicle with different types of sensors onboard. (photo from ARTC)
The ARTC adds that the European New Car Assessment Programme (Euro NCAP), a car safety performance assessment standard adopted throughout Europe, designated ADAS as  assessment category in 2014, making ADAS essential for any car aiming to win the five-star (highest) safety ranking.
Standard equipment
An increasing number of international automakers are choosing ADAS as standard equipment on  new models, also targeting ADAS-related R&D  for future development. Such trends, the ARTC says, suggest that automobiles will not merely be  transportation tools, but necessity in future Smart Life.
Basics
ADAS are developed to automate, adapt, enhance vehicle systems for safety and better driving. Safety features are designed to avoid collisions and accidents by offering technologies that alert driver of potential problems, or to avoid collisions by implementing safeguards and taking over control of vehicle. Adaptive features may automate lighting, provide adaptive cruise control, automate braking, incorporate GPS-traffic warnings, connect to smartphones, alert driver to other cars or dangers, keep driver in correct lane, or show what is in blindspot. The most frequently seen ADAS on passenger cars include lane departure warning system (LDWS), Autonomous Emergency Braking (AEB), BLIS (Blind Spot Information System), parking assist system (PAS) or auto parking system (APS) etc., the ARTC says.
There are three major sub-systems of ADAS, ARTC says, including sensor, decision-maker, and action. Sensor often contains LIDAR, radar, camera, ultrasonic, GPS etc. sensors. Decision maker is akin to human brain to decide behavior (driving mode), mission (route planning), and motion (track planning). Action often refers to brake, accelerator, gear shift and steering wheel.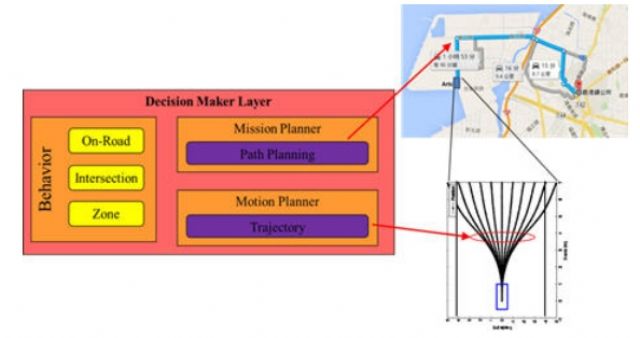 The "decision-maker" of an ADAS. (photo from ARTC)
ADAS technology can work via vision-camera systems, sensor technology, car data networks, vehicle-to-vehicle (V2V), or vehicle-to-infrastructure systems. Industry experts say the next-generation ADAS will increasingly tap  wireless network connectivity to offer improved functionality by using car-to-car and car-to-infrastructure data.