With a clear goal of achieving to be one of the most comprehensive suppliers of its kind in the global market, Sding Yuh Industry Co., Ltd., a young and vigorous specialist in the production of high-caliber aftermarket (AM) timing kits, timing chains, chain guides, chain tensioners, belt tensioners, and idler pulleys, among other items, has been aggressively moving forward in every aspect.

After several years of continued and rapid expansion, Sding Yuh moved into a new integrated office/factory building in northern Taiwan in 2011. It is now in a position to offer more than 1,200 types of timing kit sets, and the number continues to increase rapidly thanks to intensive investment in new-product development.

A senior official at Sding Yuh claims that the firm's wide range of timing kit sets is suitable for almost all major Japanese and America car makes, About three years ago, in response to customer requests, the firm began a series of development projects for popular European cars. Some 30 timing kit sets are developed every year, with tensioners, bearings, and chain guides being produced in-house while gears and chains are sourced from other reputable suppliers.

The company is confident of the quality and durability of its "SD" own-brand timing kit products, which are well received worldwide, especially in the U.S., Mexico, Latin America, and European nations, such as Italy and the U.K. Key competitive advantages are provided by 100% inspection via the company's stringent quality-control system, quality assurance for all items, and the best pre- and after-sale services.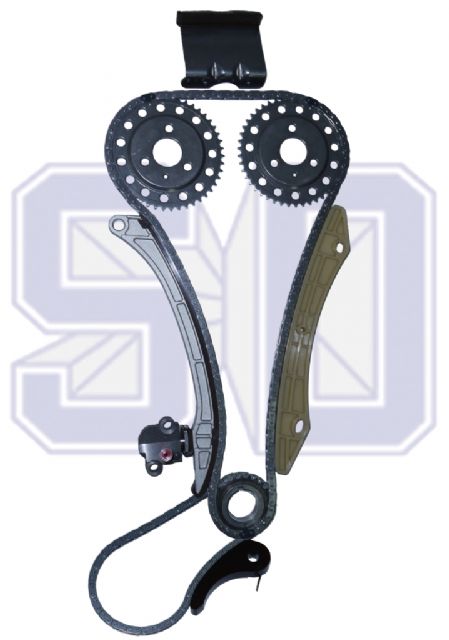 Sding Yuh's hot-selling TK-SZ117 timing kit
Sding Yuh is also proud of its highly efficient product inventory system, which contains more than 3,000 finished and semi-finished items and assures on-time delivery. With the strong support of the advanced inventory system, the firm can deliver most of the ordered items in a very short period, greatly upgrading its global competitiveness.
High-end testing and inspection equipment is used to check every product and part, whether outsourced or self-produced, so as to assure the best quality and durability pf SD-branded products. The firm says that the durability of its products is 80% to 90% that of original equipment (OE) counterparts, while costing only one-third as much.
Sding Yuh Industry Co., Ltd.
No. 16, Lane 331, Zhongzheng N. Rd., Sanchong Dist., New Taipei City, Taiwan 241
Tel: 886-2-8988-2128
Fax: 886-2-8988-2532
Email: sdingyuh@sdingyuh.com.tw
Website: www.timingkit.com.tw