Living up to Taiwan's reputation of "Kingdom of Hand Tools," local suppliers of auto repair tools are earning plaudits for their long-term dedication to R&D and branding upgrades.

Unwilling to compromise in the face of rivalry from emerging countries and realizing the danger of market erosion caused by price competition, most Taiwanese suppliers in the line have worked to redefine their positioning in an upmarket direction.

One supplier said that it was once common to see Taiwan-made products derided in foreign movies and in real life as having poor quality, but Taiwanese suppliers have worked hard to correct that misconception and are now proud of the "made-in-Taiwan" label.

Taiwan's First Semi-powered Digital Torque Wrench One maker has gone further than to diversify from manual hand tools into power tools:  William Tools Co., Ltd., founded in 1999 in Taichung County, central Taiwan, has developed the prototype of Taiwan's first "semi-powered digital torque wrench" in cooperation with the ITRI (Industrial Technology Research Institute) and a Taiwanese peer this year to turn a new page in the local industry.

Initially a maker of torque tools, the company has also developed a series of ratchet wrench handles, torque multi-pliers and torque wrenches. The company's hand tools are available in standard or customized specifications, with torque rating and durability complying with or even exceeding ANSI and DIN standards. With maximum output of over 2 million units a year, the company is well-known as a torque wrench expert among professional buyers from the U.S., Japan and European countries.

Few can question the company's status as a world-caliber torque wrench maker for its products are supplied on the ODM (original design manufacturing) basis to a couple of global tool brands, including Stanley and Facom, as well as exclusively supplying  metal parts for Eclatorq's digital torque wrenches (Eclatorq is Taiwan's largest brand of digital tools).

Showing the prototype semi-powered wrench, company president William Chiang says, "I understand that the world's first powered torque wrench was invented in Japan; powered digital torque wrenches were developed by British and Japanese companies. However, ours is the first semi-powered digital wrench in the world."

Based on ITRI's experimental results, Chiang's R&D team found that a powered wrench has torque fluctuation as high as 30%, mainly because torque is almost impossible to control precisely by electrical motors. "So we decide to build a less powerful motor into our digital torque wrench to optimally balance efficiency and torque precision," says Chiang, noting that the electrical motor generates torque up to 50n/m, with the tool able to torque up to 200n/m manually.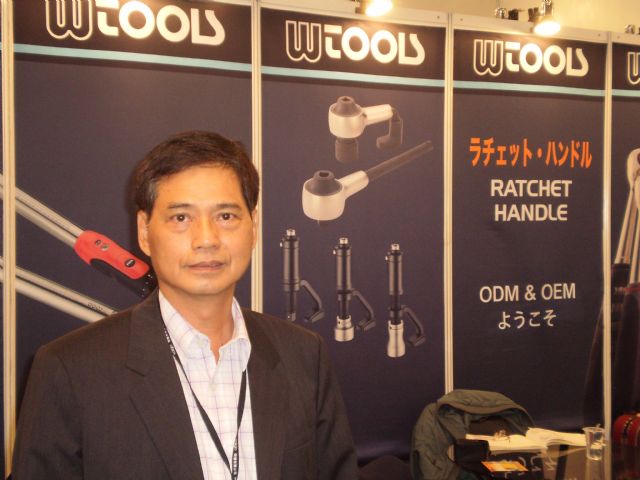 William Tools's president William Chiang
Citing a Japanese carmaker requiring each wheel lug to be tightened to a maximum torque of 103n/m, Chiang says that its semi-powered wrench can be used to quickly set the lug to avoid damage, and then fully tighten manually, adding that the semi-powered tool ensures a torque variation within 1% while being faster than manual digital wrench.
In addition, Chiang's team uses high-quality lithium batteries to drive the motor, enabling the tool to run at maximum RPM for four minutes. "The battery has been tested to turn 150-180 bolts. And all the parts are of ABS, which is impact and weather-resistant," says Chiang.
ILAC-MRA-accredited Lab for Digital Tools
Motivated by its perfectionist spirit, Stand Tools Enterprise Co., Ltd., a 22-year-old hand tool maker located in Taiwan's central county of Taichung, spent considerable time and money building world-caliber calibration resources in house, starting a new page of the company's decades-long history.
After nearly two years of hard work, the "Stand Tools Calibration Laboratory" has been certificated by TAF (Taiwan Accreditation Foundation) and operational this month, which has not only become the company's cutting edge in the line, but also underscored it unquestionable commitment to degrees of precision of digital torque wrenches.
In fact, the company is a young digital tool maker, for it started engaging itself in production of digital tools few years ago, and launched its first MEMS-integrated digital torque wrench at the end of 2008 to mark its beginning of the business, which is also Taiwan's first "marketable" MEMS-integrated model.
Not to content with its achievement then, the company claims that it decided to build up the world-level professional torque calibration laboratory right after debut of the MEMS-integrated digital tool. Since then, the company has cooperated with Industrial Technology Research Institute (ITRI) for 2 years, and successfully received certification from TAF for its Stand Tools Calibration Laboratory this July, which is the accreditation for its torque wrenches and torque transducers. In addition, the lab has been approved by the ILAC-MRA mark.
That is to say the company has been completely qualified to tell its users with testing reports from the lab, which are accepted and recognized by the most countries around the world, that its digital torque wrench is fully reliable and accurate.
No doubt, the laboratory accreditation can add to Stand Tools's competitiveness in the segment for digital torque wrenches. The company declares that the revolutionary move is necessary to its sustainability of business growth, for it will help to earn customer's trust in precision of its torque wrenches, and to boost Taiwan's images and capability in the global supply chain of professional tools.
"Despite leeriness, we spent lots of time and money learning related contextual frameworks for the standards and introducing advanced instruments in the lab, and successfully obtained the certificates in 2010," says Brand Hsiao, Stand Tools's young manager. "Since then, Stand Tools has built a higher profile in the line, better competing on the basis of precision and quality reliability for more sustainable developments. This has also begun a trend through the sector for the moment."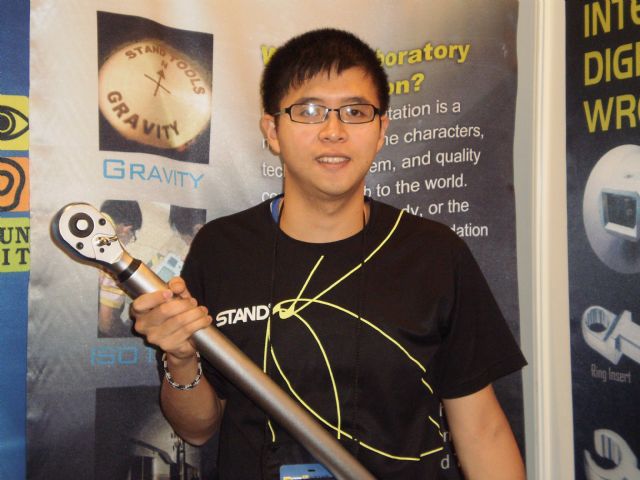 Stand Tools's manager Brand Hsiao
Fully-computerized Management to Sustain One-Stop Customer Services
Founded in 1988 in Taichung County, central Taiwan, the A-Kraft Tools Manufacturing Co. is an efficient manufacturer of hand tools for DIY and auto repair purposes with world-caliber management capability.
The company supplies a wide range of auto repair tools, including sockets, socket accessories and sets, socket wrenches, ratchet handles, and combination wrenches for cars, heavy-duty vehicles, and machinery, as well as a variety of hand tools such as screwdrivers, bit sets, pliers, tool cabinets, and tool sets. Around 30% of the company's products are exported on an OBM (original brand manufacturing) basis and the remainder as OEM (original equipment manufacturing) products.
Few in the line can compare with A-Kraft in carrying out fully computerized organization and production management. The company's chairman, Louis Chen, sees this as the key to A-Kraft's sustainable development.
"We have concentrated on introducing computerized management for some years," Chen noted, "and 95% of our routine paperwork is now processed through our ERP (enterprise resource planning) system and related MIS. To make sure all systems and application software are well-suited to our organization from the ground up, A-Kraft has had a computer engineering department for years, with 4-5 professional software engineers being employed to work out practical computerized solutions for the constant improvement of our operating efficiency."
The company has effectively taken advantage of various management information systems to handle inventory monitoring, sales logging, customer relationship maintenance, labor and production scheduling, performance auditing, personnel management, and other matters. "Information technology is ubiquitous nowadays," said Chen. "Taiwanese makers should make better use of technology to improve the quality of their enterprise management and boost their global profiles. In short, people should focus on R&D and marketing, and let computers handle daily paperwork and follow-up."
Chen is most proud, perhaps, of his Computer Automated Reminding System (CARS), which he claims was officially recognized in 2010 as an ideal solution for boosting management efficiency in all areas from routine paperwork to production and inventory control.
The system was independently developed by the company's software engineers and linked to a huge-capacity database that was constructed in-house. It is able to provide each worker and director with up-to-date information related to their respective tasks, and to help the company with the evaluation of worker performance.
Chen explained that the system automatically mails reminders to purchasing agents, stock keepers, and delivery workers, day by day, until they report back to the system that their jobs are completed. The system also reports feedback from workers to directors at every stage of work in progress. The system records and stores in the database, good and poor worker performance in the form of number of days ahead of or behind schedule. This information helps directors to evaluate the performance of their subordinates at the end of the year.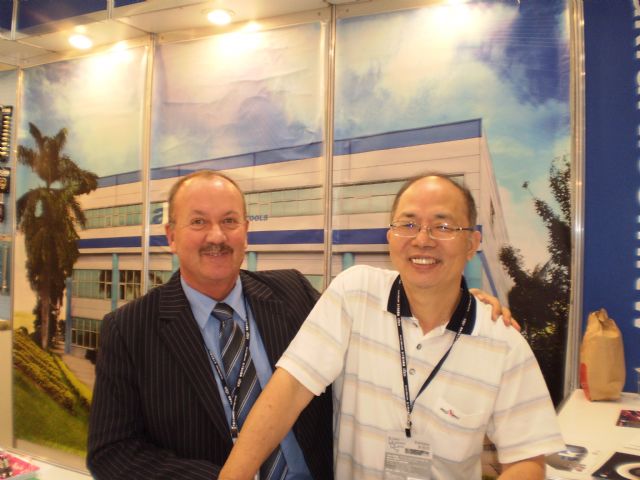 A-Kraft's president Louis Chen (right)
Drawing on its cutting-edge e-management capability, A-Kraft has also launched One-stop All Services, which Chen said is committed to providing customers with fast delivery, quality assurance, satisfaction, shipment consolidation, online information, competitive prices, R&D, and innovative products. The company also offers customers online access to the latest information about new products, delivery, and available inventories. "Since routine paperwork on everything from material stocking and manufacturing to pre-delivery inspection, packaging, and shipment is under the control of computers," Chen commented, "our customers are able to trace their orders through the Internet any time, any place."
The use of information management systems in assembly and packaging lines also enables the company to serve as a logistics center for customers who operate outlets in different places. Chen explained that his company employs conveyor belt systems coupled with CARS to help customers with pre-delivery shipment organization and destination arrangement, facilitating the movement of ordered products and enhancing value-added efficiency—all of which is part of the company's One-stop All Services.
(SC)