Compiled by KEN LIU

While some furniture makers in Taiwan have caught some global buyers' attention for being able to supply ergonomic OA (office automation) and residential furnishings, the majority continue to take a backseat to high-profile, branded makers in the West, who traditionally have been aware of the health-enhancing benefits of well-designed chairs, sofas and beds. The discussion of why western furniture designers have historically been spotlighted as pioneers would occupy tomes, not least of which involving issues as value systems, democratization of nations, socio-economic development. There is no simple answer to why Herman Miller and his peers were designing cutting-edge, ergonomic furniture when much of Asia was mired in poverty. In fact the word "ergonomic" does not have an equivalent in Chinese dictionaries nor had been a valued concept in Taiwanese and Asian furniture design and manufacture before wide-spread industrialization in the region.

But and as in most other manufacturing sectors in Taiwan since foreign buyers began sourcing products on the island, furniture makers have come a long way to slowly evolve from being mere original equipment manufacturers (OEM) to original brand and design manufacturers. Most suppliers in Taiwan, however, are unlikely college-grads born post-1980, so may be too insular for their own good, and lack overseas business experience to know how to set up distribution and marketing abroad.

The harsh realities of business also dictate furniture making in Taiwan, whose suppliers are often too busy filling OEM orders or rounding up new orders to think about innovative designs or new business models. And fluctuating business cycles have never allowed makers to build robust finances to invest significantly in R&D and hire talented designers, whose efforts must be continually supported for years before commercial success is achieved.

Fortunately Taiwan's OA furniture makers learn quickly as they adopt more adjustability in product designs, eco-friendly materials as nonflammable and nontoxic plastics, not to mention lighter yet more durable materials. And most of the island's furniture makers have set up highly integrated manufacturing to ensure product quality as OEMs, knowing they are more successful as contract suppliers to foreign brand-name distributors.

Taiwan makers' primary advantages to attract orders from distributors include patented products and technologies, as well as the U.S. Business and Institutional Furniture Manufacturers Association (BIFMA) certifications, which prove safety, performance of office furniture.

Kuang ShinKuang Shin Enterprise Co., Ltd. has been in the office furniture industry for over 25 years, mainly making kids' furniture, OA chairs, and computer desks and now promoting the ET-100 BK series of worktables, which was debuted late 2014.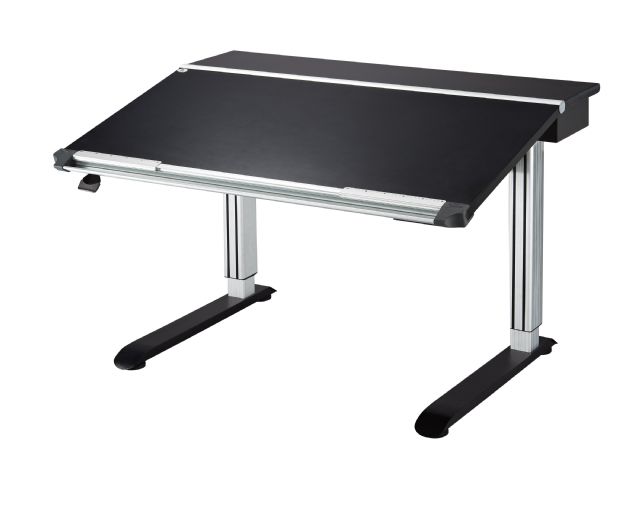 Kuang Shin's ET-100 BK worktable has adjustable tabletop and legs.
The tables, measuring 120cm (W) x 88cm (D) x 120cm (H) and weighing 50 kilograms, come with a two-piece particle-board tabletop whose front is  tiltable 25 degrees from the horizontal, and two aluminum telescopic  legs that rise to maximum of 120cm and down to 73cm, features of which make the tables ergonomic. 
The front top's tilt is adjusted manually by brake-pad mechanism while the leg height is controlled by a screw-rod driven by motor, eliminating the concern of liquid leakage which typically happens to gas springs.
Attached to the front edge is an aluminum channel to hold stationery like pens and erasers. The back top, fixed horizontally, is for carrying computer monitors or books, with both tops being  nonflammable and scratch resistant. 
The two legs, each of which installed in a RoHS-compliant iron bar to strengthen vertical stability, are extruded to ensure the excellent fitting of the inner part in the outer. 
The legs carry maximum 100 kilograms and can be raised 24 millimeters per second. A built-in circuit shuts off the power to protect the CE-certified motor (powered by 110/230V AC wall socket) upon detecting overload. The legs are clamped by a force of 100 kilogram to prevent collapse from power outage. 
ET-100 BK is a patented knock-down table, with  parts mostly made in Taiwan and backed by a one-year warranty.
Pengxi Enterprise
Pengxi Enterprise Co., Ltd., founded in 1992 to make office chairs, is promoting a two-piece-backrest office chair, featuring a pair of patented rubber pads on the backrest supports to cushion the chair's two backrest.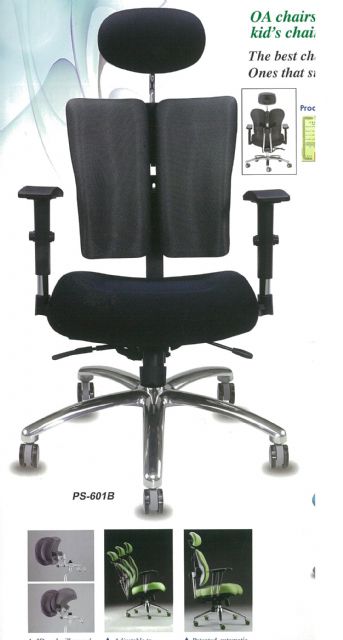 A rubber mechanism enables Pengxi's two-piece backrest chair to to be more freely angle-adjusted to suit many body types.
Company chief executive officer (CEO), Huang Chien-yu, stresses that the rubber pieces allow the two soft, ergonomic backrests to more freely adjust to body positions. The backrest system does not only support the back of a user but offers  sense of "personal touch" due to softness of the rubber to provide really comfortable sitting experience.
Huang points out that two-piece backrest chairs are ubiquitous but none uses such a thoughtful device. The chair was invented by German manufacturers and has been copied everywhere, but all of these manufacturers use hard materials like plastics or metal to result in clunky adjustment.
The rubber pad, Huang notes, has passed tests for resistance to cold and tension. The two backrest pieces are basically made of elastic foam while the seat is foam molded, both of which feature excellent ventilation.
The pad is patent pending for structure in the United States, Taiwan, China, Germany and Japan.
According to Huang, Pengxi had invested over NT$7 million (US$225,800) in the molds of the two-piece backrest chair.
Also the backrest is adjustable in height and backward tilt in addition to individually angle-adjustable pieces. The seat is adjustable in height and forward and backward slide. The all-round  adjustability enables the chair to suit all body types.
Huang points out that a two-piece backrest chair is more ergonomic than a one-piece chair mostly due to individual adjustability of the two pieces, hence enabling smoother angle adjustment than one-piece product.
The company mostly promotes products to  upscale consumers, stressing the use of high-performance materials and in-house designs. We are not afraid of copycats because we always emphasize quality and design. So, our products are quite popular at distributors to create a win-win situation, she says.
The company's products are sold in China, the United States, Germany and Japan, with China absorbing the majority and on average 15-16 40-foot containers of chairs shipped a year.
Chueng Shin
The 1981-founded Chueng Shin Co., Ltd. is one of a handful OA chair makers in Taiwan that has  in-house mold-tooling, R&D, injection-molding, coating and testing units capable of testing to BIFMA standards, enabling independent design and development of 90 percent of the chair parts. Highly integrated manufacturing capability makes the company very efficient in development of proprietary products, says sales manager, Pearl Chang.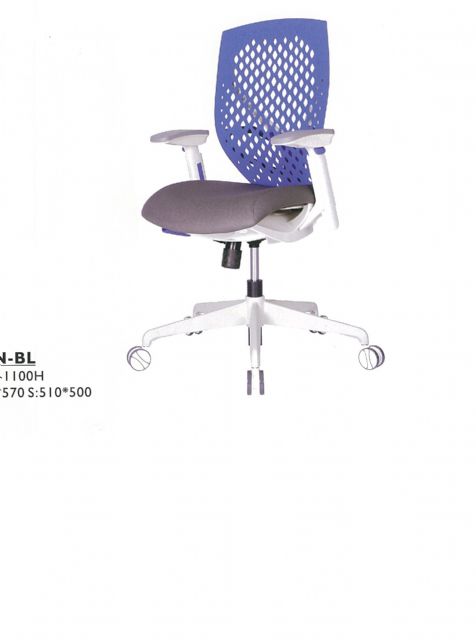 The BIPOSE is Chueng Shin's OA chair of aluminum, engineering plastics, toxic-free metal pipes, nonflammable foams, and silky fabric materials.
The company, according to Chang, has spent millions of NT-dollar on testing equipment not to mention average annual expenditure of over NT$10 million (US$322,580) on new product development to meet demands of picky customers worldwide. Each year, we have to launch tens of new products.
The company also contracts independent designers to develop products with innovative exterior and utility. Only by doing so do our customers share our vision, Chang stresses.
She points out that a good office chair is just like a quality dress to stress not just comfort in design but also structural safety and material durability, features of which are found in the company's X2, ASTRO, and BIPOSE series of chairs.
These series all feature light yet durable materials, sleek exterior, and comfort. Their headrest, armrests, backrest and seat are adjustable to fit users' body type and position, with the parts made of aluminum, engineering plastics, toxic-free metal pipes, nonflammable foams, and silky fabric materials.
The company is developing a chair that uses a very durable fabric for the seat, which does not need any hard material or metal to support user's weight.
The company ships around 98 percent of its products overseas to brand-name customers who contract design and manufacturing services, not mega stores as Walmart. We do business only with high-end stores because we sell high value-added products. Mega stores typically buy from mainland Chinese manufacturers for huge quantity at low prices, Chang stresses.
She says Chueng Shine is well known in Japan's OA-furniture market for being an early entrant. We were contracted by a Japanese brand-name supplier to make the chairs for the Narita International Airport. Also, we were contracted by the Tan Son Hhat International Airport of Vietnam to supply the chairs.
The maker also counts the Middle East and Russia among its important markets.