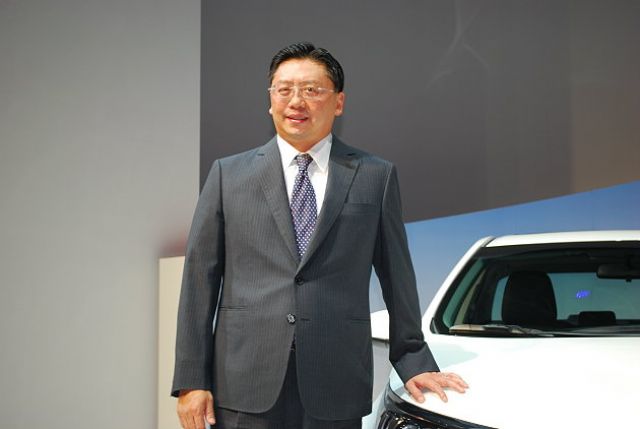 Justine Su, president of Hotai, Taiwan's agent of Toyota and Lexus and No.1 auto vendor in Taiwan for 15 years in a row. (photo from UDN)
Hotai Motor Co. Ltd., Taiwan's agent of Toyota and Lexus in Taiwan, recently announced  consolidated revenue of NT$160.2 billion (US$5.34 billion) for 2014, up 9.29 percent from the previous year to set again a record high for the Taiwan-listed automotive company the fifth consecutive year.
Some institutional investors forecast that Hotai's 2014 earnings per share (EPS) will outstrip NT$18 (US$0.6), making it the most profitable listed automotive company to supplant major rival Yulon Nissan Motor Co., Taiwan's agent of Nissan and Infiniti. Yulon Nissan reported annual consolidated revenue of NT$33.17 billion (US$1.11 billion), up 5.37 percent YoY, a new high since 2008.
To boost new-car shipments to take higher market share amid fierce competition with Hotai, Yulon Nissan sacrificed fatter profit margins on its new cars in 2014. In addition, the firm returned half of the interest generated from depreciation of Japanese yen to Nissan Japan in early 2014. As  result, Yulon Nissan's operating earnings in 2014 are estimated at only about NT$800 million (US$26.7 million), compared to about NT$1.8 billion (US$60 million) for 2013.
Yulon Nissan has maintained enviable profitability due to posting steady return from investment from Chinese affiliate Dongfeng, which, however, sold only about 900,000 new cars in China last year (one to 1.1 million units were originally expected). So, institutional investors estimate that Dongfeng's ROI to Yulon Nissan in 2014 will be less than 2013's NT$6.27 billion (US$209 million).
Thanks to the depreciating Japanese yen, however, institutional investors estimate Yulon Nissan's net earnings to be about NT$5.4 billion to NT$6 billion (US$180 million to NT$200 million), for  EPS of NT$18 to NT$20 (US$0.6 to US$0.67), less than NT$24.3 (US$0.81) for 2013.
Yulon Motor Co., the flagship firm of the Yulon-Nissan group and automobile contract assembler in Taiwan, had consolidated revenue of NT$120.2 billion (US$4 billion) in 2014, up 30.8 percent  from the previous year to set a new record in company history. Yulon Motor attributes its record revenue to hot sales of the group's own Luxgen line in Taiwan and China.
Sanyang Industry Co., Ltd., Taiwan's assembler and agent of Hyundai, reported consolidated revenue of NT$36.72 billion (US$1.22 billion), up 11.9 percent YoY and a three-year high for the company. Sanyang launched its locally assembled sport utility vehicle (SUV) Hyundai Santa Fe in 2014, whose sizable sales have effectively raised  revenue and compensated for lost revenue due to  decreased powered two-wheeler (PTW) shipments. Selling its own SYM line, Sanyang has long been a top-three PTW vendor in Taiwan.
China Motor Corp. (CMC), Taiwan's assembler and agent of Mitsubishi, as well as affiliate of Yulon Group, had consolidated revenue of NT$35.95 billion (US$1.2 billion), up 1.14 percent from 2013. The company is scheduled to launch the remodeled Mitsubishi Outlander SUV (locally assembled) in 2015, with flooding pre-orders showing positive sign to further boost revenue this year.