Pihsiang Energy Technology Co., Ltd. (PHET), a C-LiFePO4 lithium-ion cell maker in Taiwan, and Ningbo Sonluk Holding Group Co., Ltd., reportedly China's largest maker of alkaline batteries and a world's top-three, recently signed a cooperation agreement to develop new-energy business.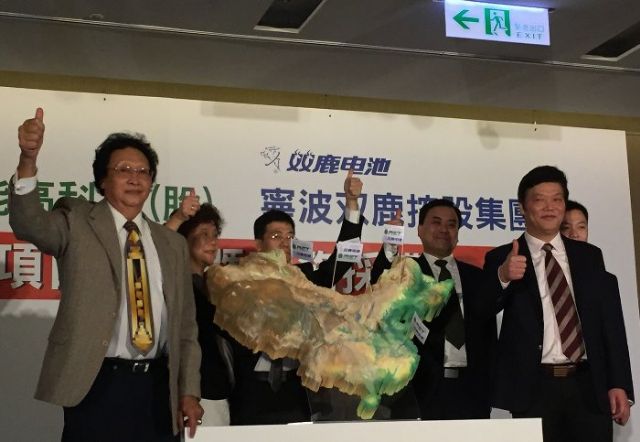 Donald Wu (left), chairman of PHET and PMMC, and Song Hanping, chairman of Ningbo Sonluk, at the cooperation agreement signing. (photo from UDN)
The agreement enables PHET to win a three-year, NT$3.6 billion (US$120 million) worth of orders for LiFePO4 cells from Ningbo Sonluk, and both parties to jointly tap the Chinese lithium-ion power-cell market under two different brands. PHET and Ningbo Sonluk aim to become the largest new-energy battery supplier in Taiwan and China over the next five years.
Song Hanping, chairman of Ningbo Sonluk, said  a possibility exists for the two parties to work on  electric vehicle (EV)-related businesses in the future. PHET is a subsidiary of Pihsiang Machinery Manufacturing Co., Ltd. (PMMC), a major maker of electric scooters for the handicapped as well as electric vehicles including e-bikes, e-scooters, and e-cars. With ample booked  orders, PHET plans to go public in 2015 to  become the second listed company in the group.
Ningbo Sonluk, a subsidiary of and 65-percent held by Ningbo Fubang Holdings Ltd., has  capitalization of 1.8 billion renminbi (RMB or Chinese yuan). Ningbo Sonluk operates 24 battery production lines with annual production capacity of about 3 billion alkaline batteries, which are sold in China and other nations, with annual revenue of about 3 billion RMB and 20 percent market share in China. While Ningbo Fubang's other subsidiary, Nanfu Battery Co., is reportedly the second-largest alkaline battery vendor in China with annual revenue close to 3 billion RMB.
Donald Wu, chairman of PMMC and PHET, said the partnership between Pihsiang and Ningbo Sonluk targets China's new-energy battery markets, including battery electric vehicle (BEV), plug-in hybrid electric vehicle (PHEV), electric bus, solar power, and wind-power etc.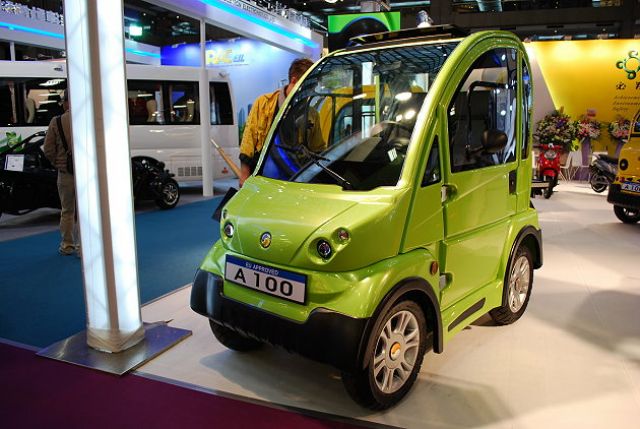 Pihsiang also produces EVs. (photo from UDN)
The agreement also stipulates minimum orders to be placed over the next three years, including US$15 million for 2015, US$37.5 million in 2016, and US$67.5 million in 2017.
According to Chinese media report, the annual market scale of power cells in China outstrips US$10 billion, with the market almost doubling yearly. Some 22 million new cars were sold in China in 2013, and the Chinese government has made it compulsory to raise penetration of EVs  yearly. China's new-energy cars account for about 5 percent of the overall new-car market globally, totaling in annual demand of more than 1.1 million units, to create annual demand for power cells with total capacity of 22 billion to 33 billion watt- hours and annual sales exceeding US$20 billion.
After about 10 years of investment, PHET is expected to finally turn profitable in 2015 after winning the orders from Ningbo Sonluk, making the agreement a watershed for the Taiwanese maker.
According to Song, Ningbo Sonluk's Taiwanese branch office had been contacting battery makers in Taiwan in the past two years, and in early 2014  called Pihsiang's chairman Wu through a friend's introduction. Both executives are very proud of respective technologies but knew the best way to achieve mutual profitability and synergy is to form strategic alliance, which is expected to be win-win considering only an 80-minute flight separates  Ningbo and Taiwan, even a shorter trip than Ningbo to Bejing.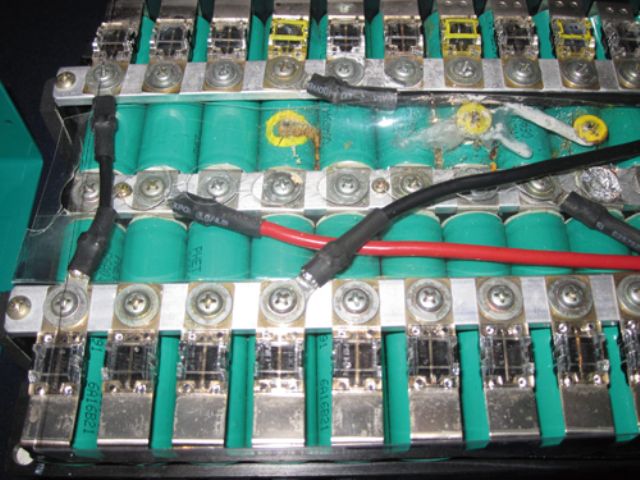 DOSBAS battery safety system with 18,650 cells that was invented by Pihsiang's chairman Wu.
Wu stressed the partnership being akin to marriage, calling for both parties to honor their words and jointly create good future, and that the battery business is just a start, with more  partnerships to be developed in future.
In a previous interview, Wu said that the LiFePO4 battery is the best energy storage developed in the past 30 to 50 years, and PMMC and PHET are integrating resources to help popularize and enhance practicality of e-bicycles, e-scooters, and e-cars. As the world's only volume manufacturer of C-LiFePO4 batteries, PHET is exclusively licensed by Phostech Lithium Inc. to make, market, and distribute patented C-coated LiFePO4 cathode films and batteries for e-bikes, e-scooters, and wheelchairs and scooters for the disabled.
Wu also invented the DOSBAS system, which uses a fuse device to isolate any cell(s) that overheat because of internal short-circuiting, and can help protect normal cells from overheating. This design, Wu stressed, not only prolongs life of  battery pack but also prevents injury to vehicle occupants by blocking cells damaged by external impact. Also, because of its simplicity of structure, the DOSBAS battery system has been tested to withstand vibration and foul weather via 150 hours in a salt mist chamber. A DOSBAS battery pack also passed short-circuiting tests with no temperature increase or cell damage.