The U.S. Department of Commerce (DOC) recently announced its preliminary decision to impose antidumping duties on China-made passenger and light truck tires that went into effect January 27. With the official publication of the decision, nearly 70 manufacturers and importers of the subject tires and their subsidiaries must now begin paying such antidumping duties as determined by DOC, retroactive 90 days before publication, according to media reports.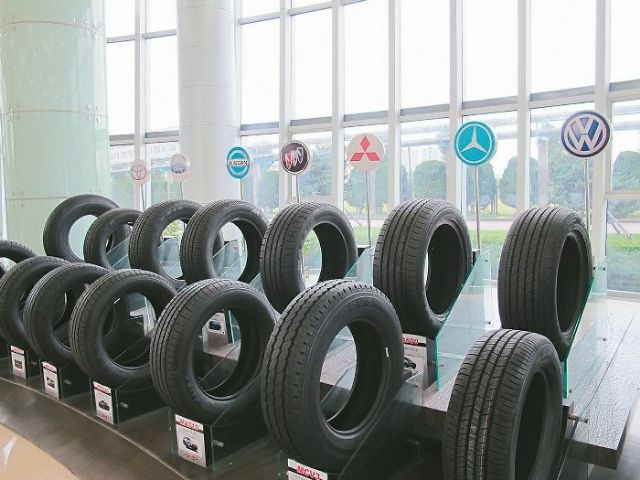 Most Taiwanese tire makers with operations in China claim to be prepared for antidumping duties by U.S. on Chinese tires. (photo from UDN)
The period investigated by DOC spans Oct. 1, 2013 to March 31, 2014. According to DOC's ruling, dozens of Chinese producers and exporters of China-made tires and their subsidiaries, are subject to the antidumping duty rates of 19.17 percent to 87.99 percent (with most being subject to 27.72 percent), including several Taiwanese companies. Racing tires, trailer tires, specialty tires, off-the-road (OTR) tires, non-pneumatic tires and temporary spares are exempt from these duties.
The DOC conducted the antidumping investigation, with an ongoing concurrent countervailing duty investigation, after receiving petitions from the United Steelworkers (USW) union.
DOC is requesting comments on this ruling, and interested parties have 30 days from Jan. 27 to request a public hearing on the issue. The agency said it will finalize its decision on antidumping no later than 135 days after Jan. 27, with the final determination on material injury from the U.S. International Trade Commission (ITC) to be due 45 days after that.
Major Taiwanese tire makers with operations in China and exporting products to the U.S. recently said the U.S. DOC's antidumping ruling, and future ITC decision, will unlikely impact their exports to the U.S., instead may actually prove to be blessing-in-disguise to possibly divert orders from China to benefit Taiwanese suppliers.
Wu Hsuan-miao, vice president of Cheng Shin Rubber Ind. Co., Ltd., a Taiwan Stock Exchange (TSE)-listed tire maker in Taiwan, admitted to having been preparing for possible antidumping sanctions from the U.S. in 2014, to have moved  passenger car radial (PCR) tire production from a factory in Kunshan, Jiangsu Province of China to Taiwan and Thailand. As result, Cheng Shin's factories in China now roll out less than 0.1 percent of exports to the U.S.
A senior Cheng Shin executive said that the  company has transferred all production of U.S.-bound tires to Taiwan, and is ready to install more production lines on the island as demand grows.  Cheng Shin's Taiwanese factory has daily capacity of 7,000 PCR tires, and is expected to be expanded to 15,000 to 20,000 in the future. The executive added that the antidumping issue has  resulted in price hikes between 8 percent and 12 percent by U.S. distributors, and the recent DOC ruling is expected to further add to such prices another 10 percent. As Chinese tire makers' supply is expected to be curtailed, he added, Taiwanese tire makers are expected to receive more orders from the U.S.
Federal Corp., another TSE-listed tire maker in Taiwan, also said that the ruling will have very limited impact on its exports. In 2014, the company transferred PCR-tire production from its Chinese factory in Jianxi Province to Taiwan, and exports to the U.S., accounting for about 40 percent of corporate revenue, have been quite smooth.
Federal said the DOC's ruling is expected to cause overcapacity in China, due to decreased exports to the U.S. and price falls in the Chinese market, whose loss should be offset by the rising tire prices in the U.S.
Luhai Industrial Corp., a major tire-valve maker in Taiwan, said products delivered to Chinese tire makers account for only a small part of its global shipments, so the firm does not worry too much about future sales. China Synthetic Rubber Corporation's (CSRC), a major material supplier to tire manufacturers, in contrast may be in tougher straits for its sales in China account for about 50 percent of its overall revenue.
Industry sources say currently China exports about 50 million to 60 million tires to the U.S. per year, which may dwindle to about 25 million due to the recent DOC antidumping ruling as well as future ITC sanctions. The oversupply of tires in China due to reduced exports to the U.S. will likely cause fierce underselling that will accelerate attrition among medium and small companies.