With 2015 off to a good start, IHS Automotive, part of IHS Inc., forecasts global automotive sales for 2015 to reach 88.6 million, an increase of 2.4 percent over 2014, continuing an unbroken five-year run of sales recovery and growth from the low point set in the aftermath of the global financial meltdown. However, a slowdown is being signaled with just two of the high-potential Brazil, Russia, India and China (BRIC) markets likely to see increased sales this year.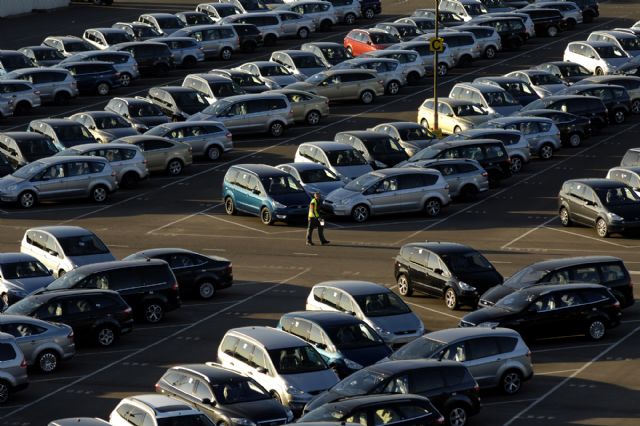 IHS Automotive forecasts global automotive sales for 2015 to reach 88.6 million, an increase of 2.4 percent over 2014. (photo from Internet)
China will lead the sector's volume growth, though IHS expects the market to slow from 2014. The North American market will continue its upswing, though the pace differs by country. The size of the contraction of the Russian car market remains a significant wild card that will impact the European market throughout the year, according to HIS Automotive's analysis, while other countries in the region continue to recover at a rate of 2.5 percent to 3 percent, helped by the European Central Bank's (ECB) commitment to full-blown Quantitative Easing (QE).
25.2 M. in China
For the Asia Pacific region in 2015, China's economic growth will decelerate further, to 6.5 percent from 7.4 percent in 2014, as result of industrial overcapacity and weakness in the real estate sector. However, IHS Automotive analysts still expect light vehicle sales in China to grow by 7 percent in 2015 to 25.2 million units, aided with increased auto finance penetration, fast dealership expansion and government vehicle scrappage programs.
According to the analysis, the current anti-trust campaign environment could alter the relationships among consumers, dealer and automakers. The campaign is expected to have a long-lasting effect on premium parts/vehicle prices in China. Coupled with this, the momentum could lead to downward adjustment in premium pricing, which helps provide solid foundation for premium vehicle penetration to further increase in China in the next decade. IHS Automotive says it expects premium vehicles in China to top two million units in 2015 with year-over-year (YoY) growth of 15 percent.
IHS Automotive experts also expect sport utility vehicles (SUVs) to remain the fastest-growing segment in China in 2015. "We see SUV market share (as percent of passenger vehicle sales) to increase from 26 percent in 2014 to 28 percent in 2015 as consumers look to this segment to address evolving transportation needs," said Lin Huaibin, manager, China light vehicle sales forecast, IHS Automotive.
U.S. Growth v.s. Global Demand
North America continues to be an impetus to global light vehicle demand levels, IHS Automotive says. Improving credit conditions throughout the region and sustained, but tenuous, economic growth among the countries in the region have helped to motivate total auto sales levels.
"Although the economic conditions and pace of recovery differ slightly among the North American countries, consumer confidence, credit availability and pent-up demand have played key roles in sustaining auto demand momentum since the Great Recession," said Chris Hopson, manager, North American light vehicle sales forecasting, IHS Automotive. "This should help motivate sales once again in 2015."
IHS Automotive projects regional light vehicle sales volume in North America to hit more than 20 million units in 2015, up 2.5 percent from last year.
In the United States, IHS Automotive analysts continue to believe the upside risks for auto demand are more apparent than the downside risks. With a strong exit to 2014, and gasoline prices currently plunging, consumers may feel even more positive throughout 2015. The IHS Automotive U.S. light vehicle sales forecast for 2015 is 16.9 million units.
S. America
There was a stark change in 2014 South America automotive demand compared to 2013, when monthly sales broke the 500,000 unit mark seven times. The year preliminarily closed with 5.34 million units – a 10 percent drop from 2013; with politics impairing Argentina and Venezuela, and the economic climate weighing down markets like Brazil, Chile and Peru, where it may take a few years for demand to recover to previous highs.
Europe
In Europe, the crisis in Russia could offset the boon of lower fuel prices for Europe's car buyers and even the new QE boost from the ECB. As the Russian economy slumps into a deep recession in 2015, its negative impact on the Eurozone and surrounding countries could be large enough to offset the consumer benefit from falling fuel prices. Overall, the IHS forecast for light vehicle sales in Western Europe has only been fractionally upgraded for 2015 despite the benefits of low fuel prices.
After a better-than-expected 5 percent increase in 2014, light vehicle sales in the mature West European region are forecast to improve by another 3 percent in 2015, with upside coming if the apparent open-ended commitment to QE by the ECB pushes the Euro down still further.
"The size of the market contraction in Russia is the biggest wild card facing vehicle manufacturers across the European continent, if not the world, in 2015 and 2016," said Nigel Griffiths, chief automotive economist, IHS Automotive.
After the recent enormous volatility of the Russian currency, prices of imported cars look like they will increase well over 20 percent or so and even domestically-produced vehicles will have to see double-digit price hikes. This, along with a deep recession compounded by the recent credit rating downgrades, could push the market down to just 1.8 million units; a 27 percent decline over 2014 and nearly 40 percent (1.2 million) below the market level recorded in 2012.
Global Sales
From a global perspective, IHS Automotive says, the auto industry now faces and will have to adjust to very large and widespread exchange rate movements, commodity and raw material price changes and, of course, the new low oil prices. The last two will be significant tailwinds for the auto sector, its margins and for most of the world consumers, but at the same time, their unpredictability will mean long-term business plans will likely change at a more cautious pace.