Sales of new cars in Taiwan continued to increase in 2014 to some 424,000 units, a 9-year high, with total number of used cars sold on the island exceeding that of new ones.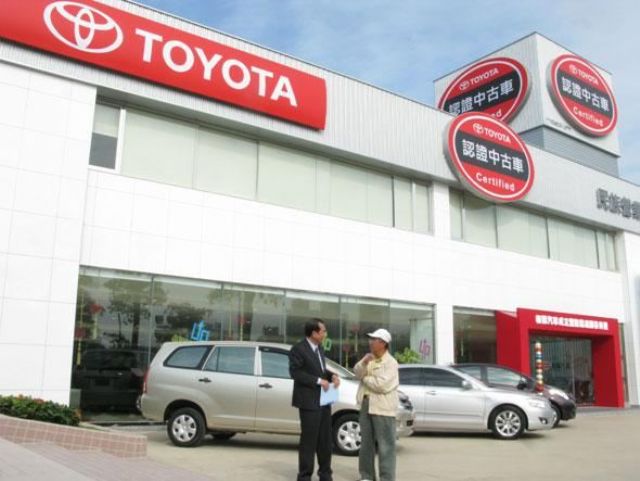 A SUM Used-car Alliance member specializing in used Toyotas in Taiwan. (photo from SUM)
Eyeing the growing used car market in Taiwan, two major auto vendors, Hotai Motor Co. Ltd. and China Motor Corp. (CMC), have been aggressively developing such sales channels by tapping the ample supply of makes and models  sourced from new-car distributors and affiliated car-leasing companies in Taiwan.
Hotai is the agent in Taiwan of Toyota and Lexus, also reportedly the leading car vendor in Taiwan in the past 13 years straight. CMC is the local agent and assembler of Mitsubishi, and reportedly the No. 3 auto vendor in 2014 and subsidiary of the  Yulon Group, a major carmaker in Taiwan.
Fortune Motors Co., Ltd., largest distributor of the CMC line, has set up the SUM Used-car Alliance, to include so far some 400 used-car dealers. A senior manager at Fortune said traditionally sales of both new and used cars peak before the Chinese New Year (mid-February in 2015), and  alliance members were ready to promote used cars that tend to fit such occasion. Judging from sales records of the past few years, the manager said  the operational scale of SUM Used-car Alliance is expected to grow 50 percent over the next three years.
The manager said there are about 2,300 used-car dealers throughout the island, with less than 800 having joined various branded used-car dealerships. Increasing new-car sales in Taiwan inevitably means more used cars will be available on the market to fuel more sales over the coming years. Over the next three years, the number of used-car dealers under one brand will increase to about 1,500, with the SUM brand to attract about 600 members. Total annual used-car financing came to about NT$11 billion (US$366.7 million) in 2014 on the island, and the figure may increase to about NT$20 billion (US$666.7) over the next three years, he added.
Hotai has also been developing used-car sales for many years. The vendor operates its own dealers to sell "certified" used Toyota and Lexus throughout Taiwan; while its subsidiary Hotai Leasing Co., a car-leasing company, has set up the HOT used-car sales alliance and Hotai Easyauction (HAA) to auction used-cars sourced from distributors and Hotai Leasing.
The number of used-car dealers under Hotai has outstripped 200, including 20 to sell certified Toyota and Lexus with annual transaction volume of about 5,000 certified models.
Hotai has also set up an Internet platform to sell  used cars, admitting the total investment in the web platform equals that to set up two traditional  used-car dealers, albeit with expectedly amplified benefits.