Automotive HUDs to Exhibit CAGR of 27.3% by 2024: ABI Research
2015/03/05 | By Quincy Liang
Head-up displays or HUDs in private or personal vehicles have long been exclusive to upscale cars, having been adopted from military aircrafts to easily display instrumentation on windshields without interrupting a driver's focus on road. Gradually carmakers are introducing HUDs in more popularly-priced vehicles, often as standard equipment. Hence luxury brands are seeking to differentiate their vehicles through the inclusion of digital instrument clusters, with makers focused on high-performance driving demand and safety fueling shipments of HUDs.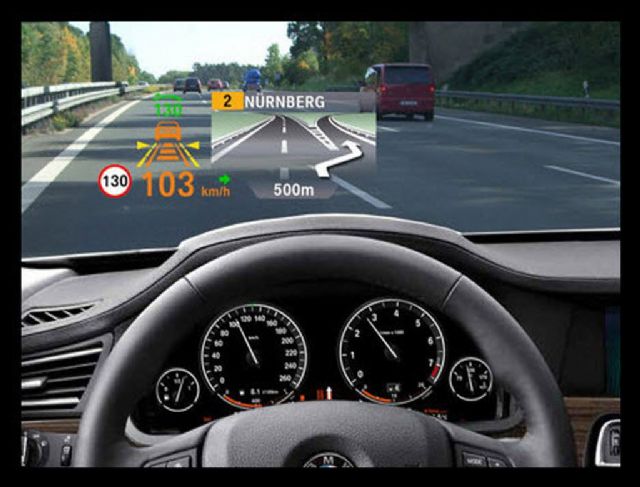 ABI Research says that almost one-third of consumer vehicles shipped in 2024 will be equipped with some form of HUD. (photo from Internet)
The capacities and content of these displays will evolve over time to meet the increasing connectivity of consumer vehicles, and to ensure these separate displays are more seamlessly integrated, according to ABI Research, a market intelligence company specializing in global connectivity and emerging technology.
Almost one-third of consumer vehicles shipped in 2024 will be equipped with some form of head-up display (HUD), with the bulk of the growth driven by combiner units, the company forecasts. "The lower manufacturing cost and smaller size of combiner HUDs will make this kind of display viable in smaller and more price sensitive vehicles. This growth will be furthered by an underlying consensus to keep the driver's eyes on the road ahead," comments James Hodgson, ABI Research's research analyst.
Traditional instrument clusters are being joined by virtual instrument clusters and HUDs in providing drivers with information relating to navigation, on-board audio and inputs from Autonomous Driving Assistant System (ADAS) systems. These displays will demonstrate strong growth, with the proliferation of connected vehicles requiring adaptable and reconfigurable visual interfaces.
There are also considerable design advantages, as heterogenization can be achieved through the simple development of separate user interfaces for a small number of shared displays, rather than the manufacture of various physical controls for different classes of vehicle. Reconfigurable displays allow for further personalization by the end user, opening up various aftermarket opportunities, with consumers being able to purchase new skins and themes for their vehicles. Currently in the international market, main suppliers of HUDs for automotive applications include Bosch, Continental, Denso, Nippon-Seiki and Panasonic.
These displays are also likely to become more specialized in content, ABI Research says. One solution is to reduce the number of displays in the vehicle, such as in the 2014 Audi TT, which discarded the traditional HUD screen in favor of a virtual instrument cluster. However, there is still scope for multiple displays to be included in a single vehicle. "The key lies in adapting each display for a specific role. The most likely outcome is a situation in which a HUD serves to augment the driver's appreciation of what is unfolding outside of the vehicle, a digital instrument cluster provides critical information relating to the vehicle itself, while the head unit display becomes more geared towards entertaining the front passenger rather than assisting the driver," Hodgson explains.