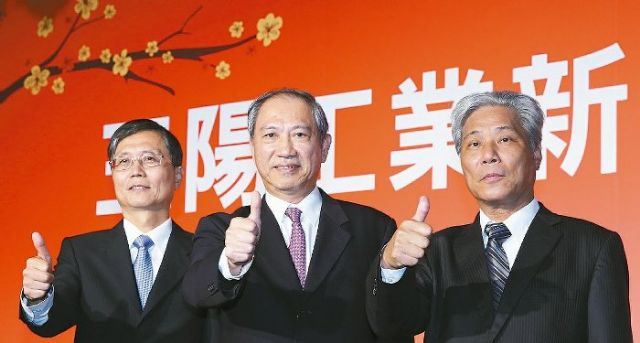 Sanyang Motor's new management team (from left): vice chairman Wu Chin-yuan, chairman Walter Chang, and president Chang Yung-chieh. (photo from UDN)
The new management team of Sanyang Motor Co., Ltd. (maker of SYM branded motor scooters in Taiwan and formerly Sanyang Industry Co., Ltd.) recently announced several developments at a press conference, including its new English corporate title and new policies. The press conference was the first since the new management team took over the helm in July, 2014.
Sanyang remains as its Chinese corporate title, but the English name is now Sanyang Motor instead of Sanyang Industry, implying the maker's plans to be involved in developing automotive vehicle  businesses. In addition to its SYM-branded powered two-wheeler (PTW) business, Sanyang Motor has been assembling in Taiwan Hyundais for many years, having previously assembled Hondas on the island.
Regarding the company's future development, Sanyang Motor chairman Walter Chang said the firm will continue to focus on R&D, production and sales of PTWs in both local and overseas markets, with the company also to grow its automotive or 4-wheel division related to  vehicle assembly and sales of international nameplates.
At the press conference, Chang emotionally recalled his father K.A. Chang founding about 60 years ago the firm that focused on producing bicycle dynamo lights, then transformed into production of Honda motorcycles and cars, thanks to an indirect but personal association with Honda founder Soichiro Honda. About 30 years ago, Chang said, Sanyang Motor was once a top-10  enterprise in Taiwan but business development stagnated for a very long period to have allowed rivals gradually pull ahead. Feeling obliged, Chang added that he accepted incumbent vice chairman Wu Chin-yuan's invitation to take the helm as new chairman.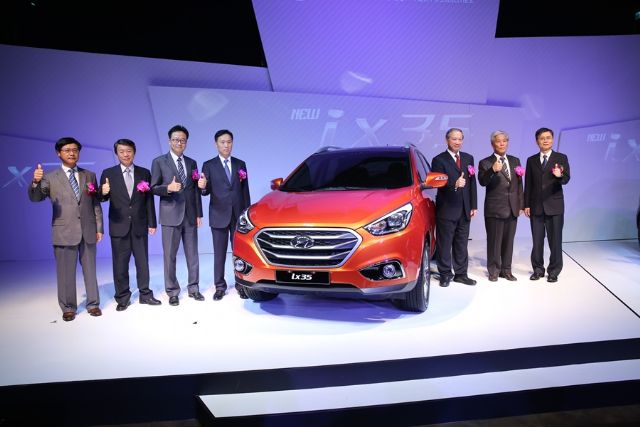 SYM will soon launch its new SB-300 motorcycle. (photo from UDN)
Eight months after Sanyang Motor under the new management team, the firm has begun showing some results from intensive restructuring. For example, Chang said, sales of Hyundais in Taiwan hit record high volumes in December 2014 and January 2015; while Sanyang Motor has also completed inventory adjustment at distributors, hence effectively upgrading morale of SYM-brand PTW distributors in Taiwan to see monthly sales volume gradually climbing.
Optimistic about 2015 sales, Chang said overall new-car sales in Taiwan are expected to remain  high to be similar to 2014's, about 420,000 units. Alongside stable business development and thanks to perception of rising quality and brand image by  local consumers, Sanyang Motor is expected to gain an increasingly higher market share in the domestic automobile market.
Regarding PTW business, Chang predicts overall domestic PTW sales volume to hover about 700,000 units in 2015, of which sales of bigger-displacement models (larger than 250cc) are forecast to enjoy the highest growth thanks to the opening of more roads in Taiwan to "yellow license plated" (over-250cc) and "red license plated" (over-550cc) motorbikes.
Sanyang Motor assembles Hyundai passenger cars in Taiwan, and sales of Hyundais on the island have been stably increasing in recent years. (photo from UDN)
As result of changing motorbike market structure,  Chang said that SYM will soon announce its SB-300 model: the "Wild Wolf", once the most popular, iconic motorcycle in Taiwan before the introduction of Vespa-like scooters. In addition, SYM will also continue to promote yellow- and red-plated models in 2015.
Sanyang Motor also plans to move its "strategic headquarters" into a new building in Neihu, a northeast area in Taipei, also the original location where chairman Chang's father started his career. The new building will also house a flagship demonstration center for Hyundais.
Sanyang Motor's Vehicle Sales in Taiwan (2011-2014)



2011

2012

2013

2014

PTW (SYM)

167,022

144,387

142,667

104,966

Car (Hyundai)

14,403

15,938

14,528

15,906

Source: MOTC