After years of business development, Chunghwa Picture Tubes, Ltd. (CPT), major supplier of thin film transistor-liquid crystal display (TFT-LCD) panels in Taiwan, recently announced having shipped more than 10 million automotive-application panels in 2014.

In addition to panels for automotive navigation and infotainment systems, CPT has been developing more products for the booming application market, including those for special instrument cluster, central information display (CID), head-up display (HUD), etc. The company has also successfully tapped the tremendous Chinese automotive market by winning orders from big telecom companies and telematics equipment suppliers for automotive applications.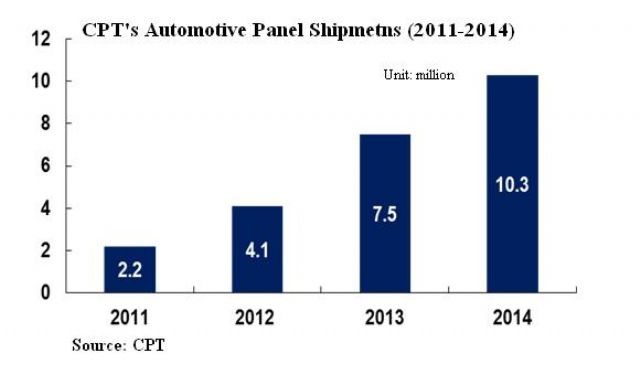 CPT's Automotive Panel Shipments (2011-2014) (Source: CPT)
CPT says that it has pulled ahead rivals to launch the 10.1-inch (1024x600 pixel resolution) panel for China Mobile's built-in 4G TD-LTD module for a telematics system, which simultaneously offers voice call, message transmitting/receiving, digital transmission functions. In the most promoted Internet of Things (IoT) concept products, CPT's 10.1-inch panel has also been ordered by leading telematics system makers who are partnering with the Alibaba Group for cloud-based telematics equipment. The automotive panel is also adopted by many BeiDou Navigation Satellite System (BDS) vehicle navigation systems in China.
CPT has been focusing its automotive panel products on the aftermarket, having won an 80 percent share in the Japanese automotive market. The maker's solid reputation for quality and technical level has also enabled entry into automakers' supply chains in Japan, North America and China. In 2014, CPT's automotive-panel shipments enjoyed a 37 percent year-on-year (YoY) volume increase. Regarding products, the panel maker says that in conjunction with the rapid development of smart automotive electronic systems, automotive panels are undergoing major developmental shifts, including integrated touch-control function, larger sizes and multiple applications. As a result, CPT now offers 10.1-inch high-resolution, 12.3-inch instrument cluster, and 12- to 14-inch CID panels, as well as many solutions with HFFS (fringe field switching+) wide-view-angle and on-cell technologies.
At its Chinese factory in Fuzhou, Fujian Province, CPT is installing a fully automated automotive-panel module production line, which is expected to be completed in Q2, 2015 to integrate all the production processes such as backlight unit assembly, touch-panel adhering, automated optical inspection etc., to indicate the company's efforts in upgrading qualitative competitiveness and integrated services.
CPT says it will continue to develop automotive panel business by pushing more new and innovative products, while further upgrading product added-value. In 2015, the company plans to offer a comprehensive range of automotive display solutions, which are expected to meet customers' diversified requirements.