Global sales of electric vehicles (EVs) has been on an uptrend since 2013, during which some 225,000 units were sold, having rocketed sizably from only 6,000 in 2009. Sales of EVs last year continued to rise, with the volume sold in the first three quarters of 2014 increasing 25 percent from the same period of last year or year-on-year (YoY), and the 2014 volume sold will likely reach 300,000 units by the time all the stats will have been collected.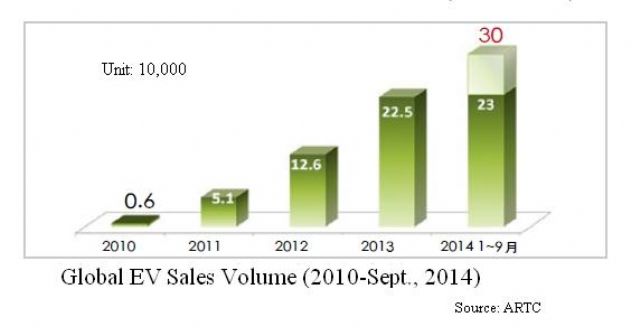 Global EV Sales Volume 2010-Sept.2014.(Source: ARTC)
Automotive Research & Testing Center (ARTC), according to its website, is engaged in automotive R&D, testing, certification, export, and provision of vehicle testing site in partnership with government agencies and private industry, attributes the increasing EV sales to several major factors, including rapid rise in sales volume in China, major German automakers' launches of  EVs, Norway's increasing penetration of green vehicles, rising adoption and popularity of Teslas by the American premium EV maker.
Major Markets
In the first three quarters of 2014, the largest EV markets worldwide included the United States (about 87,000 units licensed), China (42,000) and Japan (24,000), followed by Holland, France, Germany, and the U.K.
The breakdown in sales by vehicle types included some 60.6 percent of sales of battery electric vehicles (BEVs), compared to 30.4 percent of plug-in hybrid electric vehicles (PHEVs) and 8.7 percent of extended range electric vehicles (EREVs).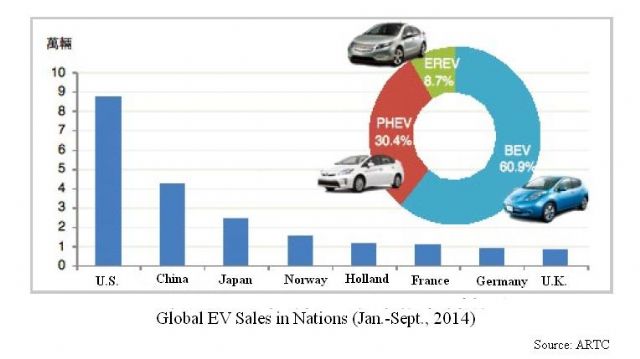 Global EV Sales by Nation Jan.-Sept., 2014.(Source: ARTC)
With reported policy support by various national governments that are bearing fruit in the form of stable sales growth of EVs in 2014, coupled with EV makers' technological advancement in  related fields as improved safety to minimize battery explosion, extend cruise range to have effectively upgraded consumer acceptance and peace of mind, the emerging segment continues to  see sales increase, ARTC explains.
China, Emerging Big Market
While it may be too early to say that China, to date the biggest market of internal-combustion-engine cars by sales volume, will also one day lead the world in adoption of EVs, which still command relatively higher retail prices (typically double or more of similar ICE counterparts), yet with modest cruise range (typically sub-200 miles) and beset by lack of extensive recharge network, it may be reasonable to assume such outcome to be inevitable since China, despite official attempts to downplay the trend, continues to be headlined as a major emitter of carbon emissions and suffering from serious smog.
In the first quarter of 2014, EV sales in China were only about 7,000 units, and the quarterly volume jumped to about 17,000 in the third quarter, to total about 40,000 units in the first-three-quarters, a 250 percent rise YoY. As a result, China has become the world's No. 2 EV market trailing only the U.S. Since 2009.  However any prediction of a less polluted China in the short-term must take into account that car sales in China surged 13.9 percent to 21.98 million vehicles in 2013 year, says the China Association of Automobile Manufacturers (CAAM).
Under Chinese government's policies directed towards "greenification" of cars in the nation,  China has been aggressively developing electric bus (e-bus) and passenger BEVs in recent years; and e-bus is seeing sizable volume growth thanks to preferential subsidies. And a new type of EV, the micro-EV, has been seeing clear market-share gains in China. The best example is the Zhidou (ZD)
E20
 pushed by Chinese EV maker Zoyte Auto. Thanks to its smaller dimensions and lighter weight, the micro-BEV has a cruise range of about 120 kilometers, sufficient for typical urban commutes. In addition, the longer-range PHEVs given high government subsidies are also gaining popularity in China. For example, monthly sales of BYD's "Qin" PHEV is close to 1,000 units; while Chery Automobile and Guangzhou Automobile also launched a micro-BEV and EREV, respectively, before 2014-end. These new models, ARTC says, are expected to further elevate EV sales volume in China, due to being developed with broader product range to meet customers' various requirements.
ARTC points out that in China, an EV purchase qualifies for subsidies from the national government (32,350 to 57,000 renminbi, or RMB), regional government (differing), and tax reductions (about 10 percent of retail price), all of which discounts the purchase price by some 50 percent to motivate consumer purchase willingness.
A increasingly popular commuting mode in China is the so-called "micro public buses", or leased micro BEVs for short hops between hotels, train stations, scenery spots, markets etc. Such shuttle buses taps the concept of carpooling to overcome riders' worries about EV's higher maintenance cost, charging inconvenience, parking, to easily meet needs for short-distance commutes.
China's EV market will likely continue expanding with governmental policies designed to offer wider range of support. In 2014, the Chinese central government promulgated new policies to encourage new-EV purchase and replacement, including compulsory rules to adopt EVs for not only central government fleets but also regional ones, requiring new EV penetration in governmental fleets to be over 30 percent, with  the central government to provide annual subsidies (10 million to 120 million RMB according to EV sales volume) to set up EV charging stations in selected cities. The cities that do not meet the required annual EV sales target will not qualify for central governmental  subsidies.
Technology Advancement
Another driver that has been elevating global EV sales volume is international automakers' new model launches, especially from BMW and Volkswagen (VW), which continue to set trends and headlines to also stimulate purchase willingness in Europe.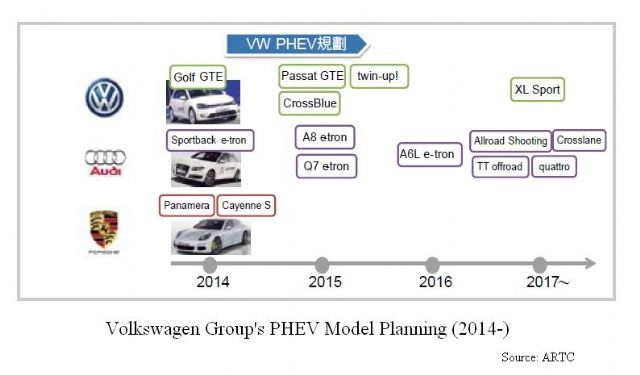 Volkswagen's EV Model Plan 2014 Onward(Source: ARTC)
BMW's launch of its first volume-produced i-series EVs, including the i3 BEV, i3 EREV and i8 PHEV, shows the automaker's strong R&D capability. More than 10,000 i-series EVs were sold in the first six months after demonstration; and BMW has announced to continue to launch  more powerful PHEVs in the future. By 2020 annual production of BMW i-series EVs is expected to reach some 100,000 units, the company said. Technological advancements can be seen on i-series EVs, despite only limited improvement in battery power density, including carbon-fiber vehicle body, much lighter than steel  but five-folds more rigid and stronger. An i3 BEV is about 1,200 kg or about 30 percent lighter than the same-class BMW 1 coupe with a gasoline engine, hence helping to extend the EV's cruise range.
To upgrade charging convenience, BMW cooperated with Daimler Group to develop wireless charging. Currently, the charging capability of such system is 3.6kW per hour, which is already about 90 percent of the efficiency of wired charging. BMW has also tested Qualcomm's Halo EV wireless charging technology on i8 PHEV (fully charged in about two hours), and plans to upgrade the charging capability to 7kW per hour.
VW Group announced six EV models in 2014 at once, including the "e-up" and "e-Golf BEVs", as well as Golf GTE, Audi A3 e-tron, Porsche Panamera S and Cayenne S PHEVs. The group  also plans to launch the high-performance Audi R8 BEV, targeting the same upmarket segment who would or have already bought Teslas, while  continuing to develop PHEV powertrain system and wireless charging technology.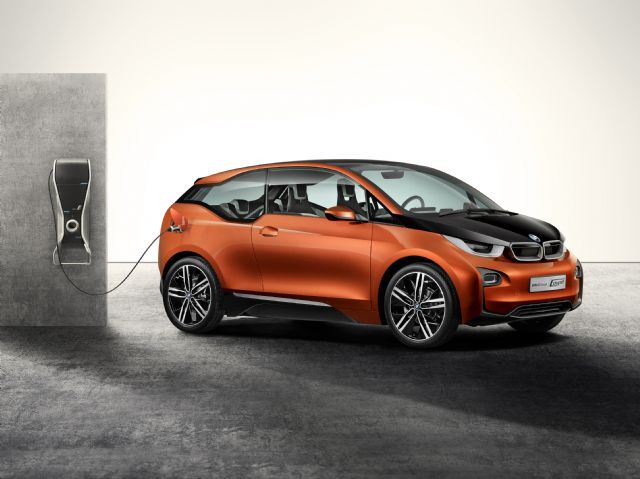 BMW i3 BEV. (photo from BMW)
All EV and PHEV models launched by BMW and VW in Europe adopt the Bombo normal/fast charging system, which is expected to motivate  more charging-station equipment makers and operators in Europe to join the mainstream standard. A more unified charging standard is very important to EV penetration to rid of drivers'  worries about incompatibility of charging systems.
Tesla
Tesla Motors Inc., headquartered in California, the most successful volume maker of premium EVs globally, has been aggressively trying to expand global sales, especially in China, after gaining a solid foothold stateside. In the first three quarters of 2014, Tesla sold about 3,000 premium EVs in China, or 13 percent of its global volume. Industry sources attribute such slow sales increase to lack of extensive set up of charging-stations and relatively poor consumer knowledge of EVs there. However, Tesla has reiterated its confidence in developing sales in China in 2015, when it expects to address negative factors affecting sales volume.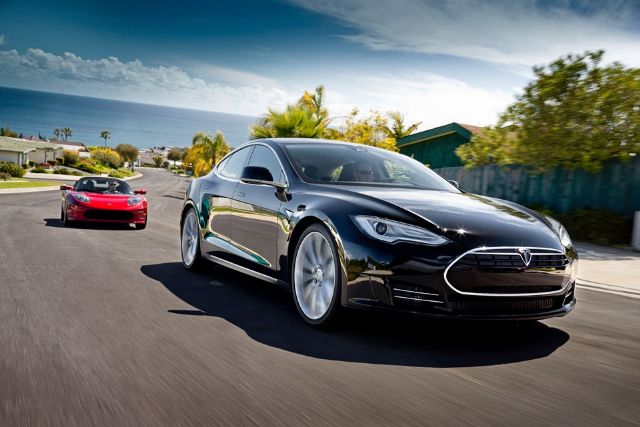 Tesla Model S, the highly popular premium EV. (photo from Tesla)
To meet simmering demand for lithium-ion cells due to robust sales of its Model S EV, Tesla in early 2014 announced partnering with Japanese Panasonic in a US$5 billion joint investment project to set up a battery factory with annual  production capacity to equip 500,000 EVs, to achieve battery cost reduction of about 30 percent.
Tesla also plans to launch a more affordable EV,  Model 3, in 2016 or 2017 to retail for an estimated US$35,000 before incentives (similar to Nissan Leaf, the world's most popular BEV), but with cruise range triple that of Leaf's, about 320 kilometers.
In addition Tesla plans to lead counterparts to test  a battery-swapping system across few locations, which should greatly shorten charging period to only three minutes. Such efforts help the EV maker to raise user-friendliness by reducing range anxiety that is often the key obstacle to buying decision especially in larger nations as China, the USA, as well as in potential owners who simply demand more freedom as available from ICE cars.
ARTC says that the EV development process has seen failures and breakthroughs, with technical advancements making such green vehicles overcome many problems as higher retail price, short cruise range, charging inconvenience etc., while national governmental policy support and subsidies, as well as charging infrastructure construction, pilot projects and related measures, have also effectively upgraded EV sales and popularity.
In 2014, BMW and VW EVs in Europe, and BYD's in China have achieved encouraging sales, with more PHEVs to be launched by international automakers in 2015, including the Mercedes-Benz S500 Plug-In and C350e, BMW X5 hybrid, Audi A7 e-tron, VW Passat GTE, Volvo XC90 hybrid, BYD Tang etc. Undoubtedly ARTC says that 2015 is set to be a promising period for EV launches by major players.