Hydraulic press, deep drawing press, die spotting press, tryout press, hemming press etc.
Known in the industry for steadfast devotion to R&D, Dees Hydraulic Industrial Co., Ltd., a globally leading hydraulic press supplier headquartered in New Taipei City, northern Taiwan, has just completed development of its newest closed-loop hydraulic servo-controlled die- spotting press to address growing industrial demand for energy-saving, high-precision production equipment.

This machine employs a servo system with integrated fixed-flow control as the core technology, to achieve higher precision than  conventional models and minimize wear, tear on the ball-screws. The company says this core technology helps cut maintenance cost and enhance profitability of the press, to also likely set a new trend in the sector. Besides, the energy-efficiency servo motor cuts power consumption of the machine by up to 30 percent, while the pulse- wave-signal hand-wheel helps to achieve tolerance in die-spotting operation to only 0.01mm, with the slide repeatability positioning accuracy to only minus-and-plus 0.01mm.

Established in 1976, Dees Hydraulic has an impressive track record to stand above peers in the line. In 1986 the firm developed Taiwan's first homegrown NC hydraulic press brake in cooperation with a local R&D body, which proved popular in the day, as cumulative global sales exceeded 1,000 units within only four years after the launch.

Committed to steady investment in R&D, this firm joined hands with Bosch and Cybelec in 1993 to develop the island's first CNC hydraulic press brake, and obtained the ISO-9002 certification in 1994 to set an exemplary achievement among similar suppliers in Taiwan. Thereafter the firm has continually developed various advanced models as automatic high-speed hydraulic press and NC hydraulic press integrated with a proportional flow-control valve, to have establish a higher profile globally.

With subsidiaries and operations in China which  are backed by several hundred skilled, well-trained workers and advanced production facilities employed in-house, Dees Hydraulic has marketed  machines to over 60 countries under its own brand, with end-users operating auto cap pad printing machines, hydraulic punch presses, shearing machines, bending machine, hydraulic cold forging machines, deep-draw presses, hydro-form presses etc., mainly from automotive, electronic and commodity industries.
(SC)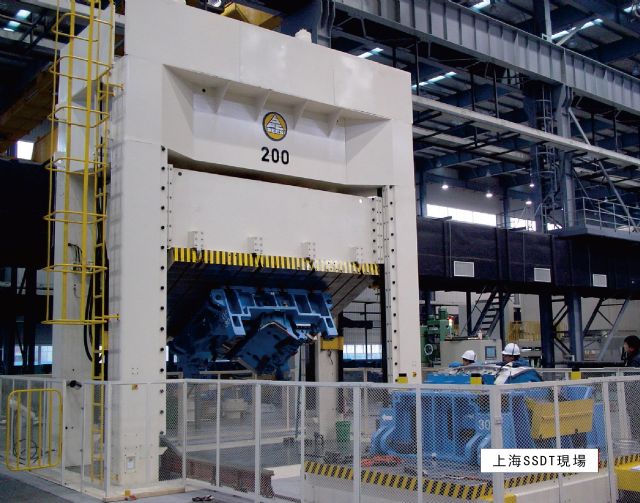 Dees's 200T closed-loop hydraulic servo-controlled die-spotting press.
Dees Hydraulic Industrial Co., Ltd.
No. 100, Fenliao Rd., Sec. 1, 2nd Ind. Zone, Linkou Dist., New Taipei City, Taiwan 244
Tel: 886-2-2601-8661
Fax: 886-2-2601-8936
Email: sales@spc.com.tw
Website: www.deesgroup.com.tw