Taiwanese company aims to make street lighting and surveillance cheaper and more efficient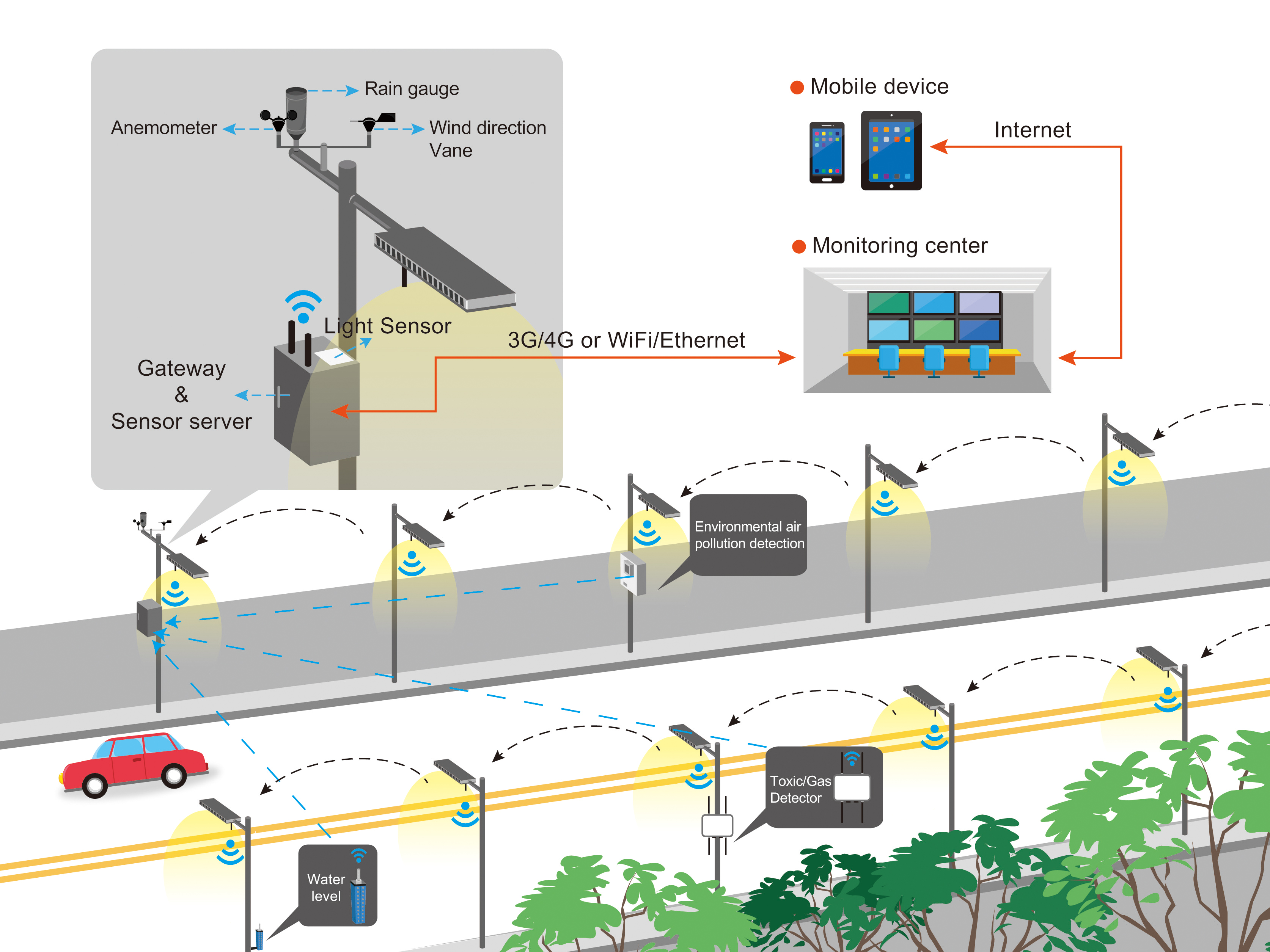 A diagram of Green Ideas Technology's smart streetlight system
By KEN LIU
Founded only last year, Green Ideas Technology Co., Ltd. focuses on the development of smart lighting control systems for LED lights and solar-powered LED streetlights. Recent field tests carried out by the company prove that its dedicated control system can send signals to all of the 120-some streetlights on the National Taipei University campus, whether in building blocks or at road intersections.
The company's president, Jessie Tsay, says that the telecom service provider Chunghwa Telecom has begun providing a smart LED streetlight control system, but that the signals it sends can travel only in a linear direction and so miss streetlights that diverge from a straight line when the road turns. Also, he adds, the signals cannot go through building blocks, "... because Chunghwa's system does not have routers and anti-interference technology. Our system has overcome these technical problems."
Green Ideas Technology's system, like Chunghwa Telecom's, is built around the ZigBee international wireless protocol. The difference is that Green Ideas Technology adds routers that allow signals to turn corners at road intersections.
Tsay reports that signals sent by his company's smart control system can cover a radius of 1,500 meters, and that each of the system's gateways on streetlights is able to process data to and from as many as 400 streetlights. "In the tests with the National Taipei University streetlights," he claims, "our system took only five seconds to send a signal and receive feedback from all of the lights." The company's gateway can control light switching and dimming, and can detect the power status of the streetlights as well as their coordinates.
Leapfrogging Streetlights
The company's smart control system contains several safety designs. One design allows the system's control signal to leapfrog a streetlight with a malfunctioning data module and go on to the next one, so long as the distance between the two does not exceed 200 meters. Another design allows all streetlights connected to the smart system to return to full intensity at night when the control system goes wrong.
Gateways are mounted on streetlights to relay commands from the control computer, and to receive feedback from streetlights and relay it back to the control computer. The computer, which can be a tablet or desktop PC, sends commands to the gateways through Wi Fi or the Ethernet. The smart system is now also available for solar-powered LED streetlights.
According to Tsay, the company's gateway is a powerful unit with an integrated fifth-generation IEEE 802.11ac wireless module and Ethernet wireless module, as well as an ARM-developed Cortex A8 central processing unit with a speed of 1.7 gigabits per second.
Although the smart system is usable with other high-power LED lights, including wall washers and bay lights, Green Ideas Technology is promoting it mostly for streetlight applications. "Only when it is applied to streetlights can the system fulfill the 'Smart City' idea," Tsay explains, "because streetlights are the most ubiquitous infrastructure items and Taiwan already has over 300,000 LED streetlights. By installing our system on streetlights we can not only control switching to achieve energy conservation but also provide other functions like real-time traffic, air-quality, and, with a camera added, disaster-relief monitoring."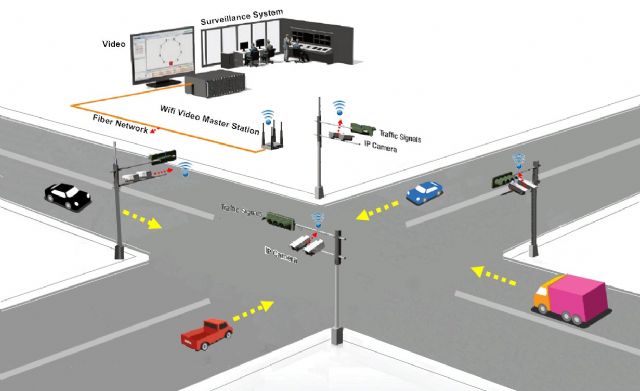 A diagram of Green Ideas Technology's smart real-time traffic surveillance system.
Tsay feels that although satellites can do real-time monitoring, their ground stations are so big that they are less convenient for disaster monitoring than micro surveillance stations like his smart control system with the camera added.
All-day Operation
To provide 24-hour operation, Green Ideas Technology builds rechargeable batteries into its devices so that they can run on battery power in the day and on the power from the streetlights' electricity lines at night.
Tsay says that his company does the integration of hardware and software for its gateways on its own, noting that since the gateways are exposed to all of the outdoor elements, complicated integration technology is needed to keep them working over the long term. "Our technical team has over 10 years of experience in system integration," he comments. "In addition, the software-hardware supply chain of of the IT industry has developed very well, helping us to overcome many technical difficulties."
The company is working with the government-owned Chunghwa Telecom and the government-backed Institute for Information Industry to boost its chances of winning the government smart streetlight contracts.
Besides smart control systems, Green Ideas Technology also supplies lighting fixtures, including panel lights, recessed lights, T8 linear light tubes, bay lights, and streetlights, as well as project consultation, planning, assessment, and installation. It numbers Chunghwa Telecom, the direct-sales company Nu Skin Taiwan, UBS Taiwan, Dharma Drum Mountain, and National Taipei University among its customers.