With China actively developing LED lighting and other sectors related to energy-saving products to create considerable business opportunities for suppliers from home and abroad, the 20th Guangzhou International Lighting Exhibition, scheduled for June 9-12, 2015, at the China Import and Export Fair Complex, is set to help suppliers from the LED lighting and related energy-efficient sectors meet global buyers.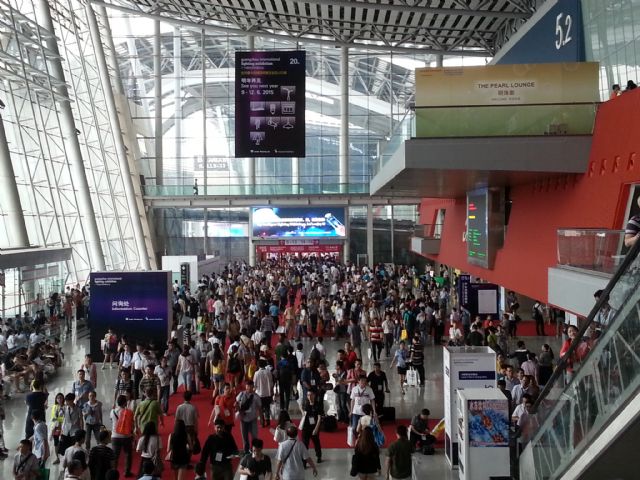 The 20th Guangzhou International Lighting Exhibition is slated for June 9-12, 2015 at the China Import and Export Fair Complex.
On the show's growing significance worldwide, Lucia Wong, Deputy General Manger of Messe Frankfurt (Shanghai) Ltd., commented at a press conference held earlier: "The outlook for the lighting and LED industry is promising. Technologies are not only growing smarter, but also becoming more multidimensional and sustainable. Falling in sync with industry development is the fair's 2015 slogan: "20th Onwards – Inspired & Be Inspired". It represents our continued commitment to encourage experts to share information and transform the industry. For example, a complete range of organized information sessions at the fair will facilitate networking to assist professionals in their pursuit for brighter business opportunities."
Top Brands to Attend
Generally recognized as being at the forefront of the industry, the Guangzhou International Lighting Exhibition has consistently presented the latest trends in lighting, with participants typically agreeing with the event being very productive. Nearly 2,000 domestic and international brands in the lighting and LED business will show up to display the latest innovations this year, to occupy an estimated 225,000 square meters. The expected turnout reflects exhibitors' steadfast confidence in promising market outlook in China.
Globally-renowned Brands
Buyers who are looking for established, renowned brands along the lighting supply chain will not be disappointed this year. Many well-known suppliers from across the world will be in attendance as shown below.
Lighting applications, accessories and electronic components:
Philips (Netherlands), Opple (China), Everlight (Taiwan), Almeco (Italy), Alanold (Germany) and BJB (Germany)
LED chips, packages, modules and light engines:
Samsung (Korea), LG Innotek (Korea), Cree (the US), Epistar (Taiwan), HC Semitek (China), Bridgelux (the US) and Seoul Semiconductor (Korea)
LED drivers, driver ICs and controllers:
Helvar (Finland), Meanwell (Taiwan), NXP (the Netherlands), Power Integrations (the US) and Tridonic (Austria)
LED components and packing materials:
ALPHA (the US), Dow Corning (the US), Panasonic (Japan) and Shin-etsu (Japan)
LED inspection, testing and manufacturing equipment:
Everfine (China), Labsphere (the US), LPKF (Germany), Konica Minolta (Japan), Radiant Zemax (the US) and Zvision (China)
Sean Zhou, Asia Marketing Director of Philips Lumileds, noted: "For us, the China market is very critical to our business success. China is the manufacturing base of the lighting industry and there is unmatched consumption of LED technology from domestic manufacturers. The Guangzhou International Lighting Exhibition is the biggest lighting show in the region, so it is very important for us to leverage this platform to deliver our brand message to both local and overseas manufacturing firms. Visitor attendance and quality were well within our expectations for the 2014 show. There were many customers visiting our booth for meetings and dialogue about emerging industry trends."
Also optimistic about China's lighting market and industry both being on an upward trajectory is Steve Ho, Lighting Product Director of Macroblock Inc, who said: "Brightness is no longer the sole focus in the LED industry. There are boundless expansion possibilities and the future of the industry will concentrate on the enhancement of quality, with intelligent lighting being significant evidence of that."
Andy Man, Vice President of Sales – Die Business of Bridgelux Inc, echoed the optimism by saying: "We expect the LED lighting to exhibit continuously strong growth in 2015. Industry players will need to leverage technology to win in the increasingly competitive market."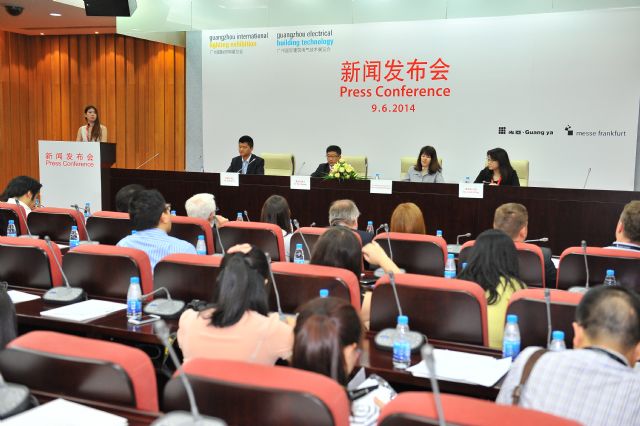 Show organizer Messe Frankfurt (Shanghai) Ltd. holds an international press conference to set upbeat tone.
Convergence of Global Lighting Sectors
With global governments and trade associations looking optimistically at the future of the lighting industry, this year's Guangzhou International Lighting Show will feature various national pavilions to demonstrate their technological achievements.
The U.S. Pavilion, organized by the Department of Commerce of the Consulate General of the U.S. in Guangzhou, will be set up for the sixth consecutive year. After receiving positive reviews from past exhibitors, the pavilion will expand its size to include a special area for U.S. exhibitors to present their latest LED innovations and lighting solutions. Solid state lighting technology to be displayed this year will be applicable to optics, drivers, packaging materials and more.
The Taiwan Pavilion, supported by the Taiwan Lighting Fixture Export Association, will also be present at the show the sixth time to remain the largest overseas pavilion this year. Leading brands to exhibit will include Adata Technology, Beautiful Light and others, who will display wide ranging LED technologies and applications, including LED residential lighting, chips, packaging, driver ICs and controllers, and many others.
The Hong Kong Pavilion, organized by the Hong Kong Electronic Industries Association, will attend the fifth time this year. Hong Kong's small and medium-sized enterprises targeting the Chinese market will be in sizable numbers, with product categories to include LED lighting fixtures, retrofit lamps, backlights, architectural lights, commercial lights, construction lights, and so forth.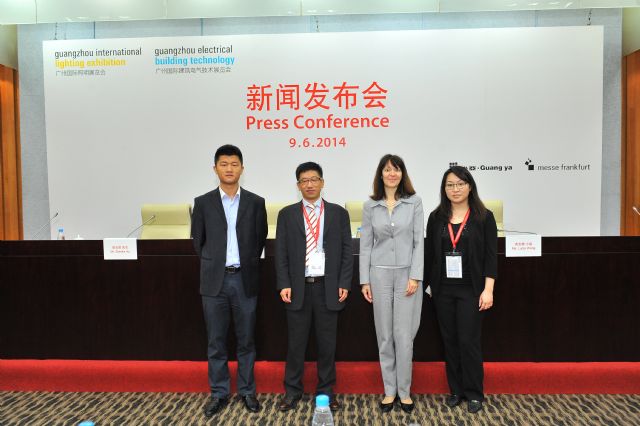 Executives from Mess Frankfurt (Shanghai) in a post-conference photo op.