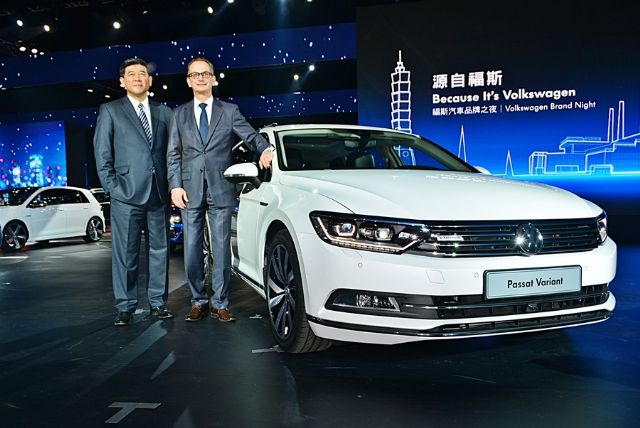 Su Weiming (left), executive vice president of Volkswagen, and Volkswagen's Greater China and Southeast Asian operations, and Bernd Hoffmann (right), president of Volkswagen Taiwan, announce the inauguration of the wholly-owned Taiwanese subsidiary. (photo from UDN)
Volkswagen Group of Germany, selling 10.14 million vehicles in 2014 to follow Toyota's 10.23 million to rank second globally according to statista.com, recently held a press conference in Taiwan to announce the inauguration of its wholly-owned subsidiary, Volkswagen Taiwan, to be the 28th overseas sales subsidiary directly controlled by the German headquarters.
Su Weiming, executive vice president of Volkswagen and Volkswagen's Greater China and Southeast Asian operations, and Bernd Hoffmann, president of Volkswagen Taiwan, jointly announced that Volkswagen will step up introducing more new models to the island to further strengthen the brand's competitiveness in the local imported-car market. In 2015, Volkswagen plans to renew half of its existing product lineup on the island.
Su explicitly said direct operation by the German headquarters does not mean price reduction despite the record-low euro against greenback, because Volkswagen has been pursuing stable product quality and pricing strategy, implying that the German carmaker will not dilute quality to counter politically-correct price discounts due to currency fluctuations and other profit-sapping factors as rising material costs. Pricing of various models will depend on their competitiveness with counterparts on the market, he explained.
Volkswagen Group has in its portfolio 12 vehicle brands, including Skoda, Audi, Seat, Bentley, Bugatti, Lamborghini, Porsche, Ducati, Scania, Man and VW Commercial Vehicles, as well as its eponymous brand, and its Golf sales, according to Automotive News Europe's article of March 7, 2014, rose 28 percent to be the best selling car in Europe then. Volkswagen passenger cars have always been recognized for great value for money, build quality, no-nonsense styling, excellent interior room, and peppy performance.
Eyeing Expanding Import Market
With an eye on Taiwan's expanding imported-car market, which has jumped to account for about 34 percent of overall new-car sales on the island in 2014, Volkswagen last year decided to set up the wholly-owned Taiwanese subsidiary to take over the marketing and sales of Volkswagens, Volkswagen commercial vehicle, Audi and Skoda. The new subsidiary kicked off operations, in fact, from January 2015.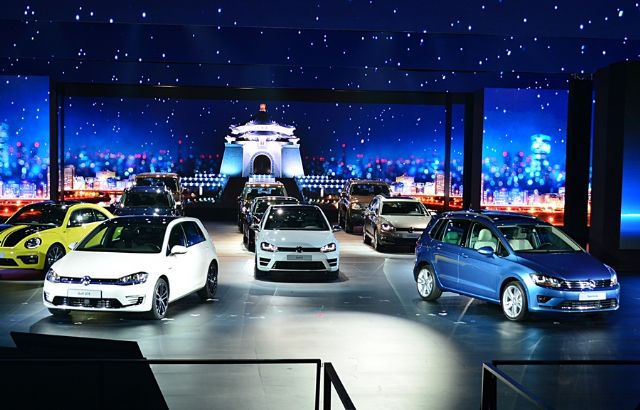 To show Volkswagen's determination to build bigger presence in Taiwan, the group held the "Volkswagen Night" at the plaza of the National Chiang Kai-shek Memorial Hall to showcase more than 20 late Volkswagen models. (photo from UDN)
To show Volkswagen's determination to further build presence in the Taiwanese market and celebrate its new business model, the group held the "Volkswagen Night", at the plaza of the National Chiang Kai-shek Memorial Hall for two nights to showcase more than 20 of the latest Volkswagen models, including the Touareg, Sportsvan, Passat etc. that will be launched in 2015. In Taiwan Volkswagen aims to shape the brand instantly recognizable for innovation and likability by local consumers.
Volkswagen has a wide-ranging product lineup of more than 60 models and plans to introduce more products suitable to Taiwanese tastes, which will likely help further upgrade brand competitiveness.
Hoffman, the first Volkswagen Taiwan president, said the subsidiary in its first year aims to sell more new Volkswagens than last year's 13,500 units. Including the targeted 6,000 Audis and 2,400 Skodas, Volkswagen Group's sales volume in Taiwan is expected to reach some 22,400 units in 2015.
In addition to new-car sales, Hoffmann stressed, the subsidiary also places equal emphasis on after-sales service, and that Volkswagen will continue to offer four-year, unlimited-mileage new-car warranty to Taiwanese buyers; free whole-vehicle inspection; and free maintenance services up till  15,000 kilometers. And starting April Volkswagen will launch the "Express Service," enabling owners to bring cars in for rapid repair and maintenance services without reservation.
Local Production Temporarily Halted
Politics has sidelined Volkswagen's plans to set up an auto assembly plant in Taiwan, with Su saying that currently Taiwanese government's policy works against assembled-car production, without clarifying the specifics, hence causing the German headquarters to decide to postpone such plans.
However, Su said, plans to set up the assembly plant in Taiwan have not been totally scuttled, which may be revived as soon as the Taiwanese government adjusts its industrial policy, and progress is seen in the negotiations of the Economic Cooperation Framework Agreement (ECFA) between Taiwan and China.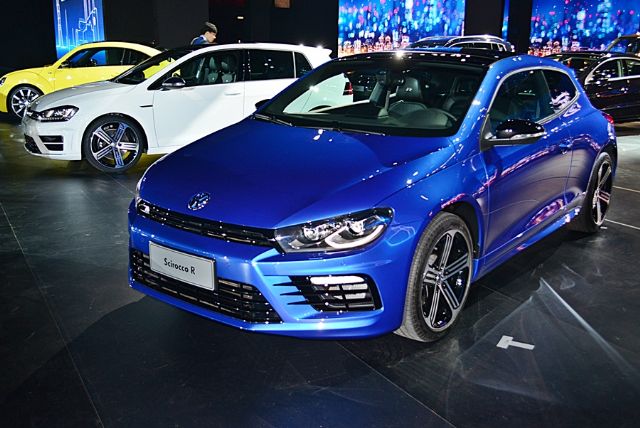 New Volkswagen models available in Taiwan. (photo from UDN)
According to Volkswagen's initial plans, the German automaker aimed to set up an auto-assembly factory, or contract a local contractor to assemble cars, most likely due to cost concerns with logistics being a core factor. Delivering cars out the factory to a local market only a few hours away by semi-trailer is cheaper than shipping them by sea from farflung plants in Europe, S.E. Asia etc. Su said that Volkswagen's German headquarters began evaluating such plans one and half or two years ago, but was discouraged by the Taiwanese government's existing industrial policies that are against local production of cars, which is also seen only in the Philippines in Southeast Asia.
In 2014 new-car sales in Taiwan rose 12 percent that of the previous year, and the imported-car segment enjoyed a 22 percent increase, far higher than the overall market. As a result, Su said, the share of imported cars in Taiwan soared to a record high in recent years of 34 percent. The executive vice president said that if Taiwan does not change its industrial policy, imported cars will soon win a market share exceeding 40 percent in the near future.
Industry sources say Su's comments reminded carmakers and retailers in Taiwan to take reality check, that local automakers' survival is being increasingly challenged by imports. Su, however, never dared to be blunt to say that such situation would not be an issue if only Taiwanese carmakers could design and develop truly popular or iconic cars to rival globally-renowned brands. So far only Yulon Motor of Taiwan has built very modest success in Taiwan and China with its fully-homegrown Luxgens. As reference, Japan, after being nuked in 1945, built basically from scratch its industrial base amid poverty to be now the maker of enviable brands as Toyota, Honda, Nissan and Subaru. Taiwan, in contrast, has built a sizable information technology manufacturing sector since WWII, but is not really on the radar in global carmaking, auto design, research and development.
According to Taiwanese automakers, all neighboring countries in Southeast Asia including China have their own policies to protect local automotive industry. Taiwan, however, since it joined the World Trade Organization (WTO) as a member in 2002, duties on imported cars have been lowered to only 17.5 percent, which, local automakers say, is tantamount to a totally open market to foreign auto vendors. To add salt to injury, the Taiwan government has revoked tax incentives to encourage higher local-content rate, further undermining local automakers' advantages.
Shrinking Production
With changing car ownership attitude among Taiwanese youths, improved public transport, worsening ease of parking in Taiwan as well as rising car quality, the car market in Taiwan continues to shrink rapidly, leading to many local automakers to suffer insufficient economy of scale, so have stopped or plan to stop local production of many models, especially mid-sized sedans. Hence business reality led to imports  immediately taking over the market share left vacant by locally-assembled models. Such scenario creates a vicious cycle, industry sources say, because lower sales volume of locally assembled cars lead to higher production cost (higher cost of auto parts) to narrow import-vs-locally-assembled price gaps. 
Also notable is that Taiwan's duties on imported auto parts have not been reduced along with prices of imports assembled locally, and hence some locally-assembled models with lower self-content rates retail for more than imports of the same category.  Some local car assemblers say it would make sense to sell imports than keeping assembly factories open.
Many local automakers have pleaded with the government to pay more attention to the welfare of the local automotive industry, whose well-being impacts hundreds of thousands of employees along the supply chain.