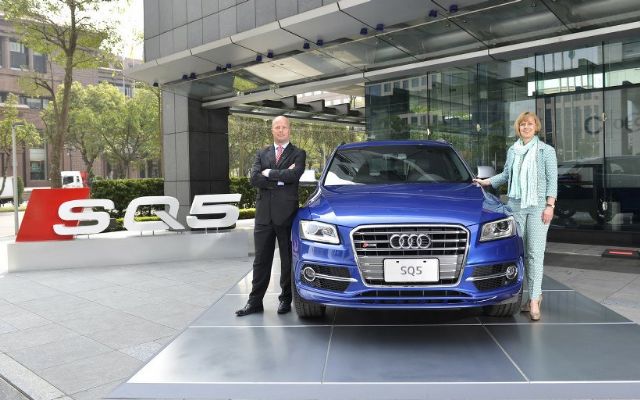 Ryan Searle (right), president of Audi Taiwan, the wholly-owned subsidiary of the German automaker, and Angelika Hilger, marketing director, introduce the new Audi SQ5 sport utility vehicle to local media. (photo from UDN)
With the recent inauguration of a wholly-owned subsidiary in Taiwan, Volkswagen Group of Germany targets to further boost sales volume of four of its brands on the island, including the eponymous line of cars, Volkswagen commercial vehicles, Audi and Skoda.
Ryan Searle, president of Audi Taiwan recently said the company had sold 4,901 new Audis in 2014 to show achievement in steady growth in the past six years, while targeting to elevate the volume to 6,000 units in 2015, and 10,000 by 2017. To achieve such annual volume goal, Audi Taiwan has been aggressively setting up new dealers and service points throughout the island, as well as continuously introducing new models to enhance its brand image.
On the first day of 2015, Volkswagen Group formally took over the local agency of its four   brands in Taiwan. The German auto group, in fact, has been integrating local distributors or expanding investments in others to more effectively raise sales volume quickly. Media reports in Taiwan have not covered the reasons for the German parent to take over its Taiwan operations, which should not be necessary had everything been progressing without glitch to post impressive sales figures. Perhaps Volkswagen is trying to streamline operations by cutting out middleman, which would return higher profit to the German group without sharing revenue with Taiwanese partners.
Skoda Taiwan, another subsidiary of Volkswagen Germany, has also announced new plans to elevate the Czech brand's sales on the island. Y.L. Lee, Skoda Taiwan's president said 2,248 new Skodas were sold in Taiwan in 2014, and the company aims to raise the volume to some 2,900 units this year, and targets to challenge 5,000 units by 2018. In 2015, Lee said, Skoda Taiwan will offer six series with 16 models to Taiwanese consumers.
After Skoda Taiwan announced its operational plan, other Volkswagen subsidiaries are expected to follow suit, and with continued expansion of other brands under the Volkswagen Group in Taiwan, the brands are expected to be a collective tour de force in the local automobile market.
Volkswagen Group set up Audi Taiwan five years ago, whose continuously rising sales volume, due to introduction of more new models and distributors' increased investments, has reflected well on the success of the German auto group's operations in Taiwan, with Skoda Taiwan set up later to duplicate the business model.
Mazda Motor Corp. of Japan has also taken over its local agency in the third quarter of 2014, and set up the wholly-owned subsidiary Mazda Taiwan. Mazda Taiwan has been renovating dealers and service points island-wide, targeting to complete the renovations at its 46 dealers over the next three years. Driven by effects of setting up the Taiwanese subsidiary, Mazda's annual sales volume on the island is expected to reach 16,000 in 2015, and 20,000 by 2016, to raise market share from 3 percent to 5 percent.
Mazda originally commissioned Ford Lio Ho Motor Co. (local subsidiary of Ford Motor of the U.S.) to locally produce some models and imported others for sale in Taiwan. After policy change to refocus on selling imports, Mazda Taiwan decided to invest sizably in dealer  renovations, and is very confident to raise sales substantially.