Driven by increasingly stronger demand in traditional high season (snowy winter in North America and Europe typically sees higher rates of road accidents to fuel demand for auto body parts as fenders and bumpers), several Taiwan Stock Exchange (Taiex) -listed auto-parts companies reported encouraging results for operation in the first two months.

Tong Yang Industrial Co., Ltd., a Taiwanese auto-parts maker in Taiwan and maker of aftermarket (AM) plastic body-parts, had consolidated revenue of NT$1.65 billion (US$55 million) in February, up 5.6 percent from the same period of last year, or year-on-year (YoY), with sales increase in both AM and original equipment (OE) parts. In the first two months, the firm registered cumulative revenue of NT$3.51 billion (US$117 million), up 6.2 percent YoY, with both the above figures being record highs in company history.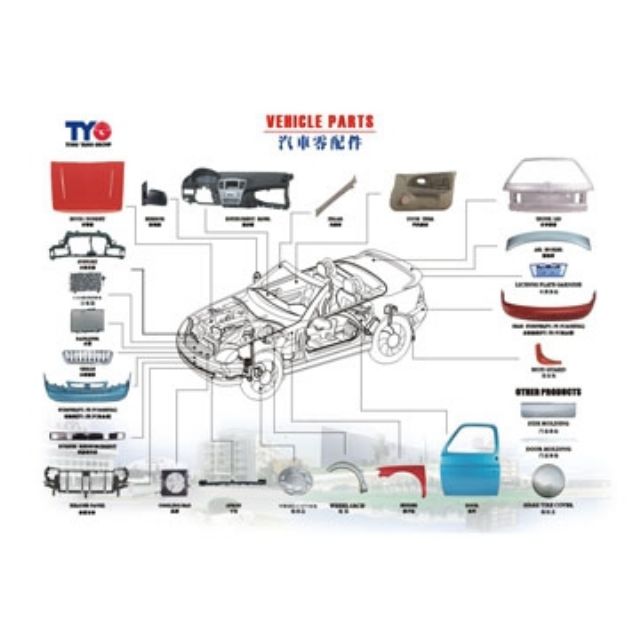 Tong Yang is a major global supplier of AM automotive body parts based in Taiwan. (photo from Tong Yang)
TYC Brothers Industrial Co., Ltd., a major auto-lamp manufacturer in Taiwan which kicked off adopting the new international financial report system this year (excluding its Chinese subsidiary Varroc TYC Auto Lamps Co., Ltd.'s contribution to corporate revenue), reported February consolidated revenue of NT$1.11 billion (US$36.9 million), down 23.9 percent YoY, which would be a 4.5 percent YoY rise if including Varroc TYC's February revenue of NT$415 million (US$13.8 million).
With the revenue contribution from Varroc TYC, however, TYC's profitability is totally unaffected, albeit not sparing the Taiwan-based maker from questions related to its operation efficiency, because the Chinese subsidiary looks set to continue to delivering return on investment for the parent firm.
Enterex International Ltd., a Taiwanese company specializing in manufacturing AM automotive radiators and condensers with plants in China, registered February revenue of NT$361 million (US$12 million), up 5.8 percent YoY; and cumulative January to February revenue of NT$831 million (US$27.7 million), up 11.5 percent YoY. The radiator/condenser maker is very optimistic towards operations for the rest of the year due to increasing sales in China, the world's biggest car maker by sales volume and increasingly important segment for AM auto parts.
The two major Taiwanese tire manufacturers, Cheng Shin Rubber Ind. Co. Ltd. and Kenda Rubber Ind. Co., Ltd., however, both reported revenue drops in February due to less workdays in the month. Cheng Shin had February revenue of NT$7.54 billion (US$251.2 million), down 21.63 percent YoY, with Kenda's being NT$1.86 billion (US$61.9 million), a 13.5 percent YoY decrease.
Cheng Shin said that its tire shipments to China, Vietnam etc. saw decrease due to the Chinese New Year holidays, but are expected to soon  recover due to the coming of the traditional high season, the second quarter. Kenda pointed out that the lesser workdays and the partial shutdown of west coast ports in the U.S. (due to labor strike) affected its shipments in February.