Not long after representing Hon Hai Group, recognized as the largest EMS (electronics manufacturing services) provider based in Taiwan, to participate in a tactical partnership agreement signing with Chinese partners Tencent Inc. and China Harmony Auto Holding Ltd. to see the three parties jointly announce engagement in connected smart electric vehicle (EV) business, Lin Dong-liang, president of Hon Hai's automotive business division, recently told Chinese media that the group will not be involved in assembling EVs or launching auto brands.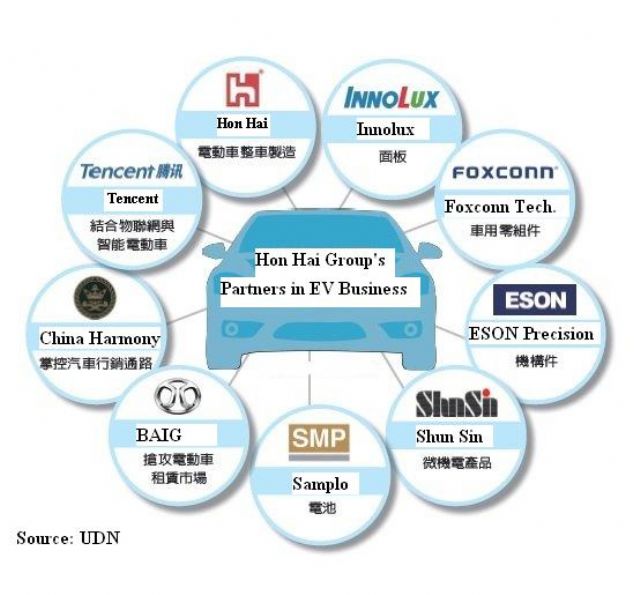 Hon Hai's strategic partnership to engage in EV business. (photo from UDN)
However, Lin added that Hon Hai will focus on building an automotive platform integrated with telematics, e-commerce and related technologies, as well as planning to step into the autonomous automotive field or the sector involving self-driving cars. The platform is expected to become a new frontier for Hon Hai's considerable, integrated manufacturing capability, as well as new means to win more customers.
Lin also said that Hon Hai tied up with Chinese automaker Beijing Automotive Group (BAIC) to set up a new-energy vehicle leasing company in April, 2014. The new venture will first survey consumers' needs and opinions, with such data to be used as basis to develop the best EV platform. Hon Hai builds its start on the automotive platform with telematics, Lin said, and the group targets to incorporate all the major elements into autonomous-driving, including e-commerce and other related technologies being developed as self-driving and EV-related. The president explained that Hon Hai's plans for the targeted EV platform will start with a comprehensive stage for firstly small vehicles, then to larger ones, with Internet connectivity, eco-protection etc. factors to be taken into account simultaneously. When the platform is ready, he added, companies needing specific platforms can look to Hon Hai for product commercialization, suggesting that Hon Hai will be ready to offer turnkey platforms.
Hon Hai will neither assemble vehicles, Lin stressed, nor launch an EV brand. However, the group will cooperate with Chinese Internet protocol company Tencent Inc. to jointly set up a smart-car platform. Hon Hai has at its disposal relatively comprehensive subcontractors of automotive electronics systems, in-car displays (from affiliate Innolux Display Corp. that is reportedly the largest maker of thin film transistor-liquid crystal display (TFT-LCD) panels in Taiwan), electro-mechanical products, battery etc., Lin said, which form a supply chain to potentially create higher values on the EV platform.
Terry Guo, Hon Hai chairman, said previously that the group plans to invest RMB5 billion in Shanxi Province of China to set up an EV manufacturing center, of which Lin said that Hon Hai will engage only in R&D of EV technologies and production of key EV parts, rather than EV assembly.
According to Hon Hai's plans, the future will see a totally-smart or omni-functional digital instrument cluster, with a center console screen to offer multi-functionality backed by Net access to enable online shopping, ticket reservation, infotainment as movies among others, being an integrated platform of Internet, Internet of Things (IoT) and telematics. In addition, Hon Hai has been also aggressively trying to develop autonomous-driving technologies.
Tie-up with Tencent
To further exert strength in the automotive industry, Hon Hai has just announced having signed a tactical cooperation pact with Tencent and China Harmony to jointly engage in  connected smart EV business, with the three parties aiming to set a new stage for telematics with a production base in Zhengzhou, Henan Province of China.
As more applications are developed and more potential discovered with IoT, entrepreneurs are finding more telematics business opportunities that are growing alongside the rising development of and interest in smart connected cars. In the face of Hon Hai's relatively extensive manufacturing capability, coupled with Tencent's strength in digital content and Internet platform, as well as China Harmony's established position as carmaker, industry sources say the partnership has the right ingredients to move the team towards a new milestone in the emerging field.
Lin said "Tencent is a leading Internet company in China backed by 500 million subscribers. Tying up with Alibaba, which is recognized for strength in Internet sales and payment, enables us to be partners in the sharing world; while Tencent has proven strength in providing online entertainment-related contents and services, so our cooperation is expected to create higher value and interest."