Despite the very low penetration of electric scooters in Taiwan, where some 19 million motorbikes ply on roads, the Taiwanese authorities continue to help and promote the development of the electric vehicle (EV) industry on the island, also encouraging more local operators to invest to transform the transportation-vehicle industry as necessary. Almost as protocol, the Industrial Development Bureau (IDB) of the Ministry of Economic Affairs (MOEA) recently held a meeting to show the EV industry's advancement on the island.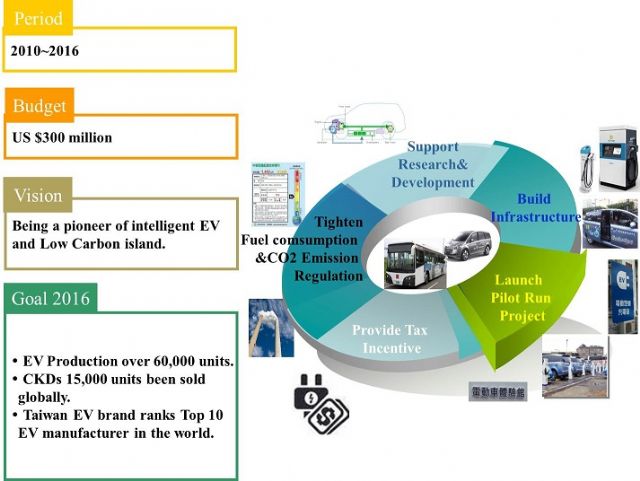 Taiwan government's goal and vision to develop the nation's EV industry. (photo from MOEA)
The EV industry was designated as one of the four "emerging smart industries" by the Taiwanese government for special development in 2009, and in early 2010 the Cabinet promulgated the "Intelligent EV Development Strategy & Action Plan," a four-year project to attract resources on the island for joint development of the new industry in Taiwan.
In the past four years or so, the government has sponsored more than one hundred Technology Development Program (TDP) projects related to EV technology, system, and key-parts development, to upgrade local EV-related makers' competitiveness in the emerging market. In the past few years, TDP projects focused mainly on helping local companies develop plug-in hybrid electric vehicle (PHEV) and extended range electric vehicle (EREV) technologies, key technologies for electric buses (e-buses), as well as upgrading the EV local content ratio.
More than 200 industry experts, government officials, corporate representatives, and technical experts from local research institutes, especially Taiwan Automotive Research Consortium (TARC) members from the Automotive Research and Testing Center (ARTC), the Mechanical and System Research Laboratories of Industrial Technology Research Institute (ITRI), the Material and Chemical Research Laboratories of ITRI, the Chung-Shan Institute of Science and Technology (CSIST), and Hua-chuang Automobile Information Technical Center Co. Ltd. (HAITEC), were present at the abovementioned meeting.
8 EV Pilot Projects
Tsai Yi-liang, executive secretary of the Intelligent EV Promotion Office (IEVPO) under the IDB pointed out that two EV pilot projects were added in 2014, including a tourist shuttle project in southern Taiwan and another EV shuttle-bus project at the Hsinchu Science Park in northern Taiwan.
As of early 2015, there are eight EV pilot projects underway in Taiwan, together seeing the operation of 421 EVs (including electric cars and buses), and 496 EV charging stations throughout the island.
In the meeting, representatives from several local companies who have received government subsidies for product or technology development presented updates on achievements and experiences, including RAC Electric Vehicles Inc., Advanced Lithium Electrochemistry Co., Ltd., China Engine Corp. (CEC), Lite-On Technology Corp., C.S. Aluminium Corp. (CSAC), Yulon Energy Service Co., Ltd. etc.
Industry experts said that the first stage of the EV Development Strategy & Action Plan put more emphases on accelerating the development of EV operational business models, to help local companies build core technologies in EV key systems and parts, set up EV charging infrastructure in Taiwan as well as EV battery safety and performance standards and EV business transaction platform. In the past four years, they added, strong government support has achieved fruitful results to further develop Taiwan's EV industry.
The Cabinet continued to map out the second-stage development strategy and action plan for the EV industry in mide-2014, and then shifted the policy direction with five targets: 1. cooperate cross-ministry to promote e-bus adoption in Taiwan; 2. provide more incentives for EV purchase; 3. innovate EV business models; 4. encourage more private makers to enter the industry; and 5. form an EV industry value chain to gradually develop a new segment focusing on development and production of key systems for electric cars and electric buses.
In addition to helping shape the island into an important supply base of key EV parts, the Cabinet also looks to offer incentives and expertise to help Taiwan to grow into a global demonstration hub for low greenhouse gas vehicles.