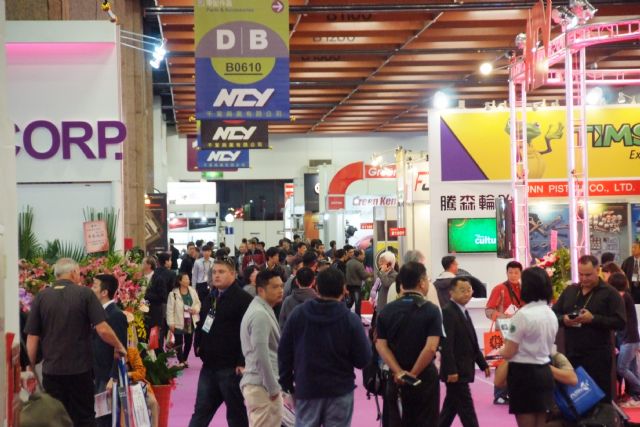 Buyers flock to the 2015 Taipei AMPA 5-in-1 mega show. (Photo from TAITRA)
April 8-11 saw the 2015 edition of a widely anticipated trade fair for automotive and motorcycle suppliers that was staged at the  Nangang Exhibition Hall (in Xize district in suburban Taipei) and TWTC Exhibition Hall 1 in Taipei, in the Shinyi district of the national capital also known for upscale shopping. This time the organizers set up the event as a 5-in-1 mega show comprising Taipei International Auto Parts & Accessories Show (Taipei AMPA), Taipei International Automobile Electronics Show (AutoTronics Taipei), Taiwan International Motorcycle Industry Show (MOTORCYCLE TAIWAN), EV TAIWAN (Taiwan Int'l Electric Vehicle Show), and Taiwan International Tuning & Car Care Show (TUNING & CAR CARE TAIWAN), with the latter show being a first-time addition.
The 5-in-1 mega show, according to the semi-official export promoter and organizer Taiwan External Trade Development Council (TAITRA), hosted a combined total of 1,401 exhibitors manning 3,816 booths. This was the most comprehensive event ever for buyers sourcing just about everything for vehicles powered by internal combustion engines and electric motors. This year, exhibitors came from 13 nations, including Thailand, Malaysia, China (with booths in a national pavilion), Germany, Canada, New Zealand, Japan, South Korea, Hong Kong, the Philippines, Singapore, Indonesia, Vietnam etc.
In addition to record numbers of exhibitors and booths, TAITRA says, the event attracted some 6,665 international buyers from 135 nations (a record for visitor countries). The top-10 visitor nations include Japan, China, the U.S., Malaysia, Thailand, Hong Kong, South Korea, Singapore, Indonesia and Egypt. TAITRA hosted a 301 one-on-one meetings between suppliers and buyers, which are projected to create more than US$20 million in follow-up business opportunities, up about 50 percent from last year.
Heavyweight Foreign Buyers
This year, Shinichi
Yamashita,
president of F.C.C TSR Honda, the official motorcycle race team of the renowned eponymous motorcycle maker from Japan, attended the exhibition and said that 80 percent of the parts on the CBR-1000RR racing bike used by the team are from Taiwan, also praising the high precision and quality of such parts.
Buyer groups from East Africa and North Africa visited the 5-in-1 show the first time this year. Sudwan Co., Ltd. from Sudan said that they first visited the show in 2014 and subsequently set up a branch in Taiwan to procure and export auto parts. There were more than 20 buyers from Algeria, of  which six have placed orders with Taiwanese manufacturers. According to the general manager of the Algeria Industrial Subcontracting Association, Laib Azziouz, the association is implementing the collaboration program between French carmaker Renault S.A. and foreign suppliers, opportunities that he urged Taiwanese companies to target.
A total of 149 Egyptian buyers visited the show, representing an 88.6 percent growth from last year. The Egyptian merchandiser AC Hoda Co. Cairo pointed out the diversity of products in this year's show which offers many options, and that it is worth visiting again next year.
Ample Buyers & Excellent Exhibition Service
The 5-in-1 event is internationally known for attracting ample buyers and offering excellent  exhibition services, features that continue to draw  support from both Taiwanese manufacturers and  participation of foreign exhibitors.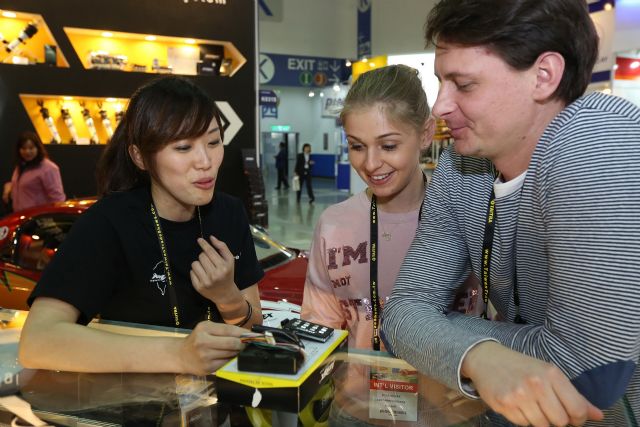 Taipei AMPA 5-in-1 mega show is internationally known for ample professional buyers and excellent exhibition services. (photo from TAITRA)
The Thai Pavilion, for example, had 14 booths for auto parts display this year, and expressed willingness to increase the booth number to 20 next year, a significant indicator for Bangkok is also a high-profile destination for the exhibition trade. The Malaysia Rubber Export Promotion Council said Taipei AMPA has helped Malaysian enterprises to learn more about the plastic automotive accessory industry trends. Neues, a Japanese electric vehicle (EV) dealer and a foreign exhibitor who also attended last year, reported its staff being satisfied with the result of taking part in the event.  The Chinese EV manufacturer, Powerfirst, participated in the show the second time and reported seeing more domestic and international buyers than last year, with plans to take part again next year. The Chinese exhibition group, "Center of Strait Economy and Science-Tech Coop", said the international buyers in this show are more professional than those in China's exhibitions.
CENS Buyer Services
In this year's 5-in-1 show, the Taiwan-based China Economic News Service (CENS), an established export media dating back to the 1970s offering print and online supplier, market information on the automotive, motorcycle, machinery, hardware etc. trades, again displayed the latest issue of the
Taiwan Transportation Equipment Guide (TTG)
, the largest, longest-running and most influential sourcing guide for automotive product and service suppliers in Greater China, at its booths (A0906) of TWTC Hall 1, and the e-commerce service area of TWTC Nangang Exhibition Hall (4th Fl.)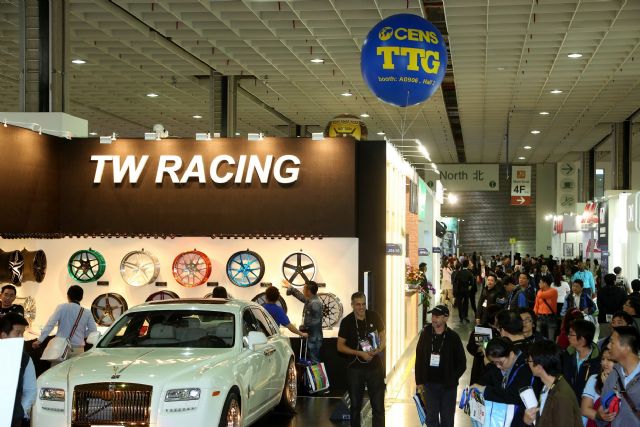 Global visitors are easily directed to CENS booths by big balloons in TWTC Nangang Exhibition Hall and TWTC Exhibition Hall 1.
CENS mobilized its circulation department with multi-lingual staff to serve global buyers at the show, and handed out hundreds of
TTG
buyer guides (hard copies or CDs) to international buyers. Buyers were conveniently directed to the CENS booths that were visibly marked with big balloons.
2016 Calendar
According to TAITRA, the 2016 Taipei AMPA, AutoTronics Taipei, MOTORCYCLE TAIWAN, EV TAIWAN, and TUNING & CAR CARE TAIWAN will be held again in the 5-in-1 mega show format at the TWTC Nangang Exhibition Hall and TWTC Exhibition Hall 1 from April 6 to 9, 2016, with registration scheduled to commence August, 2015. Interested parties may find details on the official website www.taipeiampa.com.tw.