Compiled by STEVE CHUANG

With positive news reported about the U.S. economy that is only occasionally shadowed by talk of a frothy stock market, coupled with robust home price rises in California, CENS (China Economic News Service), a Taipei-based export media with a history of over 40 years, will organize a Taiwanese exhibitor group to attend the upcoming National Hardware Show (NHS) 2015, to be held May 5-7 at the Las Vegas Convention Center in Nevada. The group will be bigger than the one at the 2014 edition, showing the suppliers' confidence in the event to effectively promote hardware, gardening and home improvement items amid the upbeat mood in the real estate market stateside.

Despite weaker-than-expected end in 2014, U.S.'s economy still posted encouraging results for the whole year. According to the news release by Bureau of Economic Analysis under the U.S. Department of Commerce on March 27, the country's real GDP growth rate for the last quarter of the year had slowed to an estimated 2.2 percent from a year ago, compared with a phenomenal 5.0-percent increase in the third quarter.

Such surprising slowdown, however, hasn't dampened hopes for the country's march towards a steady economic recovery, as the authority reported the real 2014 GDP increasing 2.4-percent, compared with 2.2 percent achieved in 2013, mostly driven by strong figures in personal consumption, nonresidential fixed investment, exports, state and local government spending, private inventory investment, and residential fixed investment.

Although plummeting international price of crude oil over the last 9 months has seriously hammered U.S.'s shale gas and oil exploration industries to overshadow the economic outlook in 2015 of certain sectors, a couple of positive phenomenon are expected to keep buoying the national economy, particularly a steady flood of homebuyers into the realty market. The Wall Street Journey reported on April 11 that existing-home sales rose by 6.1 percent month on month in March to hit an 18-month high of 5.19 million. An earlier news report by Bloomberg BusinessWeek also notes that housing starts stateside in 2015 are projected to grow to 1.2 million from sub-1 million in 2014. Plus lower gasoline prices not only give Americans more disposable cash but also a positive vibe about their spending power. Such factors collectively offer exhibitors good reason to look to this year's NHS for ever more business opportunities.

Bigger Exhibitor Group
So far 31 Taiwanese companies have signed up to join the exhibitor group led by CENS to NHS 2015, compared to 20-plus firms it had organized at the 2014 edition. Noteworthy is that over half of the exhibitors, to occupy 42 booths, are first-timers and ones who have decided to return to the show after years of absence.

On the brisk participation, Maria Cheng, CENS's vice general manager-cum-trade fair manager, commented that U.S.'s steadily recovering economy, compared to the sluggish economic growth across the EU bloc, is definitely the decisive factor, which also has set in motion a contagious mood of expectation among Taiwanese exhibitors to look for a better, larger NHS this year than in the past.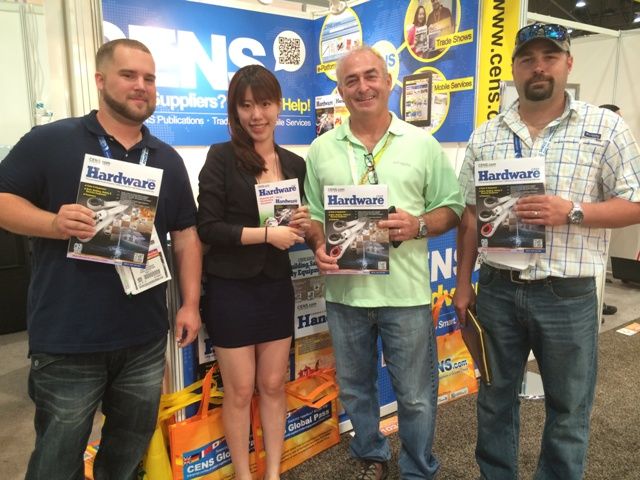 CENS's buyer guides enjoy solid reputation among buyers at NHS for extensive information.
CENS's exhibitor group is composed of suppliers of hand tools, building materials, home improvement products, bathroom fittings, garden tools and supplies, plastic and rubber parts and contract manufacturing services, to be mostly stationed in the International Sourcing area. They are generally looking to tap the trade fair to further explore the U.S. market for hardware and home improvement products, as well as establish more contacts with buyers from Central and South America.
Also looking with ample anticipation at the strong potential of U.S.'s market for bathroom and plumbing fittings since codes were formally implemented in 2014 to restrict lead content in faucets and drinking water equipment that are sold stateside, Plumbing Association of Taiwan (PAT), a trade group of Taiwanese faucets and plumbing fittings makers, will be part of the CENS-led exhibitor group for the second consecutive year.
The association represents hundreds of Taiwanese  faucet and bathroom fitting manufacturers from Taiwan's central county of Changhua, home of the industry. Its chairman Y.D. Wu, also owner of Long Tai Copper Corp., a veteran manufacturer of bathroom faucets, showerheads, and valves, will be at the show to promote to foreign buyers unparalleled competitiveness of the industry and his company.
In addition to sending a big exhibitor group, CENS will also man its own booth numbered 3219 to circulate buyer guides, including
Guidebook to Taiwan Hand Tools 2015
and
Hardware
(2015 Issue), as well as promote real-time business matchmaking services to buyers at this year's NHS, to make the most of its effort to help Taiwanese suppliers build contacts and global exposure.
Features of NHS 2015
It makes sense for Taiwanese companies eagerly targeting to tap the U.S.'s steady economic recovery, as well as for first-timers and newcomers to look for new markets and evade overcrowded segments in Asia to attend NHS 2015, simply because the show remains recognized as the most influential business platform for hardware and home improvement industries in America, due to a couple of features that are widely deemed helpful for participants to build business.
Wide ranging home improvement products is one of NHS's attractions.
Annually organized by Reed Exhibitions, the show gathers a large number of suppliers and brands from all over the world to present a broad array of products for home improvement and gardening. According to the organizer, this year's NHS will host over 2,500 exhibitors representing 15 different product categories described as the follow: Building Products, Farm & Ranch, Hardware & Tools, Homewares, International Sourcing, Inventor Spotlight, Lawn, Garden & Outdoor Living, Paint & Accessories, Pet Products, Plumbing & Electrical, Storage & Organization, Outdoors, Tailgate & Recreation, Emergency Preparedness & Disaster Recovery, Energy Efficient and Made in USA.
The organizer also brings a new look to the floor plan by holding the show in the Central Hall and South Hall this year (the show has always been held in the North Hall without using the South Hall), with the layout to expand the overall floorage of the trade fair, simply because the second floor of the South Hall will also be used.
"We're looking forward to providing vendors and retailers both a memorable and productive experience at this year's show. We hope that by moving some key categories to new spots on the show floor, it'll be easier for buyers to visit both new and returning exhibitors within their target product categories along with stopping into some of our popular show features," says Rich Russo, vice president of the National Hardware Show, on a press release.
To drive sales at the show, the organizer also set up the 50,000-square-foot Auction Arena located inside the Central Hall, as well as the Outdoor Supply Auction, a 3-day auction event that allows visitors to buy new, overstock, discontinued, out-of-season and dated packaging products on the spot at discounted prices by biding with the NHS Mobile App.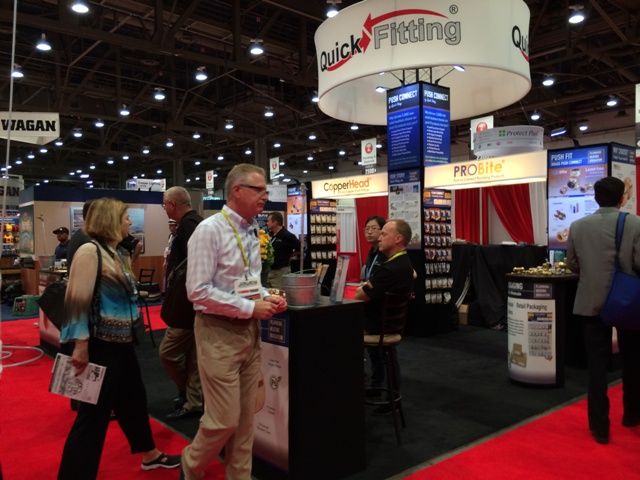 NHS is recognized as key trade fair for hardware and home improvement industries in America.
Retaining its tradition of not just offering products related to hardware and home improvement, but updating attendees on new market trends and technologies through various educational events held concurrently, this year's NHS will continuously stage seminars and presentations, to take place on the North American Retail Hardware Association (NRHA) Village Stage, including on the agenda topics as Generational Buying Patterns in the Home Improvement Industry, Mobile Marketing for the Generations, The Next Generation of Independent Owners, and many others.