At a recent shareholder meeting, Taiwanese tire maker Cheng Shin Rubber Ind. Co., Ltd. announced that it will soon kick off plant-construction plans in Indonesia and India, as well as decide a capacity-expansion project by the end of this year for its passenger car radial (PCR) tire factory in Chongqing, Sichuan Province of China.

Wu Hsuan-miao, vice president of Cheng Shin, said that daily production volume of PCR tires at the Chongqing factory is close to 20,000 units, nearing the maximum capacity planned for the first-stage construction. Wu and assistant vice-president Richard Lo attended the shareholder meeting in Taipei. Regarding a new-factory construction plan in the east-west of China, Lo responded to an investor's question that the company is still looking for a suitable location.

Wu said that Cheng Shin's factory in Xiamen, Fujian Province of China, currently produced more than 10,000 PCR tires daily, still far from the maximum capacity, hence the company having yet to map out plans for further expansion. Cheng Shin's PCR factory in Yunlin of southern Taiwan turns out some 16,000 PCR tires daily, which is to temporarily remain unchanged. The company originally planned to install new production line to make motorcycle tires at the Yunlin facility, but decided to cancel and move the lines to Indonesia and India.

Responding to recent industry news that the state-owned China National Chemical (ChemChina) is to buy the world's fifth-largest tire maker Pirelli in a 7.1 billion euro deal that will put the 143-year-old Italian company in Chinese hands, Wu said the acquisition will not seriously threaten Cheng Shin. The vice president said the world's top-10 tire vendors have not monopolized majority market share in China, except Cheng Shin, Bridgestone of Japan and Hankook of South Korea.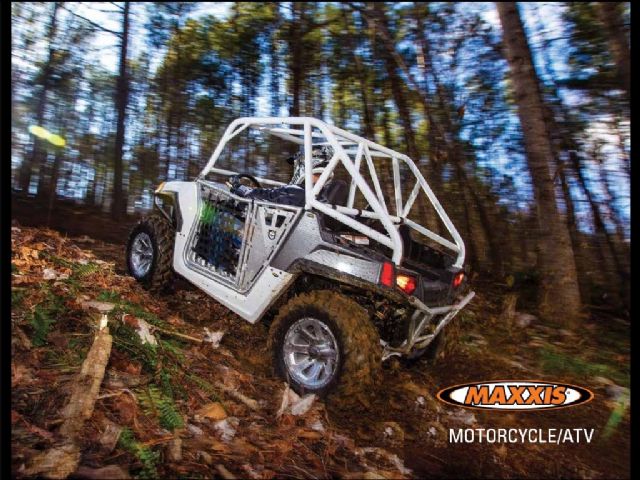 Cheng Shin's own Maxxis brand is gaining recognition globally. (photo from Cheng Shin)
In China, Lo stressed, Cheng Shin will further strengthen its R&D works and expand product lines to raise market share in the big Chinese market, and the only way to compete against international counterparts in the highly competitive market is to increase Cheng Shin's influence and market share.
ChemChina's planned takeover, just announced in late March, is one of the biggest acquisitions by a Chinese company in Europe and comes after a string of buys by Chinese investors in the euro zone's third largest economy, which is struggling to emerge from its longest recession since World War II. Wu said that many Chinese enterprises across all industries have been trying to become top-10 globally through acquisitions, whose outcomes are hard to evaluate for now because of both successes and failures.
In 2014, the vice president added that only Continental of Germany of the top-10 global tire makers registered revenue growth from the previous year. In the first quarter of 2015, Cheng Shin had consolidated revenue of NT$28.88 billion (US$931.7 million), down about 9 percent year-on-year (YoY). However, Wu expressed cautious optimism toward his company's entire-year operations, despite positive growth so far while Cheng Shin's second-half operation is expected to grow even stronger.
Cheng Shin has not announced total investment in its planned tire plants in Indonesia and India, with some institutional investors estimating each project to cost more than US$300 million.
Moves
Cheng Shin's Indian subsidiary Maxxis Rubber India Private Ltd. has bought 43-hectares of land in the Sanand Industrial Zone, Ahmedabad of Gujarat, and will soon apply to set up a tire factory on the site. Planned daily capacity at the Indian factory's first-stage production lines includes some 40,000 motorcycle tires and 16,000 PCR tires. Currently Cheng Shin's major customers in India include local automaker TATA and Maruti Suzuki, as well as other vehicle manufacturers, including Mahindra & Mahindra, Ashok Leyland Nissan etc., all of whom being original equipment (OE) customers.
Cheng Shin recently also announced that its Indonesian subsidiary, Maxxis International Indonesia, has decided to buy 350,000 square meters of land in Greenland International Industrial Center (GIIC) in Indonesia for US$47.25 million. The Taiwanese tire maker plans to construct a plant at the site in stages, the first of which is scheduled to kick off in May and be completed by March 2016. The plant will produce both motorcycle and PCR tires in the future, but the former first. Cheng Shin once said that the targeted maximum daily capacity at the facility will be 40,000 motorcycle tires (70 percent for local and 30 percent for export sales) and 16,000 PCR tires (30 percent for local and 70 percent for export sales).
The maker estimates the investment in the tire factory at about NT$3 billion (US$100 million), excluding land cost, with the total investment in the entire plant complex in Indonesia to be about US$300 million. The Indonesian plant will be Cheng Shin's third plant complex in ASEAN, besides those in Thailand and Vietnam. The tire maker said products from the new factory will initially be sold on the local and international replacement aftermarkets, with future target markets to include the Indonesian OE market.
Cheng Shin president Wally Chen pointed out that incumbent vice president Liao Cheng-yao will be in charge to set up the Indian factory, and will likely be the future president of Cheng Shin India; while incumbent assistant vice president Le Hong-ke will handle similar duties at the Indonesian facility.
Company vice president Wu said that Cheng Shin had capital spending of NT$12.6 billion (US$420 million) in 2014, lower than the previous year's NT$14.5 billion (US$483.3 million). In 2015, the capital spending is expected to remain close to 2014's, but higher in 2016 due to purchases of equipment for the two new factories.