Likely the result of the unspoken rule in business "keep up or fall behind" in the wake of the demonstration of various new-generation Advanced Driving Assistant Systems (ADAS) at the 2015 Consumer Electronics Show (CES) held in Las Vegas in January by international automakers as Mercedes-Benz, Audi, Ford etc., Japanese carmakers including Toyota and Nissan have also announced recently to install ADAS on some models as standard equipment for specific markets. Such development, according to industry experts, has made ADAS and telematics the segments with the highest business potential in the Internet of Things (IoT) and the era of Net connectivity.

Rapidly advancing automotive active-safety systems are seen to be driving vigorous development of ADAS and telematics, especially in countries with compulsory safety regulations for newly launched models. In addition to carmakers, some big international information technology companies, such as Google and Apple, are also aggressively eying the ADAS market by launching related solutions, like CarPlay and Android Auto.

ADAS
In short, the ADAS is installed on vehicles to help a driver, when designed with a Human-Machine Interface, to enhance car safety and more generally road safety. In the past, says Cheng Jian-chin, analyst of the industry development department of Taiwan's Automotive Research & Testing Center (ARTC), ADAS was standard or optional equipment on only high-end cars, a trend that has trickled down to lower-end cars due to rapidly rising safety awareness, as well as national governments' implementation of compulsory codes related to driver and vehicle safety. Such development has driven joint efforts by automakers, automotive-electronic system suppliers and key-parts makers to more actively invest in, promote and expand the segment.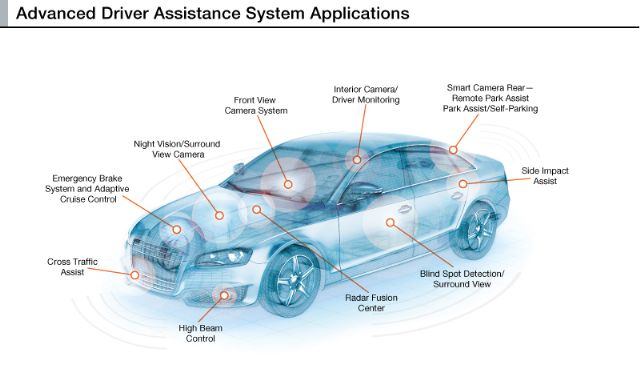 Typical ADAS applications. (photo from Internet)
Essentially, Chen says, the operation of an ADAS involves three sub-systems: the sensor, decision and action component. The image-recognition or sensor element is vital in ADAS by collecting and providing all the visual data collected from the ambiance that is fed to the ADAS for algorithmic formulation and decision-making. Developers aim to achieve high levels of image-recognition capacity to simulate or exceed human capability to enhance driver safety. Image recognition of an ADAS is more precise and accurate than radar detection to play a key role in the system. The decision component then judges information processed and sent by image-recognition chips, with the decisions delivered to the action component to activate or deactivate functions accordingly, such as automatic braking among others.
As the segment expands with rising revenues generated from ADAS adoption, developers have been able to enhance the image-recognition technology, mainly to upgrade image quality, image processing speed and recognition capability. In the past, Chen explains, image processing was often by traditional Digital Signal Processors (DSP), each of which handles only 20 million-pixel images in a second, with the processor unable to handle the vast volume of image encountered during high-speed driving. To upgrade image-processing capability, the Graphic Processing Unit (GPU) has been developed to gradually replace DSP.
At the 2015 CES, widely seen as a major, high-profile consumer-electronics annual event, Nvidia Corp. launched its 64-bit automotive-application chipset Tegra X1, containing 8 64-bit central processor units (CPUs) and 256 GPUs, which is able to process lots of 16.6 million-pixel images simultaneously. By utilizing the Tegra X1, Nvidia also developed the Drive PX automotive platform, each with at least two Tegra X1 chipsets for real-time processing of high-quality images sent by 12 cameras (2 million pixels, 60fps). Such platform enables any developer to easily create individualized Around View Monitor (AVM) system, Parking Assist System (PAS)/Auto Parking System, BLIS (Blind Spot Information System) active-safety systems.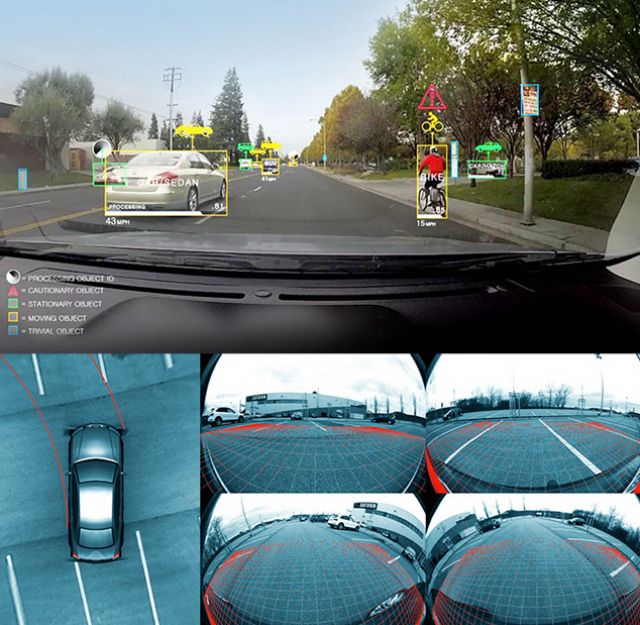 The Drive PX platform developed by Nvidia smoothly processes high-quality images as part of onboard AVM active-safety system. (photo from Nvidia)
Image-recognition systems typically identify only monochromatic or black-and-white images without the ability to detect distance or depth. But Japanese automaker Subaru showcased at the 2015 CES its "Eye Sight" technology, which uses two cameras to simulate human vision, with an image-monitoring system capable of three-dimensional vision and color-recognition. So the Eye Sight can precisely identify red brake lights and colors of pedestrians' clothes.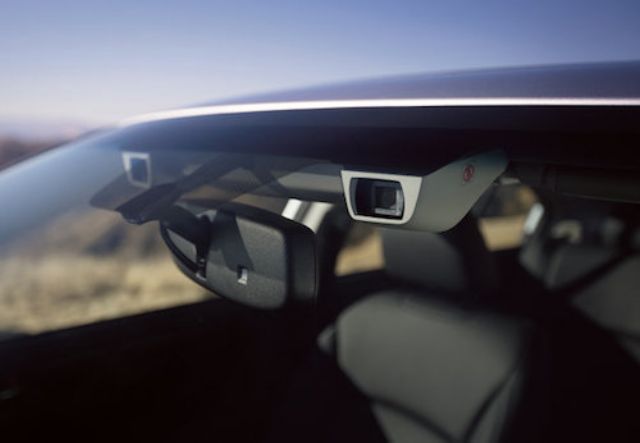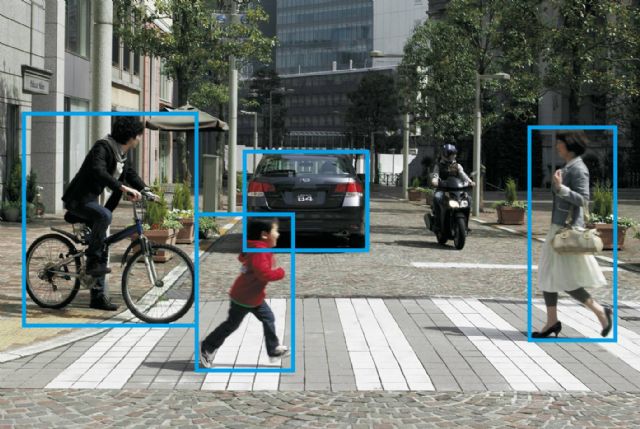 Subaru's "Eye Sight" system utilizes two cameras to simulate human vision to upgrade image-recognition ability. (photo from Subaru)
Self-learning ADAS
An increasing number of vehicles are expected to be equipped with artificial intelligence or self-learning capability, via advanced ADAS with artificial neural network functions. Nvidia's Drive PX platform, for example, can be trained by the artificial neural network function achieved by its built-in, high-end GPUs to achieve automatic object-recognition/identification ability, akin to parental teaching of children identification of objects, which is the first step to enable kids to clearly identify objects, their relative positions, vectors to train their skills to negotiate through even more complicated environments in future.
The Nvidia Drive PX can identify and recognize different objects on roads such as police cars, taxies, ambulances, trucks, buses, passenger cars etc., as well as bicycles and pedestrians, traffic lights and vehicle warning lights. Driver and pedestrian safety, as result, are further enhanced through such advanced system's self-learning ability achieved by the artificial neural network.
Opportunities for Taiwanese Companies
Taiwan has been since the early 1980s a sizable global production and innovation hub of information and communication technology (ICT) and electro-mechanical, semiconductor products, with increasing numbers of local automotive-electronics companies eyeing the emerging ADAS segment, including Pixart Imaging Inc., eMemory Technology Inc., Weltrend Semiconductor, Inc., Avisonic Technology Corp., Altek Corp., Holtek Semiconductor Inc., Sonix Technology Co., Ltd., Sunplus Technology Co., Ltd. etc. ARTC, the government-backed R&D body engaged in vehicular research, development, testing, standards setting in Changhua County, central Taiwan, is also developing and innovating ADAS products by leveraging its R&D capacity with 350-plus in-house staff.
The abovementioned companies have developed many advanced products such as AVMs, Front Collision Warning System (FCWS), low-speed pedestrian detection system, vehicle rolling warning system, LDWS, driver status detection system among others. In the future, ARTC says, increasingly more ADAS-related technologies and systems are likely to be developed and innovated in Taiwan, driven at least partly by advancements in image-recognition technologies.
Sunplus, for example, has gained a solid foothold in the multimedia IC solutions market, but has been trying to venture into the ADAS segment. This year, the Taiwanese IC company pulled ahead many local counterparts to announce its ADAS chips, which have been adopted by system makers in the international automotive aftermarket. Sunplus' ADAS sensor IC records images from four cameras around a vehicle to record images for seamless integration on one screen, and provides the LDWS function.
Another major local ADAS supplier, Pixart, of parking-sensors for many years, kicked off cooperation with automotive-electronic system suppliers and automakers few years ago to develop ADAS. This year, the firm's complementary metal-oxide-semiconductor (CMOS) image sensors and specially developed algorithms are expected to help win big-ticket orders from global ADAS customers. Pixart reported to have applied for patents for its LDWS and FCWS products using its CMOS sensors.