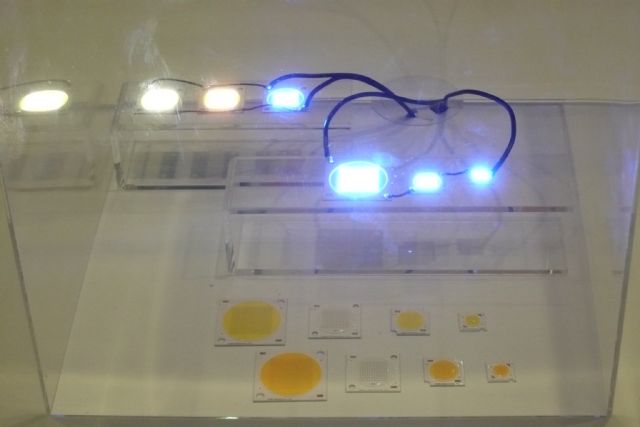 Genesis Photonics' flip chip LED sales are forecast to jump in Q2.
Genesis Photonics Inc. forecasts its sales of flip-chip LEDs to jump to account for 25-30 percent of total revenue in the second quarter from first quarter's 10 percent or so mostly due to adoption of such chips by makers in South Korean high-end liquid-crystal display (LCD) TVs as backlights and robust orders for chips for digital camera flashes.
The company, reportedly a leading light-emitting diode (LED) chip maker in Taiwan, projects its production of the chips to run at full capacity in the third quarter after hitting 80 percent capacity in the second quarter.
Based on the company's increasing capacity utilization rate and order books that are filling quickly, industry executives project the company's revenue for the second quarter to rise 15 percent from the previous quarter to exceed NT$900 million (US$29.03 million).
Industry executives believe Samsung will likely be the world's first LCD-TV maker to adopt flip-chip LEDs into high-end TVs in the second quarter. The company is reportedly the world's No.1 LCD-TV maker, having shipped 49 million TVs last year. It plans to ship 60 million TVs by the end of this year, for an increase of 22.4 percent year on year to retain its lead in the market for a tenth year.
Genesis executives say such high-power flip-chip technology has become the first choice among TV makers as backlight source for high luminous output with less chips used. Also, such chip is forecast to be increasingly built into digital cameras as flash this year.
Chipmakers estimate TVs lit by flip-chip LEDs to constitute 15 percent of the projected shipment of 200 million LCD TVs worldwide this year, and that mainland Chinese TV makers are also eager to follow the trend to adopt the chip in their products.
Industry executives feel Genesis and Epistar Corp. is likely to be the primary beneficiaries of the growing demand for flip-chip LEDs as they are the major suppliers of such chips to Samsung.