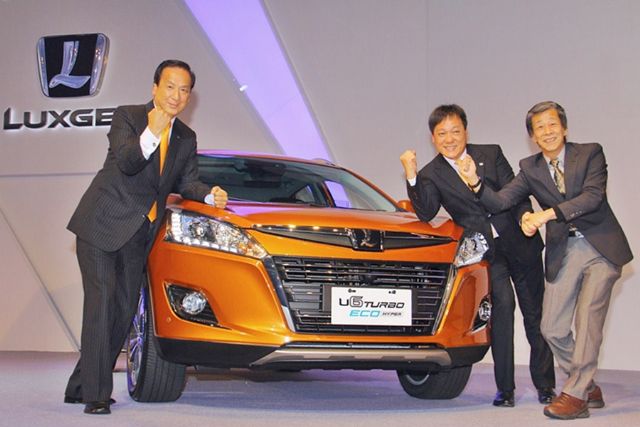 Hu Kai-chang (left), president of Luxgen Motor, and Mizuno Kazutoshi (right), former chief design engineer and "God Father" of Nissan GT-R, as well as new CEO of HAITEC, announce the new Luxgen U6 Turbo Eco crossover.
The Yulon Group of Taiwan, one of the original and now major carmakers on the island that began making cars in 1956 with technological transfer from Willys and then Nissan, recently unveiled its new U6 Turbo Eco Hyper as part of its own Luxgen line, with the crossover being a facelift model but with upgraded fuel efficiency. The U6 Eco, accounting for over 50 percent of Luxgen sales, is expected to continue to the mainstream model in the Luxgen lineup in Taiwan and China.
The new U6 Eco features not only styling upgrades, including more exterior LED lighting, aerodynamic body parts, brand-new two-tone wheels etc., but also more engine tweaks to boost horsepower and fuel efficiency: the 1,800c.c. turbo engine has 170 h.p. instead of 150 h.p., with the 2,000c.c. turbo now boasting 190 h.p. rather than 170 h.p., coupled with fuel efficiency of 15.8 kilometer-per-liter (up from 13.7) and 16.3 (up from 13.3) respectively. Yulon says that the engine has undergone 10 upgrades.
The new model's transmission, still supplied by the same maker, has been upgraded to a six-speed Aisin automatic, an improvement from the five-speed on the previous version. More speeds typically mean narrower gap in gear ratio to achieve smoother gear-shifting, with the top gear generally designed for higher maximum speed but at lower engine revolutions to achieve better fuel  economy. In the U6 the transmission's "ECO" driving mode does the same.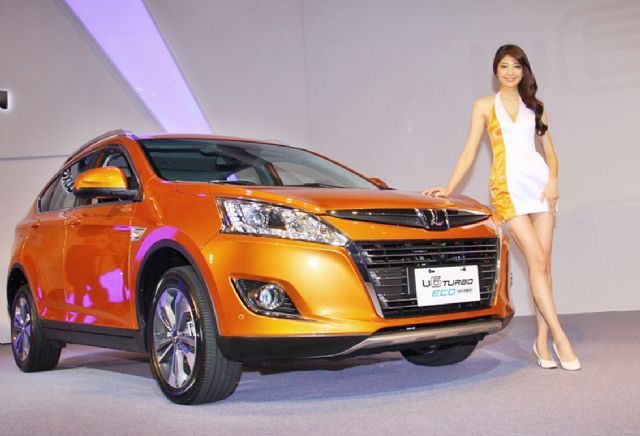 Luxgen U6 Turbo Eco accounts for about 50% of Luxgen sales in Taiwan and China.
In less than one month after the U6 Eco was announced, Yulon has taken more than 1,400 firm orders, so the automaker is very optimistic about sales in the second half. C.Y. Tsao, vice president of Luxgen Motor Co., Ltd., says sport utility vehicle (SUV) and crossover models have become mainstream to drive sales in the global automobile market, and sales of such vehicle types have been increasing clearly due to falling fuel prices, and that the number of potential buyers at dealers has been rising.
Tsao likely was referring to the sales trend of SUVs and crossovers in North America, where recreational and vocational-driven lifestyles, as well as generally heftier residents, tend to push buyers toward larger vehicles simply for practical reasons. Many reports state that about a third of Americans are obese, with another sizable proportion being significantly larger than most Asians, so it is natural for North Americans to gravitate toward bigger vehicles.
Of its previous version, Tsao said, sales of the top-end U6 accounted for only about 20 percent, as opposed to the current 50 percent. The influx of orders has driven Yulon to adjust production lines to raise daily production capacity. After the production-line adjustment, he said, monthly shipments of Luxgens in Taiwan are expected to top some 1,500 units, including at least 1,000 U6 Turbo Eco, and the rest being U7 SUVs, M7 multi-purpose vans (MPVs), and S5 Turbo sedans.
Yulon sold more than 16,500 Luxgens in Taiwan, and over 50,000 units in China (locally assembled by Dongfeng Yulon Motor Co., Ltd., a joint venture between Yulon and Chinese automaker Dongfeng) in 2014, both record highs. Total sales volume in Taiwan and China of the new U6 Eco is expected to exceed some 80,000 units in 2015, the group said.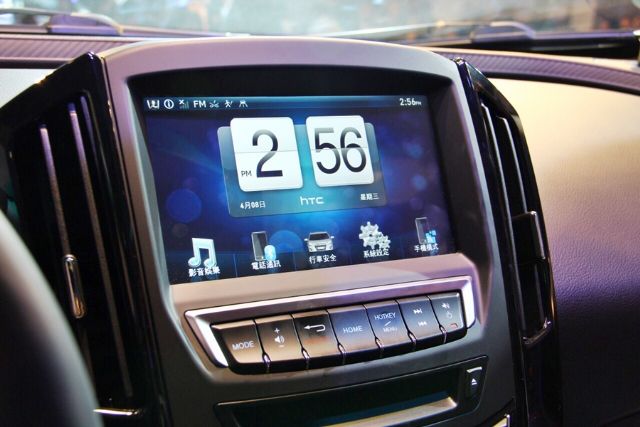 In addition to its upgraded and more fine-tuned engine, the U6 Eco also features many advanced electronic equipment.
Taiwan-Japan Tie-up Touted
At the announcement of the U6 Eco, Mizuno Kazutoshi, former chief design engineer and so-called "God Father" of the Nissan GT-R super sport car, as well as the new CEO of Hua-chuang Automobile Information Technical Center Co. Ltd. (HAITEC, a Yulon subsidiary tasked with R&D of its Luxgen line), pointed out that the Taiwan-Japan tie-up will likely create mechanisms and synergies even more competitive than those of the Western Europe-Eastern Europe counterpart in the global automobile market. Kazutoshi stressed also that the Luxgen brand has the potential to be a major player on the global stage in the future.
Having been invited by Kenneth Yen, chairman of Yulon Group, Kazutoshi joined HAITEC in late 2014 to take on the development of Luxgens. The HAITEC CEO pointed out that he is presently focused on upgrading quality and performance of Luxgens as well as development of brand-new chassis, with new models to be added gradually and Luxgen's goal being to achieve annual global production and sales of 200,000 units.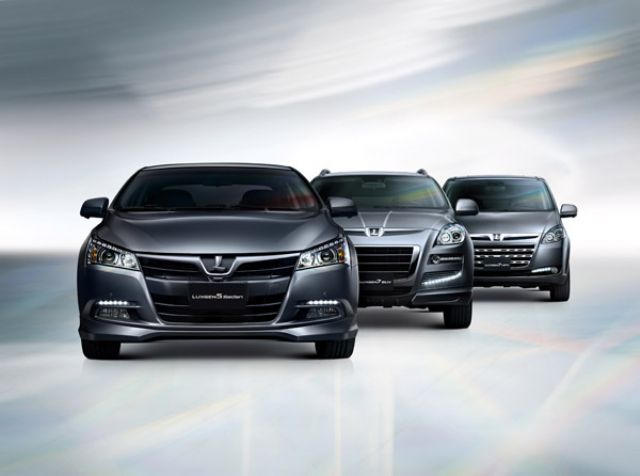 Other Luxgen models.
According Kazutoshi, Western Europe commands automotive technologies of the future, with  Eastern Europe holding the opposite. The two would, by combining individual technological expertise, create European automakers with world-class competitiveness. In contrast, Taiwan's strong suit and potential lie in the local electronic industry and human resource, which, when coupled with Japan's industrial technologies, can be even more multifunctional, encompassing than the Western-Eastern European rival.
Since the new CEO joined HAITEC, the company's first-wave of restructuring has been almost completed, including the integration between the engine, chassis and body units. Driven by the R&D unit integration and acceleration, the consensus is that the first brand-new model under Kazutoshi's leadership will soon be introduced.
There are about 2,000 employees at the HAITEC's new-car R&D department, similar to that of the Japanese automaker Subaru. In addition to recruiting more talents, the CEO stressed that he plans to tap more resources in Japan, such as test tracks that are often used to gauge endurance or non-stop driving performance of vehicles.
Kazutoshi has also kicked off a project to solicit global tier-1 parts suppliers for Luxgen's supply chain, which, if all goes as planned, he said HAITEC and the global suppliers will create mutually profitable relationships and brighter future, with the project being 90 percent complete.
Clearly a diplomat and one able to tap easily accessible advantages, Kazutoshi, likely familiar with the positive aspects of Taiwan-Japan history, admitted that he joined Yulon due to having found similarities between Taiwanese and Japanese, but many Japanese have yet to discover the potential in Taiwanese.