Thanks to several positive factors, Hotai Motor Co. Ltd., agent in Taiwan of Toyotas and Lexus as well as the continual No. 1 auto vendor in Taiwan by sales volume, saw earnings hit quarterly record in the first quarter.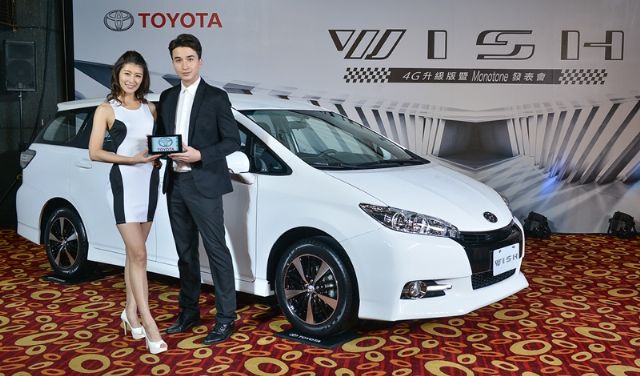 Hotai, Toyota and Lexus agent in Taiwan, has led in volume sold over the past 14 years. (photo from UDN)
In the first quarter, Hotai registered revenue of NT$43.5 billion (US$1.45 billion), up 15.1 percent from a year earlier or year-on-year (YoY), operating profits of NT$2.9 billion (US$96.7 million), pre-tax earnings of NT$3.9 billion (US$1.3 billion), net earnings of NT$3 billion (US$100 million, up 33.8 percent (YoY), and earnings per share (EPS) of NT$5.41 (US$0.18), compared to NT$4.11 a year earlier to set a new record quarterly high in company history.
Hotai attributes such record earnings to increased new-car sales volume, higher return-on-investment from distributors, investments in business in China that have turned profitable, and surging return-on-investment from affiliate Kuozui Motors Ltd., Taiwan's assembler of Toyotas that had just achieved record annual production volume of 200,000-plus new cars in 2014.
Hotai also conceded the relatively-lower comparison base in the first quarter of 2014, when sales were impacted for two popular compacts, Toyota Vios and Yaris, underwent generation upgrades. This year's improved sales is also due to Hotai's wider product range in the first quarter, which raised its quarterly new-car sales to 33,300 units, a 9.8 percent YoY increase.
Hotai, preparing for a production-line renovation project in April, holds a 30 percent stake in Kuozui, which increased its new-car shipments in the first quarter. In addition, Kuozui, reportedly the largest assembled-car exporter in Taiwan, posted additional earnings from currency exchanges in the first quarter, based on its quotations in U.S. dollar for exports to the Middle East, resulting in a NT$350 million (US$11.7 million) return-on-investment to Hotai.
Hotai had begun investing in distributors of Toyota and Lexus in China several years ago, but geopolitical tensions in 2014 impacted operations of such auto distributors when the territorial disputes between China and Japan over the Senkaku Islands (Diaoyutai) boiled over in anti-Japanese sentiments, which sapped sales of Japanese cars in China. Such geopolitical ripples have calmed in the first quarter of 2015, resulting in Hotai's again enjoying return-on-investment from the Chinese affiliates.
In 2014, Hotai completed a project to acquire at least 20 percent shareholding in each of its eight largest auto distributors in Taiwan, which have begun to return investment rewards to Hotai this year.
Hotai's earning-per-share (2011-2015)



2011

2012

2013

2014

2015(f)

EPS

NT$12.06

NT$13.76

NT$14.01

NT$16.84

NT$20.00

Market Observation Post System (MOPS), Taiwan Stock Exchange