With more nations legislating safety regulations regarding the adoption of automotive tire pressure monitoring systems (TPMS), such market continues to expand, in both the pre- and after-market segments.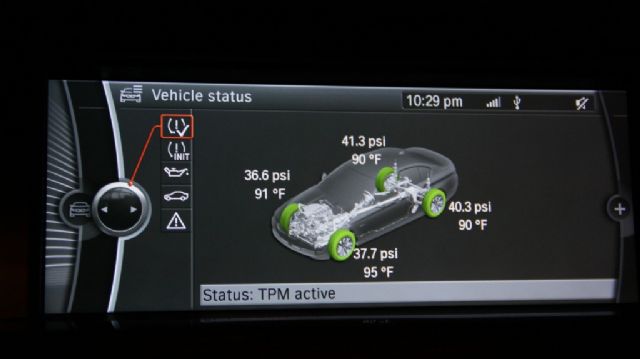 TPMS is an electronic system that monitors air pressure inside tires on various vehicles. (photo from Internet)
Proper tire inflation impacts longevity of tires, fuel efficiency, and safe maneuverability of vehicles and even flat tire prevention. TPMS is an electronic system designed to monitor air pressure inside pneumatic tires on various types of vehicles. TPMS reports real-time tire-pressure information to a driver, either via a gauge, a visual display, or a simple low-pressure warning light. Such active safety system not only alerts a vehicle driver to prevent car incidents caused by under-inflated tire, high tire temperature, etc., but also prolongs tire life and upgrades fuel efficiency.
Recognizing the real effectiveness in preventing car accident with TPMS, the United States first promulgated laws in 2005 to require new cars to be installed with such system, which was followed by the European Union (EU), South Korea, Taiwan etc. Other nations such as Japan, China, India, etc. are expected to follow suit with similar regulatory implementation starting in 2017. Such trend has expectedly been rapidly raising demand for factory-installed (pre-market) TPMS. According to a market survey conducted by CSM Worldwide, global demand for factory-installed TPMS was about 80 million units, which is estimated to reach some 17 million by 2018.
Expanding Market
Automotive Research & Testing Center (ARTC), a well-known vehicle testing and R&D hub set up by governmental bodies and industry reps in Taiwan, points out that a TPMS often has to be replaced after five to 10 years after installation, meaning that the American TPMS market entered a replacement cycle from 2012, with the one in the EU to be from 2018.
Currently, ARTC says, the global factory-installed TPMS market is dominated by five vendors together making up about 90 percent share, including Schrader (55 percent share), Continental (12.9 percent), Pacific (8.9 percent), TRW (6.6 percent) and HUF/Beru (5.9 percent), to effectively reflect an oligopoly dictated by a few big-scale enterprises. Due to the exclusive nature of the global automotive supply chain, the center says that Taiwanese companies generally are not favorably positioned to take bigger shares in the segment.
However, ARTC says that Taiwanese companies do have better chance to penetrate the segment as long as they have strong support from the island's world-class electronics and semiconductor industries, and are globally competitive as players in the global aftermarket replacement parts business.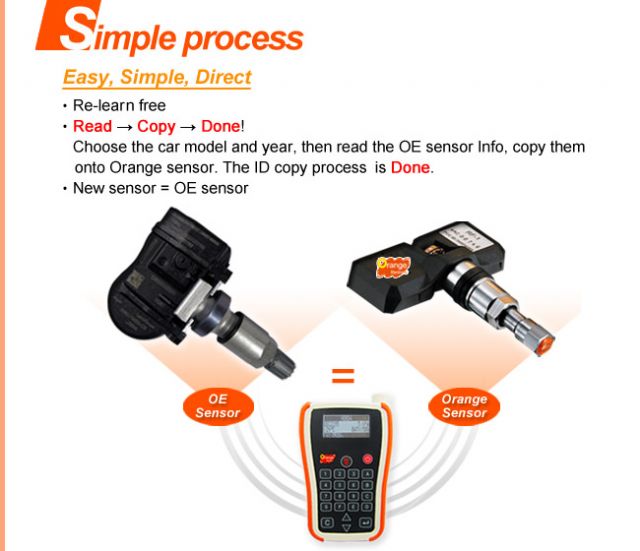 Some Taiwanese companies have developed OE-replacement TPMS to win considerable share of U.S. automotive aftermarket. (photo from Orange)
Some technologically savvy makers have developed universal-application TPMSs that don't conflict with embedded electronic systems on different makes and models, and these Taiwanese TPMS makers including Cub Electrical Parts, Orange Electronic Inc., Mobiletron Electronics Co., Ltd., Tung Thih Electronic Co., Ltd. (TTE), etc., have successfully gained footholds in the big U.S. aftermarket.
Regarding the original equipment (OE), or factory-installed market, some auto-parts makers in Taiwan, including Orange, Mobiltron and TTE, have successfully tapped into automakers' supply chains in Taiwan and China, through grabbing such business opportunities created by implementation of safety legislations in Taiwan and later in China.
With the island's global competitiveness in auto parts and information and communication technology (ICT) industry, ARTC says that Taiwanese TPMS makers have the capacity to set up local supply chains consisting of suppliers of tire nozzles, wireless transmission devices, displays, tires, etc. to provide a wider range of services to global customers. With such advantageous position, the center adds, Taiwan could become a major supply base of AM TPMS solutions in the future.